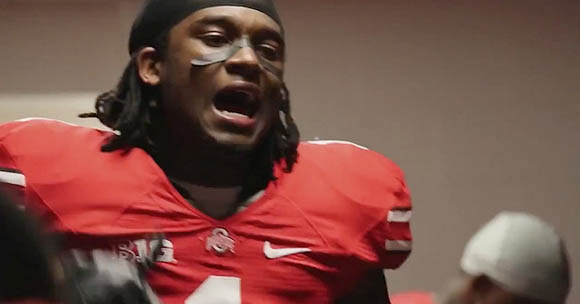 The NFL Draft is still nearly 10 months away, but NFL.com draft analyst Daniel Jeremiah has his "Talented Top 50" list out and Ohio State cornerback Bradley Roby and linebacker Ryan Shazier show up early on it.
South Carolina soul-crusher Jadeveon Clowney – to the surprise of absolutely no one – tops Jeremiah's list, with Louisville quarterback Teddy Bridgewater, UCLA linebacker Anthony Barr, Alabama wide receiver Amari Cooper and Tide linebacker C.J. Mosley rounding out the top five.
Roby, recently named to the Thorpe and Nagurski preseason watchlists, shows up 12th, the highest-rated cornerback in the evaluation. Shazier, meanwhile, appears 14th, ranked behind UCLA's Anthony Barr and Alabama's C.J. Mosley in a talented batch of outside linebackers.
Michigan offensive tackle is the only other Big Ten player to appear on the list, checking in 9th. You'll also notice an appearance from Buffalo linebacker Khalil Mack (19th). We'll be seeing him in a few weeks.
One player not appearing on the list is Ohio State quarterback Braxton Miller. This reflects the thought among GMs and scouts that Miller, while an electric gamebreaker, must still develop as a quarterback. This is also great news if you are part of the "FOUR YEARS!" club when it comes to Miller's Ohio State career.
Here are the top 20 prospects, including players that are not yet eligible for the 2014 NFL Draft.
| Rank | Player | Pos | College | Class | Conference |
| --- | --- | --- | --- | --- | --- |
| 1 | Jadeveon Clowney | DE | South Carolina | JR | SEC |
| 2 | Teddy Bridgewater | QB | Louisville | JR | ACC |
| 3 | Anthony Barr | OLB | UCLA | SR | Pac-12 |
| 4 | Amari Cooper | WR | Alabama | SO | SEC |
| 5 | C.J. Mosley | OLB | Alabama | SR | SEC |
| 6 | Cyrus Kouandjio | OT | Alabama | JR | SEC |
| 7 | Jake Matthews | OT | Texas A&M | SR | SEC |
| 8 | Marqise Lee | WR | USC | JR | Pac-12 |
| 9 | Taylor Lewan | OT | Michigan | SR | Big Ten |
| 10 | Sammy Watkins | WR | Clemson | JR | ACC |
| 11 | T.J. Yeldon | RB | Alabama | SO | SEC |
| 12 | Bradley Roby | CB | Ohio State | JR | Big Ten |
| 13 | Louis Nix | DT | Notre Dame | SR | -- |
| 14 | Ryan Shazier | OLB | Ohio State | JR | Big Ten |
| 15 | Todd Gurley | RB | Georgia | SO | SEC |
| 16 | Brett Hundley | QB | UCLA | SO | Pac-12 |
| 17 | Aaron Lynch | DE | South Florida | SO | AAC |
| 18 | Brandon Coleman | WR | Rutgers | JR | AAC |
| 19 | Khalil Mack | OLB | Buffalo | SR | Mid-American |
| 20 | Tajh Boyd | QB | Clemson | SR | ACC |