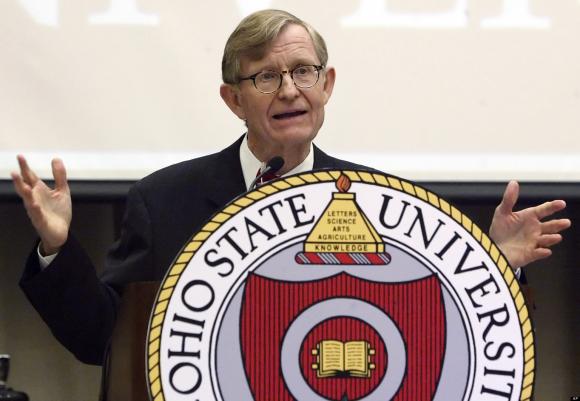 The Ohio State University Board of Trustees announced on Tuesday that the search for a new president is on. Gordon Gee announced his retirement in June and officially stepped down on July 1. 
"The selection of the university's next president is the most significant responsibility of the board of trustees," said Robert H. Schottenstein, chairman of the board. "We undertake this responsibility at a time of both enormous importance and promise. The university has real momentum and is ideally situated to attract the next great leader for Ohio State."
"The academic standing of the entire university, from programs to faculty to students, is at an all-time high and there are a number of exciting and transformative strategic initiatives occurring across campus," said Jeffrey Wadsworth, Ohio State Board of Trustees presidential search committee chair and president and CEO of Battelle Memorial Institute. "We believe the presidency of Ohio State offers an exceptional opportunity because of the university's strong positive momentum and the collegial environment in which it operates. We are committed to an open, inclusive and informed search process that attracts a world-class leader."
The Presidential Search Committee will meet July 19 to set a deadline and outline what qualities they seek in the new chief executive. 
Selection Subcommittee
Robert H. Schottenstein, Ohio State Board of Trustees chair and president and CEO, M/I Homes, Inc.

Jeffrey Wadsworth, Ohio State Board of Trustees presidential search committee chair and president and CEO,

Battelle

Memorial Institute

Michael Gasser, Ohio State Board of Trustees and executive chairman of the board,

Greif

, Inc.

Janet Reid, Ohio State Board of Trustees and founding partner and director, Global

Novations

Alex

Shumate

, Ohio State Board of Trustees and managing partner - North America, Squire, Sanders & Dempsey, LLP
Advisory Subcommittee
Deborah Jones Merritt, convener of the advisory subcommittee and the John Deaver Drinko-Baker and Hostetler Chair in Law

Cheryl

Achterberg

, dean of the College of Education and Human Ecology

Sarah

Adelson

, chief of staff of the Inter-Professional Council

Leslie Alexander, associate professor in the departments of African American and African Studies

Jane

Box-Steffensmeier

, the Vernal

Riffe

professor of political science and faculty liaison to the Board of Trustees

Michael

Eicher

, senior vice president for Advancement and president of The Ohio State University Foundation

Archie Griffin, senior vice president and CEO of The Ohio State University Alumni Association

Richard Hart, chair and professor of the Department of Biomedical Engineering

Emily Meyer, chair of the University Staff Advisory Committee

Randy Nelson, the Dr. John D. and E. Olive

Brumbaugh

Chair in Brain Research and Teaching

Colin

Odden

, representative, Council of Graduate Students, and a Ph.D. candidate in Sociology

Taylor

Stepp

, president of Undergraduate Student Government

Andrew Thomas, chief medical officer for The Ohio State University

Wexner

Medical Center