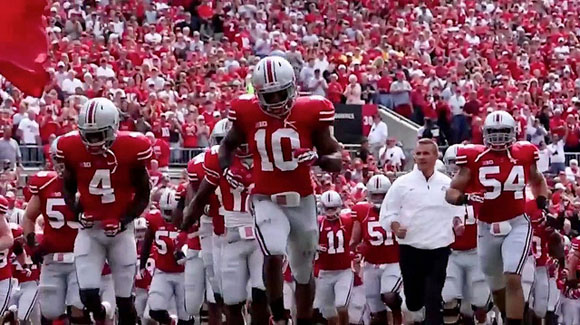 Ohio State: 2016
Ohio State: 2017
10/1
Rutgers
9/2
@ Indiana
10/8
Indiana
9/30
@ Rutgers
10/15
@ Wisconsin
10/7
Maryland
10/22
@ Penn State
10/14
@ Nebraska
10/29
Northwestern
10/21
BYE
11/5
Nebraska
10/28
Penn State
11/12
@ Maryland
11/4
@ Iowa
11/19
@ Michigan State
11/11
Michigan State
11/26
Michigan
11/18
Illinois
 
 
11/25
@ Michigan
The Big Ten has released the league's nine-game conference schedule for the 2016 and 2017 seasons.
In 2016, the Buckeyes will get Rutgers, Indiana, Northwestern, Nebraska, and Michigan at home, while facing Wisconsin, Penn State, Maryland and Michigan State on the road. The following year, Ohio State will play Maryland, Penn State, Michigan State and Illinois at home, while traveling to face Indiana, Rutgers, Nebraska, and Michigan.
Also notable: Ohio State will open the 2017 season in Bloomington. The game will mark the first time Ohio State has faced a Big Ten opponent in the season opener since 1976 when Woody Hayes' team opened with Michigan State. This is part of a league move – similar to what the SEC has done – to move league games up into the schedule. 2017 is the first year it will be possible due to previous non-conference commitments.
Speaking of non-conference opponents, the Buckeyes will face Bowling Green (9/3), Tulsa (9/10) and at Oklahoma (9/17) in 2016. In 2017, Ohio State will play Oklahoma in the Shoe (9/16), at North Carolina (9/23) and an opponent to be named later.