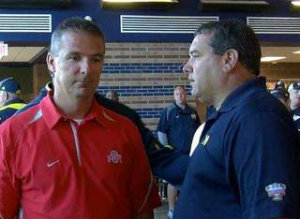 It was a slow week on the recruiting front for the majority of the Big Ten. While the countdown until kickoff shrinks, recruiting never stops. With under two months until college football begins, the recruiting classes are already beginning to take form. 
Indiana, Illinois, Nebraska, and Penn State were the only schools to land a commitment during the past seven days. The Cornhuskers accounted for three of the Big Ten's six new commitments. 
As a result, we saw shifting in our rankings with Nebraska jumping up to eighth after picking up three new offensive weapons. Illinois' and Indiana's new commitments also bumped them up a spot. Indiana is up to 13th and Illinois checks in at 10th.  
With Jermaine Eluemunor deciding to hold off on his announcement, the Wolverines were able to hold off the Buckeyes for the top spot, at least for the time being. It doesn't appear that any of Ohio State's targets are planning to announce in the next, so Michigan could be in position to stay in the top spot for a little while longer. 
Now, on to the rankings!
14. Purdue
A commitment from Indiana has pushed Purdue to the bottom of our B1G football recruiting rankings.
The Boilermakers' class is led by Elite 11 QB David Blough, an underrated recruit that has reaffirmed his commitment after an impressive sixth place finish at the Elite 11 QB camp. Expect Blough to move up in the rankings after his surprisingly dominant performance. 
13. Indiana
Kevin Wilson and the Hoosiers move up a spot in the rankings after adding a commitment this week from cornerback Donovan Clark of Fort Wayne, Indiana. The three-star cornerback had offers from UTEP and most of the MAC conference. 
It's nice that Kevin Wilson can out-recruit the powerhouse MAC teams, but can he go toe-to-toe with the big boys in the Big Ten? We'll have a better feel after Signing Day, but the current answer would appear to be no.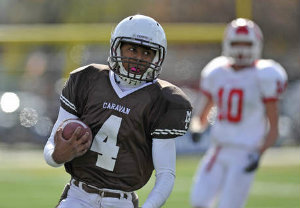 12. Minnesota
The Gophers hold steady in the B1G football recruiting rankings this week. 
With only five commitments, someone might need to wake up the Gophers from hibernation. (Bad joke. Gophers don't actually hibernate) Jokes aside, Coach Jerry Kill has landed a few highly regarded prospects already and we can only hope he lands a few more. The Big Ten can really use all the help we can get. Is it sad that we are rooting for some of the bottom feeders to land higher level recruits? 
11. Maryland
All is quiet in the land of the Terps, which is probably a bad thing when it comes to recruiting. The Terrapins' quiet week leads to a one spot fall in this weeks rankings. 
A terrapin is usually pretty slow, but lets hope that the Terrapins have solid closing speed to finish up their recruiting class strong. I am running out of Maryland jokes, please land a commitment  soon. 
10. Illinois
No "Tim Beckman continues to out-recruit MAC powerhouses" jokes this week. The Illini landed a commitment from a three-star runningback that had offers from other BCS schools. 
Matt Domer, a 6 foot, 180-pound runningback from Mount Carmel HS in Chicago, has committed to Coach Beckman and the Fighting Illini. Domer had offers from Boston College, Cincinnati, Indiana, Kansas, Syracuse, and Northern Illinois. 
9. Iowa
Iowa falls one spot in our rankings this week, earning no pledges during the previous seven days while the Cornhuskers were busy.  
It still baffles me that Iowa no longer commits an assistant coach to recruiting Florida. Why in the world would you ever want to recruit one of the top talent producing in the country? In 2011 and 2012, the Hawkeyes landed two players from Florida each year. I could only imagine the meltdown if Urban Meyer said Ohio State wasn't going to recruit the State of Florida anymore. 
Kirk Ferentz has done a great job keeping the State of Iowa's talent in-state. 
8. Nebraska
The Cornhuskers had a busy week, adding three new commitments, while also losing one. 
Bo Pelini reeled in one of his top targets this week, four-star WR Monte Harrison. The six-foot-two, 195-pound receiver chose Nebraska over offers from Kansas, Michigan State, Iowa, Missouri, and Indiana. The Huskers added another offensive weapon when three-star RB Larenzo Steward committed. The 5-foot-6 back with a 4.4 forty had offers from Baylor, Houston, and LA Tech. The third commitment (and member of the All-Name team), Freedom Akinmoladun, is a 6-foot-5 tightend. Freedom had offers from Kansas State, Iowa, Illinois, and Northern Illinois before committing to Nebraska. 
It wasn't all good news in Lincoln this week. Three-star safety Jason Hall finally decommitted from Nebraska after considering himself a soft commit for the past month. Hall is strongly considering Texas and Oklahoma. 
Three-star WR T.V. Williams will announce between Kentucky and Nebraska tomorrow. 67% of analysts have him picking Kentucky.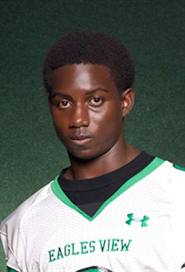 7. Wisconsin
A week after securing three verbal commitments, the Badgers were quiet this week. 
Quarterback is a big need for Wisconsin after Dan O'Brien didn't work out. The number two dual threat QB, D.J. Gillins, could be the QB that Wisconsin needs. Gillins is set to announce tomorrow. The 127th overall prospect according to 247Sports, Gillins reportedly favorWisconsin and Boston College. 59% of analysts have Gillins headed to Madison, while others think he'll select Boston College. Enough of these one year QB rentals, it's time to develop your own QB, Bucky. 
6. MICHIGAN STATE
The Mark Dantonio lead Spartans remain sixth in our rankings. Michigan State currently has 12 commits and that number could grow to 21 or 22 by Signing Day. 
247Sport's crystal ball has the Spartans as the favorites to land: three-star RB Chris James (100%), three-star DE Terry Ramsey (80%), three-star TE Robert Bowers (100%), three-star S Matt Morrissey (82%), three-star CB Jalen Embry (100%), three-star CB Lamar Dawson (100%), and three-star DE Chris Slayton. Three-star safety Lubern Figaro is currently 50-50 between Boston College and Michigan State. 
It's looking like a solid finish is in store for Sparty. 
5. Northwestern
Northwestern remains fifth in our rankings after originally starting at third last month. Michigan State is right on the Wildcat's heels and could pass with a commitment. 
Pat Fitzgerald gets the most out of his players, so I'm not too worried about their recruiting. Consider it an added bonus that Northwestern will have some highly rated weapons to work with. 
4. Penn State
The Nittany Lions landed a commitment from three-star defensive tackle Antoine White of New Jersey. The 6-foot-3, 265-pound tackle had offers from Georgia Tech, Maryland, Duke, Boston College, Rutgers, Michigan State, North Carolina, Vanderbilt, and others. 
Penn State is right on Rutgers heels for the third spot in the rankings. Penn State has came a long way from where they were last year with players bolting for other schools. Now, Penn State has one of the top classes in the Big Ten and a top 20 class in the nation.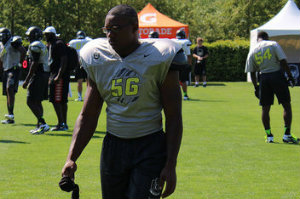 3. Rutgers
The Scarlet Knights remain third in our rankings with their Big Ten leading 20 commitments. 
Rutgers has been stocking up on talent before their move to the Big Ten next year. Ohio State will be the first Big Ten opponent that Rutgers plays on the road. Does Rutgers have the talent to come into Columbus and pull off an upset? 
2. OHIO STATE
Ohio State fans were disappointed after top JUCO OT Jermaine Eluemunor decided to hold off on his announcement that was originally scheduled for Friday. The Buckeyes will now have to wait at least another week to take over the top spot in the Big Ten football recruiting rankings. 
According to 247Sport's crystal ball, Ohio State is the favorite to land the following prospects: Raekwon McMillian (82%), Marshon Lattimore (100%), Demetrius Knox (66%), Austin Roberts (91%), Jermaine Eluemunor (62%), Chad Mavety (94%), Erick Smith (100%), Quincy Wilson (92%), Curtis Samuel (100%), Jonathan Hilliman (100%), and Mike Gesicki (94%). 
Don't expect all those prospects to be Buckeyes since we do not have room to take 25 in this class. Expect the Buckeyes to sign 20-22 recruits. 
1. MICHIGAN
Michigan continues to hold the top spot in the Big Ten football recruiting rankings, despite earning no new commitments. 
If 247Sport's crystal ball holds true, it could be very difficult for anyone to surpass the Wolverines in our rankings. The Wolverines are the favorites (according to the crystal ball) for five-star DE Da'Shawn Hand (57%), four-star DE Malik McDowell (100%), four-star CB Parrker Westphal (100%), and four-star ATH Montae Nicholson (87%). All four are members of 247Sport's top247. Landing these four prospects would give Michigan one of the top recruiting classes in the nation and one of the top two in the Big Ten. I don't see any other Big Ten team challenging Ohio State and Michigan for 1-2 in these rankings. 
---
Rankings Overview
| No. | School | Commits | Scout ★ AVG | Rivals ★ AVG | 247 ★ AVG | ESPN ★ AVG | Overall ★ Avg |
| --- | --- | --- | --- | --- | --- | --- | --- |
| 1 | Michigan | 15 | 3.57 | 3.54 | 3.47 | 4.00 | 3.65 |
| 2 | Ohio State | 14 | 3.57 | 3.36 | 3.77 | 3.62 | 3.58 |
| 3 | Rutgers | 20 | 3.00 | 2.80 | 3.00 | 3.11 | 2.98 |
| 4 | Penn State | 12 | 3.33 | 3.25 | 3.42 | 3.42 | 3.36 |
| 5 | Northwestern | 12 | 3.09 | 3.17 | 3.33 | 3.36 | 3.24 |
| 6 | Michigan State | 12 | 3.27 | 3.08 | 3.50 | 3.44 | 3.32 |
| 7 | Wisconsin | 10 | 3.50 | 3.00 | 3.43 | 3.22 | 3.29 |
| 8 | Nebraska | 11 | 2.67 | 2.82 | 2.91 | 3.33 | 2.93 |
| 9 | Iowa | 9 | 3.13 | 3.11 | 3.43 | 3.29 | 3.24 |
| 10 | Illinois | 8 | 2.86 | 2.63 | 2.83 | 3.00 | 2.83 |
| 11 | Maryland | 8 | 2.40 | 2.71 | 2.86 | 3.32 | 2.83 |
| 12 | Minnesota | 5 | 3.40 | 3.00 | 3.29 | 2.80 | 3.12 |
| 13 | Indiana | 7 | 2.80 | 2.57 | 2.80 | 3.00 | 2.79 |
| 14 | Purdue | 6 | 2.80 | 2.40 | 2.67 | 3.00 | 2.72 |