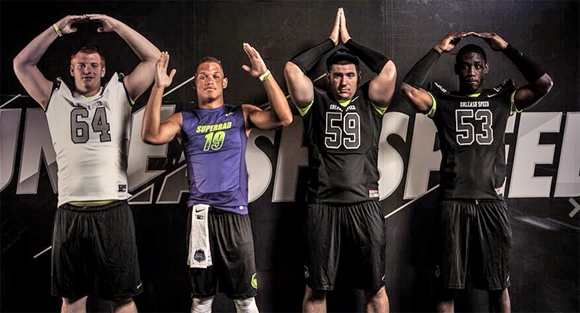 While Sunday evening is normally reserved for the 11W Community Interview — and rest assured it will return next week — this weekend we'll spend a little time closing out The Opening, Nike's premiere recruiting camp. The event took place last week in the pacific northwest and it showcased a number of the nation's best recruits, including nine of Ohio State's current 14 commitments and a number of key Buckeye targets. Eleven Warriors has reached out to these players in order to get their opinions on what The Opening was all about and how their experience will translate to further successes on their high school and college football fields.
"It was the best football experience ever," Fort Worth offensive lineman Demetrius Knox told Eleven Warriors. "The best part for me was just getting to talk with all of the recruits again. But it was incredible to sit down and eat dinner with NFL players on a yacht and after practices and going to the top secret parts of Nike's headquarters. One guy said he had been working there for three years and still hasn't got to see what we saw. We had as much food as we wanted, got to play NCAA 14 and were given over $1000 worth of Nike gear. What more could you want?"
Of course, there was also a lot of football related perks, a common theme among the players who were in attendance.
"I learned a lot of new stuff that I can take back and practice on," Knox added. "But, I'm sure everyone knows by now I'm kind of a social person (laughs), so I loved getting to talk with all the other recruits. I spent most of my time with the Texas guys and the Ohio State commits."
Other recruits, like Ohio State commitment Kyle Trout expounded on the coaching that he and his fellow classmates received. 
"For me, the best part was the coaching from Tarik Glenn and Montrae Holland," Ohio State commitment Kyle Trout said of working with former NFL players. "Those were two very knowledgeable coaches and guys that had great NFL careers."
Fort Lauderdale University School defensive back Quincy Wilson agreed.
"Definitely the NFL-style coaching," Wilson said when asked what he enjoyed the most about his experience. "I'm going to be a smarter football player this year because they taught me stuff that's beyond just what high school coaching provides."
For a couple of the Buckeye commitments — and other key targets — The Opening provided the best opportunities of their young careers to adequately measure themselves against their peers. As the best-of-the-best across the country, it's easy to forget that their are great players, maybe even players better than you, who you are competing against.
"My experience was unbelievable, I absolutely loved it," Buckeye linebacker commit Kyle Berger of Cleveland St. Ignatius said. "Some of the athletes out there are just ridiculous, it's an elite group. Some of the kids were ridiculously big and muscular, I was actually surprised by that. It'll help me in the long run because I'll be working my butt off to get bigger and better. I've always developed the mental side of the game, and this event will help with that, too. The game is starting to slow down for me."
According to another Buckeye commit, that ability to bounce back from a rough day is something that a camp — even a camp as thorough as The Opening — can't accurately monitor.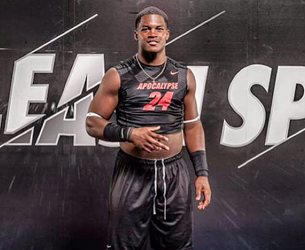 "I think what I'll take away from The Opening is the importance of the mental aspect of the game," quarterback Stephen Collier said. "A lot of time people get so caught up in height, weight, arm strength and more that they forget the grade an athlete's ability to learn a playbook, to bounce back from a pick six and to work harder when things get tough."
"I didn't do as well as I would have liked, but I came away with a bunch of things that will help me get better."
The Opening gave Ohio State's nine commitments a chance to talk to many of the key targets Urban Meyer hopes will fill out his 2014 Buckeye recruiting class, and most of the guys wearing the Block O tee shirts had were happy to talk about Ohio State.
"I talked a lot with Dame Webb," Quincy Wilson said. "He was pretty cool and gave me a Buckeye shirt."
One player that was a primary focus for the Buckeye recruits was Hinesville (Ga.) linebacker Raekwon McMillan, the nation's top-ranked inside linebacker. McMillan has been at the top of the Ohio State board for over a year. McMillan enjoyed his trip to Oregon and says the Buckeye commitments were, as always, laid back in their recruitment of him.
"The entire experience was pretty great," McMillan said. "Events like this really bring out the best in you. The biggest thing for me was how being around those types of players helps me adjust to the speed of the college game that's coming up. Being around a bunch of players that are "like me," and that can outrun me, that's the value. I talked to some of the Buckeye commits, they are kind of quiet on the field but they are good guys."
While the Buckeye commits keep it quiet on the field, they were centrally focused in their pursuit of the 6-foot-3, 240-pound McMillan.
"I spent most of my time talking to Raekwon (McMillan," Collier said. "Since I am from Georgia too we have a lot in common. He's a really impressive guy. All the guys that are committed and that we're recruiting are impressive, everyone has a good head on their shoulders."
Berger and fellow Buckeye commit Kyle Trout say that the Buckeye commits knew full well who they wanted to talk heading into The Opening.
"We hung out a lot with Raekwon," Berger said. "We talked to him a lot and he seems comfortable with us, we hope he chooses Ohio State."
Trout had a bit more of an extensive list.
"We were focused on Raekwon McMillan, Demetrius Knox, Solomon Thomas, Quincy Wilson and Curtis Samuel," he said. "Those were the main kids that we wanted to get to know. We're a tight group and I hope that got through to the players who are considering the Buckeyes."