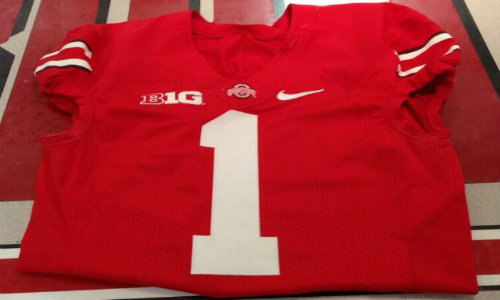 2014 QB Brandon Harris recently took to twitter to post a few pictures from his previous Ohio State and LSU visits. The highly rated QB told ElevenWarriors that he is still considering Ohio State despite Stephen Collier committing to the Buckeyes. Harris is set to announce his decision on July 18th between Alabama, Auburn, LSU, Ohio State, and others. 
Brandon Harris with Coach Urban Meyer
— B.Harris (@bharrisqb1) July 5, 2013
Could this be Harris' jersey he wears in college?
— B.Harris (@bharrisqb1) July 5, 2013
Harris with The Braxton Miller:
The Braxton Miller pic.twitter.com/G3hXngPwNy

— B.Harris (@bharrisqb1) July 5, 2013
Archie Griffin doing some recruiting for Ohio State:
This dude is awesome if you ever get to meet him! pic.twitter.com/FrRLLgi7bc

— B.Harris (@bharrisqb1) July 5, 2013
Hopefully we will be adding to this soon:
— B.Harris (@bharrisqb1) July 5, 2013
Brandon Harris also tweeted two pictures from his LSU visit:
— B.Harris (@bharrisqb1) July 5, 2013
— B.Harris (@bharrisqb1) July 5, 2013