Columbus-based Ohio State retailer The Buckeye Room posted this photo of a "New twill Nike Limited" Ohio State home football jersey featuring quarterback Braxton Miller's No. 5. The jersey, which features seven embroidered Buckeye Leafs on the collar – one for each of the school's seven national championships (or Heisman Trophies) – will set you back $120.
The collar embroidery is a nice touch and is similar to the concept our own Walt Keys whipped up when he reimagined Ohio State's football uniforms earlier this year.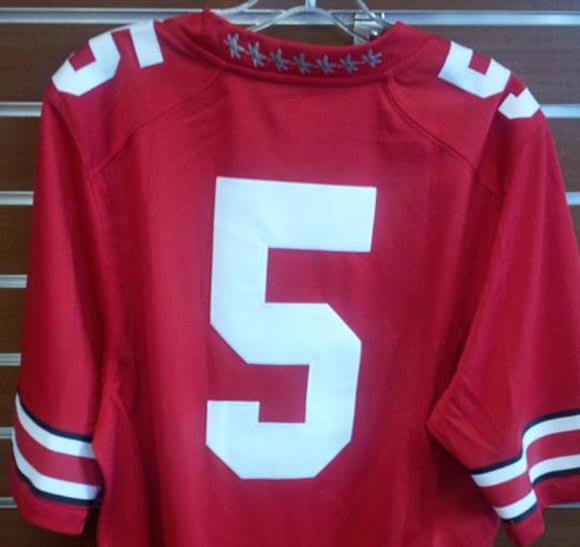 The collar treatment appears to be the only difference – from this photo, at least – from what Ohio State wore as standard home uniforms last season. Sorry, no updates to the stripes, sleeve fetishists. The font used for Miller's No. 5 is also unchanged, unlike the triangular serif added to the stem of the 5 in a jersey Miller wore for a Sports Illustrated photo shoot in early March.
We know there's a lot of activity on the uniform front right now, but don't yet have any specifics on the plan for this season, so to speak. In addition to the tweaked jersey Miller wore for the SI shoot, recruits have been shown at least two different jerseys on visits, making this the fourth new iteration (at least) since the end of last season. At this time, it's anyone's guess as to whether a new jersey is a prototype or something more. Unfortunately, even seeing it for sale does not guarantee we'll see this jersey on the field this fall.
At the same time, we could very well be looking at the new home jerseys. There's a system of checks and balances in place for uniform tweaks, including consultations with Archie Griffin and other distinguished members of the football family, but the addition of seven Buckeye Leafs on the collar is subtle enough to likely be good enough for all parties involved. Sure, they're billed as "Nike Limited," but is that just a trial balloon? From a marketing standpoint, if fan reception is overwhelmingly positive, it's a short jump from "limited" to "the new hotness."
[Via @BeauBishop]