The 11W Community Interview is truly of the people, by the people, and for the people. You submit the questions, vote on them, and then we pass the top ones on to the biggest names in the world of Ohio State athletics.
Lonnie Johnson, offered by Ohio State last fall, had long been rumored to be a Buckeye in the making, but months passed without his commitment taking place. Finally, on Mother's Day, Johnson announced his decision and to the surprise of nearly no one, he chose the Buckeyes. Since Mother's Day, Johnson has been at the forefront of Ohio State's recruiting efforts, spearheading the recent commitment of Core6 teammate Jamarco Jones.
The Gary (Ind.) athlete stands 6-foot-3 and 195-pounds and could play wide receiver or safety at Ohio State, but is likely to start his career on the offensive side of the ball for the Buckeyes. 
Johnson will talk about who else he's recruiting, whether or not he knew that the creator of the "SuperSoaker" carries his name, and what it was about the Buckeyes that made them the right choice for him.
If you compared your game to a current or past NFL WR who would it be? - AWarren84
LJ: That's easy, I'd would compare myself to Dez Bryant. He has the same type of swagger I have (laughs), he feels like no one can guard him, and I feel the same way. When I step on the field, no one can guard me, I think. I think that's important to making plays.
What is your biggest strength as a receiver and what aspect of your game do you feel needs improvement? - Max Power
LJ: My biggest strength is my speed and athleticism, I can make tough catches. I am working hard to improve on my route running, to get consistent and improve my pass-catching.
What other players have you been recruiting? - OSU52
LJ: I worked pretty hard to get Jamarco Jones on board, and I talked to Stephen Collier a bit. I've been working to get the tough ones, guys like Kyle Allen and Mark Andrews, but sometimes you don't always get the guys. The next big target is Marshon Lattimore, I need to work on getting him to commit and I hope I win that one.
How do feel about 2014 class so far? - Poison Nuts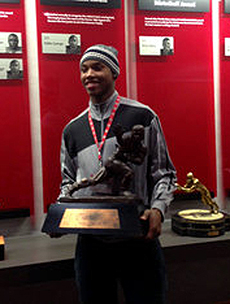 LJ: Overall, this class is awesome, I feel great about it. We have a very strong bond and we have an advantage athletically on the people we're up against. We're the "Dream '14," we are working so hard to get better every day. We won't stop until we're the best. 
Indiana is seen as a basketball state, have you always been a football man or do you enjoy both? Similar to many other star athletes, do you play both? - Basso Profondo
LJ: I've played three sports since I was six years old. I played basketball, football and I ran track. I used to have basketball dreams like everyone in Indiana growing up. I didn't get serious about football until my sophomore year, that's when I realized I had a chance in football because I was getting calls and people talking about scholarships and what not. 
Many great Buckeyes first made their mark on special teams. Do you believe you can have an early impact there as well and if so in what capacity? - BuckGuyFan1
LJ: I'm kind of nervous about punt returns, because I've never really done that, but I know I can make an impact on the kick returning aspect of things. I've been watching Ted Ginn, Jr. highlights, and I know I can use those tapes and make sure that I am continuing to get better and do whatever it takes to help the team win.
What are your goals for your senior season in football?  What have the coaches asked you to work on this year? - BuckeyeTrappedInSouth
LJ: Ohio State's coaches have told me they'd like to see me get to close to 200 pounds and really work on catching the ball, they want me to catch 100-200 passes a day, and I've been working to do that. My goal for this senior season is to win every game and break every West Side record. I have the school's single season record, but I want to break every one of our records.
What goes through your mind as your QB lofts up a deep ball in your direction? - UrbanCulture
LJ: My only focus is the football, if I beat my guy off the line I know the only thing I need to do is catch it. My goal is to score every time I touch the ball and to do that I need to locate the ball, get myself space and make sure I am focused.
Being from Indiana, how much do you know about the history, rivalries, etc. when it comes to Ohio State? Did any of this play a part in your commitment to the Buckeyes?? - OSUBucks57
LJ: I only knew a little bit. I learned most of what I know from my visits to Ohio State, I learned about a lot of players that I didn't know even went to Ohio State. It's awesome how they do the little things, like blocking out all the "M's" around campus the week that we play that team up north.
What about the coaching staff sold you on committing to OSU? - TheBadOwl 
They are an entire staff full of father figures
LJ: It was the support of the staff, they are so cool and basically a family. They are an entire staff full of father figures, they want the best for us each and every day. It's not just a coaching staff, they form a bond with us as people. I don't think a lot of recruits get to see the "softer" side of the coaches if they don't get to spend one-on-one time with the staff. Every coach has an "in season" and "out of season" attitude. I have been lucky to see both sides of the staff, the "harder" side and the "softer" side, and how much they care about us is the big reason my family was sold on Ohio State.
Thanks to everyone for the chance to do this. Just a reminder for all you uncommitted recruits out there, Ohio State is the place to be. We've gone from not knowing each other to being a true family. I'm so blessed to have this opportunity to play at Ohio State in the future and I am not going to take it for granted. I can't wait to start scoring touchdowns in the Horseshoe. Go Bucks!