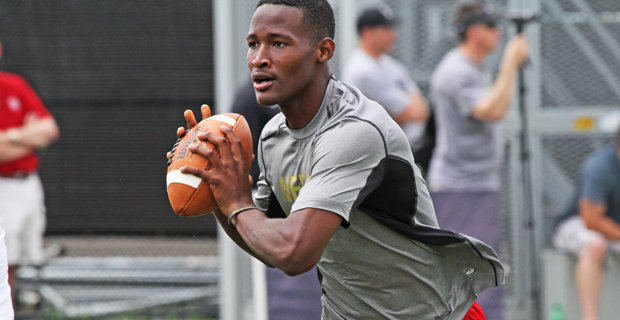 Following the commitment quarterback Stephen Collier, most people thought Bossier City (LA) Parkway signal caller Brandon Harris was no longer in the picture for the Buckeyes. This is far from true, however.
"I knew Ohio State's thought process going into this. With my decision still being a month away and them not having a quarterback in this class they wanted to make sure they got one, especially because a lot of them have been committing recently," Harris said. "I am still strongly, and I really mean strongly, considering Ohio State. This will have no impact on my decision."
The Ohio State coaching staff made sure Harris knew about the situation before the masses found out.
"I knew this was going to happen all along. I was one of the first people to know about it this. Coach Meyer called me a few weeks ago to explain the situation," Harris continued. "They offered me and Kyle Allen first, then they offered Zack Darlington a chance to earn an offer. When Kyle decided to go to A&M and Zack went to Nebraska, the coaches didn't want to put all of their marbles in my basket. They said they're still going to recruiting me hard, very strongly."
While some quarterbacks may shy away from competition and decide not to go to a school because they already have a quarterback in their class, that is not the case with Harris.
"Regardless of the situation, you're going to have to compete. Kenny Guiton is graduating and if Braxton has a good year, he could go pro, so that would leave only JT Barrett, Cardale Jones, and Stephen Collier – meaning I think they'll take another quarterback in this class," Harris told Eleven Warriors. "Coach Meyer isn't going to put a player on the field because they're a five star recruitment. You always have to compete to earn your spot."
The consensus four star recruit is intrigued by the opportunity to play for Urban Meyer and the offense he has installed at Ohio State.
"Coach Meyer's resume when it comes to developing quarterbacks speaks for itself with guys like Tim Tebow, Alex Smith, and he also had Cam Newton for a few years. He has also done a great job with Braxton and [Guiton] could be the starter at a lot of schools," Harris said. "Ohio State will also be in position to win a championship every year, including this year."
Harris has narrowed his list to Ohio State, LSU, Alabama, Baylor, Auburn, and Ole Miss. He has yet to visit the latter three schools. After he takes all of his visits, he will sit down and talk about the factors that'll go into his decision. 
"There are going to be a lot of factors that go into my decision. I don't know all of them yet because I don't think it's fair to compare schools because I haven't seen all of my finalist," Harris told Eleven Warriors. "When I'm done with my visits, I'll sit down with my dad and talk about them."
Harris will make his decision public in a little under a month on July 18th.