Happy Friday Buckeye Nation! Welcome to another edition of the Ohio State Football Recruiting Notebook.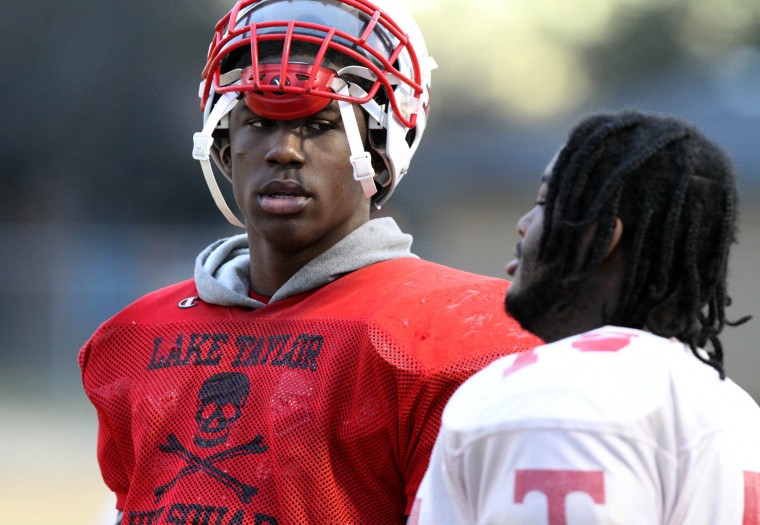 A lot has happened since last Friday's edition of the notebook and Eleven Warriors is here to touch on the latest developments in the world of Ohio State football recruiting.
The biggest story of this week is the commitment of Norfolk (VA) Lake Taylor defensive end Jalyn Holmes. He committed to Urban Meyer and the OSU staff on the last day of his unofficial visit to Ohio State. We'll have more on this huge pickup by the Buckeyes later in this week's recruiting notebook.
There were also many other big time visitors on campus in the last week including the likes of Chad Mavety, Quincy Wilson, Jamarco Jones, Sterling Jenkins, Matt Elam, and many other top recruits. We'll talk tell you more about the visits of these top prospects later in the recruiting notebook.
Urban Meyer and his coaching staff saw a player who many thought would be a Buckeye at one point in time commit to one of the top schools in the country, not named Ohio State. We'll tell you who it was and where they decided to attend college later in the recruiting notebook.
Finally Ohio State is hosting their final one day football camp (excluding Friday Night Lights) today. We'll tell you who decided to make the trip to Columbus to attend the camp or take a look around campus.
Join us after the jump to learn the latest on Ohio state football recruiting.
THE BUZZ
The biggest news in the last week is definitely the Bucks scoring the commitment of Norfolk (VA) Lake Taylor defensive end Jalyn Holmes.
Holmes was thought to be a big lean to his "dream school," Florida State until he came to Columbus for an unofficial visit Tuesday. He was obviously "wowed" on his visit and decided Ohio State was the best place for him to play his college football. This is a very big and surprising pickup for Urban Meyer and Ohio State.
Holmes wasn't the only top recruit in Columbus this past week. There were many other players high on Ohio State's wish list who rolled into Columbus.
The Buckeyes got two big visits from two players who are expected to be in the 2014 class.
The first visit was from JUCO offensive tackle Chad Mavety who said he had an "awesome" first visit to Ohio State. He plans on returning on an official visit for the Ohio State-Indiana game.
The other big weekend visit came from Orlando (FL) University School cornerback Quincy Wilson, who like Mavety had a very productive visit to check out Ohio State.
Wilson will likely seize the opportunity to check out a couple of other schools on official visits before ultimately making his final decision. 
Urban Meyer got the final visit for Chicago (IL) De La Salle Institute offensive tackle Jamarco Jones, who is one of Ohio State' top targets along the offensive line.
While Jones has recently played his recruitment close to the vest, it's all about to come to an end in a coupe of weeks as he is set to announce Thursday. While Jones has kept fairly quiet on his recruitment, I expect him to choose Ohio State as his announcement ceremony.
Finally Urban Meyer and his coaching staff hosted a couple of the top offensive linemen in the class of 2015 in Sterling Jenkins and Drew Richmond. 
Jenkins is one of the only players I've predicted to be in Ohio State's 2015 class. He had a very good trip to Columbus where he got to see the school up close and personal.
Richmond is another elite 2015 offensive linemen who really likes what Ohio State has to offer. He grew up a fan of the Buckeyes which can do nothing but improve Ohio State's chances of landing Richmond.
HAPPY TRAILS
There was one major Ohio State target who committed to another school this past week. This was a player the Ohio State staff really wanted to be a part of this 2014 recruiting class.
This player is 6-5/200 wide receiver Derek Kief from Cincinnati, Ohio and De Salle high school. Kief committed to Alabama on Father's Day (last Sunday) just a couple of days after wrapping up a very good visit to Alabama.
Ohio State was considered the favorite to land Kief for most of his recruitment until things started to shift towards Alabama just a short week ago. He is a great get for the Crimson Tide and could be a very useful player for them.
LOOKING AHEAD
Ohio State is hosting their final football camp until the Friday Night Lights camp which is expected to take place in late July. The 26th of next month is the most likely date for the final football camp of the summer.
Today's camp is expected to attract many top talents to Columbus. Some prospects are coming to camp and visit, while others are just coming into Columbus to check out the campus and the football program as a whole.
Top recruits slated to be in Columbus in the next couple of days include the likes of Derrell Scott, Damien Harris (2015), Johnnie Dixon, Jermaine Eluemunor (committed to UCLA), Damian Prince, Elisha Shaw, and many other elite talents. Also expected in town Saturday are defensive linemen Derek Barnett and Thomas Holley.
The Eleven Warriors recruiting team will bring readers the most up to date coverage of this weekend's events. Have a great weekend!