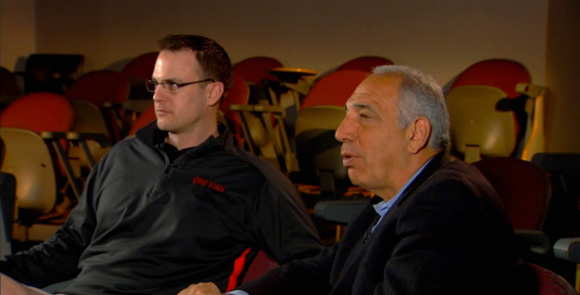 Ohio State's offensive coordinator sat down with Big Ten Network's Gerry DiNardo and shot the breeze. The whole piece (video included) is quite informative, but here are some of the best bits:
On the new-wrinkle Diamond formation:
It's kind of an inverted Wishbone. Dana Holgorsen did a good job with it a few years back at Oklahoma State when he had (Brandon) Weeden and (Justin) Blackmon. He was getting into it to get single coverage on Blackmon. He would put three backs in the game, or two backs with a fullback/tight end guy. And Dana would have a two-play check to where if defenses double Blackmon, they were going to run it. And if they didn't, they were going to throw it to Blackmon. I have been studying it for a couple of years.

It has evolved a little bit to where guys are running a lot more plays out of the formation. It has been fun. It has been fun for our guys because we are pretty deep at tailback. Carlos (Hyde) and Rod Smith, who probably could start a lot of places in this league. And we have two young guys in Bri'onte Dunn and Warren Ball who deserve to see the field a little bit.
On last year's toughest defense:
Absolutely, Wisconsin. Without a doubt. Their defensive coordinator Chris Ash, who I knew from my days at Iowa State and am good friends with … I felt like I got out coached. He was very simple. He did not call one blitz on first or second down. He called one front and one coverage. Within that front and coverage, he could adjust to any formation or motion we gave him. And he had his kids extremely well coached up on recognition of plays and alignments.
Herman continues to show adeptness with the media that will serve him well once he moves on to be a head coach.