In an off-season littered with Gordon Gee's forced retirement, another disgusting NBA Playoffs and mid-season baseball, it was nice to see some positive news – on the Buckeye basketball recruiting front, at least.
D'Angelo Russell, one of 2014's top perimeter players, committed to Ohio State Friday night (recruitniks don't have time for a social life – assuming they're capable of having one). Unfortunately, we were also hit with the departure of assistant coach Chris Jent, who is leaving Columbus for Sacramento (a major blow to us capital city residents' collective self-esteem).
Obviously, there are a lot of questions from our loyal readers based on both of those situations, and inquiries about the recruiting scene, in general. First, a Tweet:
@myoung11w How does D'Angelo Russell's commitment hurt or help our chances at Jahlil Okafor and Tyus Jones? #11WMailbag

— Ryan Donnelly (@RyDonn) June 10, 2013
By now, the idea of Okafor and Jones playing together at the next level is obvious. Blatantly so. Don't forget about the one time Okafor's AAU teammate, Cliff Alexander, who said he's talked to Okafor about teaming up in college. Oh yeah, one more – 5-star F Justise Winslow. If you add in Chris Bosh, Dwyane Wade, Dwight Howard, Luke Walton – O.K., you get the point.
As much as everyone would like to play together, it's just not feasible. Maybe Okafor and Jones can team up at Duke – even then, what's best for Jones might not be best for Okafor, long term (last good, NBA-ready post player Coach K's produced? Carlos Boozer?). 
So, to answer the question, the recruitment of Jones takes a hit, especially if Thad Matta's going to be limited scholarship-wise. But, Russell said he's going to push hard to get Okafor to come to Ohio State. There's always been a lot more going for the Buckeyes in Okafor's recruitment. I didn't really see them ending up with both Okafor and Jones, anyway.
How much does Chris Jent leaving affect recruiting? Who in your opinion would be a good replacement? - LABUCK
It never hurts to have a guy on the staff with NBA experience. Not only as a player (barely still counts!), but also as a coach – LeBron's coach, at that (these young, naïve kids look at LeBron as a role model. Ha.). So, yeah, it'll hurt recruiting a bit. Especially for those kids who have immediate NBA dreams. But, the program's stability, otherwise, negates most of the impact of Jent's departure. 
As far as a replacement goes, OSU video coordinator Greg Paulus is the obvious answer. He doesn't have the NBA on his résumé, but he has college football on there! Even though it was at Syracuse, it's still amazing that he can start at an "FBS program,"  after playing four years of college basketball exclusively. Clearly a smart guy and a fast riser. He'd be a great fit. Even if his reputation on YouTube is not that flattering. 
Thinking along the same lines as Jent, there are only three coaches I can think of with both Ohio State and NBA ties: Dennis Hopson (assistant at Bowling Green), Herb Williams (one of the New York Knicks' top assistants) and Jim Cleamons (former Phil Jackson assistant, now in China). Don't think any of those are likely.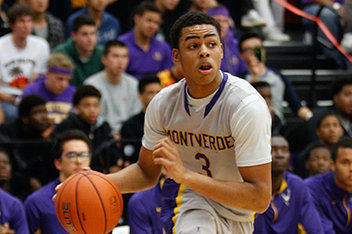 Where do we stand with JaQuan Lyle? Does the commitment of Russell essentially end our recruitment of Lyle? - KILLER NUTS
If Matta and his staff are looking to add another guard, it probably won't be in the same mold as Russell. Both him and Lyle are combo guards, and there's some overlap in their skill sets.
Overall, Russell is a better shooter and pure scorer, while Lyle is a better distributor – but neither one is as refined as Tyus Jones is in that lead guard role.
Factoring in that and the Okafor connection, the Buckeyes are still in on Jones – but not Lyle. He'll be a better fit at Indiana or Louisville. 
How good is David Bell? - BUCKEYEFAN52
Yes, this is the best highlight video I could find of him.
Bell (2014 F, Garfield Heights) is great around the rim – on both ends. Partially a product of his dominant length on that level. He can also run the floor pretty well.
He has the physical tools, but he's far from a finished product. So, he will probably not see the floor in his first year. Although, he might be needed if they can't fill the void left by Amir Williams' departure, after 2014. Yes, I did just say that.
What's the deal with Mike Mitchell's brother? - THEBADOWL
Talking about Mickey Mitchell here, a forward from Plano, Tx., in the class of 2015.
He's going to have Mike in his ear – you would think – telling him how great Ohio State is. So, I'm sure Mickey will continue to show interest (despite the absence of the "Block-O" on recruiting sites, he's interested). Thad would be crazy not to go after this kid. 
Mickey's a five-star stud. Might be the best at his position by the time he's a senior. That's a long time from now, and he might not even play basketball:
He's coming off an ACL tear, which he suffered while playing football. Basketball just might be his best option. Even if he decides that it isn't (a 6-foot-8-inch, mobile QB?)  – I bet the Buckeyes will be in on him.