The Big Ten has received six new commitments this past week and many of the Big Ten teams hosted some type of prospect camp to further evaluate their recruits.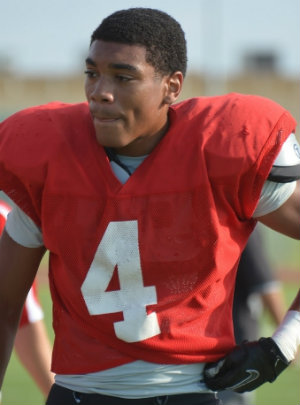 Indiana, Nebraska, Penn State, and Maryland all picked up a commitment over the past week and Iowa picked up two commitments. 
We have some early movement in the B1G Football Recruiting Rankings from last week. With the commitment of QB Michael O'Connor, Penn State was able to jump Northwestern for third place. Indiana was able to move up a spot to now put Purdue in last place. Both Purdue and Indiana have only two commitments. 
Ohio State received a commitment from punter Cameron Johnston, but he does not affect the rankings since he will be apart of the 2013 class. His commitment, however, means that Ohio State will no longer need to take a punter in the 2014 class. 
Continue reading for the latest B1G Recruiting Rankings and other tidbits including one Big Ten team possibly losing their highest rated commitment to Texas. 
14. Purdue

We have a new last place this week! Purdue has been passed by Indiana, a baseball school (according to Tom Crean). 
Darrell Hazell still only has two prospects committed to the Boilermakers, but it still remains very early in the recruiting year with signing day still eight months away. Not all schools fill their classes as quick as Baylor. 
Purdue hosted their first camp for prospects this past weekend. One of the most impressive prospects at their camp, OLB/DE Gelen Robinson, could be close to committing to Purdue over Vanderbilt, Indiana, Illinois, Minnesota, and Ohio. Robinson is a legacy recruit for Purdue and would be a big get for first-year head coach Darrell Hazell. 
Kenton (OH) OLB Noah Furbush took an unofficial visit to Purdue and also worked out at camp this weekend. Landing Furbush appears to be a long shot with Michigan, Michigan State, Vanderbilt, and Tennessee chasing the Ohio product. 
13. Indiana

Kevin Wilson added his second commitment in the 2014 class this weekend, but the timing was weird to say the least. JUCO OT DeAndre Herron was on an unofficial visit to Ball State this weekend, when he came to the conclusion that Indiana was the  school for him. Herron had offers from Louisville, Arizona, and Ball State. Big get for the Hoosiers. No word if Tom Crean was made aware so that he could cut down the nets in celebration. 
After a seventh place recruiting finish in the Big Ten last season, Kevin Wilson and the Hoosiers must keep the momentum going if he plans to compete with the big boys in the Big Ten. Wilson has Indiana headed in the right direction, but that really isn't saying too much.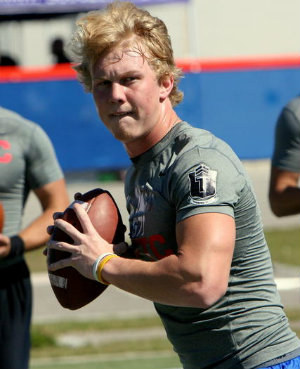 12. NEBRASKA

The Cornhuskers landed a commitment on Friday from kicker Drew Brown of Texas. The kicker was offered after Nebraska's camp and committed on the spot. 247Sports rates Brown as the number four overall kicker in the nation. This commitment will do little in terms of class rankings, but it fills a need for the Huskers. 
3-star safety commit, Jason Hall, could be close to decommitting after earning an offer from Texas at their camp this weekend. Hall is the highest rated of their three commitments. 
Nebraska hosted some of their top targets this weekend for camp including QB Zack Darlington. Some believed that Darlington could commit to Nebraska this past weekend, but it appears that he will hold off for a little while. Darlington has offers from Ohio State, N.C. State, Ole Miss, West Virginia, Virginia Tech, and others. 
11. MINNESOTA

No new commitments for the Gophers, but it was a good sign to see 4-star RB Jeff Jones show up to their camp this past weekend. Jones remains committed to Minnesota, but has been looking around at other schools such as Notre Dame. Keeping Jones committed should be their number one priority in recruiting. 
Other than Jones, Minnesota's camp appeared to be full of recruits with division two offers. 
Coach Kill and Minnesota could use some play makers on offense. Jeff Jones would give the Gophers a home run threat at RB, but they are going to need to be able to score to keep up with the Michigan's and Ohio State's of the Big Ten. 
10. MARYLAND

Maryland picked up a commitment from DT David Shaw this past week. It appears Maryland is recruiting against itself. Two of their four commitments (including Shaw) did not have offers from any other schools when they committed. 
QB Will Ulmer is a solid get for Maryland, but they'll need to be able to recruit better all-around if they'll want to compete in the Big Ten. Maryland's 2015 schedule is going to be very tough. Maryland will be finding themselves near the bottom of the standings if they don't start recruiting better. 
9. ILLINOIS

All appears quiet in Champaign. Tim Beckman is making Illini fans wish they had Ron Zook back. 
Illinois remains with four commitments. They'll look to get 2013 signee Aaron Bailey some weapons on offense. Bailey had offers from Ohio State, Notre Dame, Wisconsin, and many others. Illinois future success will hinge on whether or not the 4-star QB will pan out. 
8. IOWA

Iowa was the only team in the Big Ten to pick up two commitments this week. The Hawkeyes landed Ohio RB CJ Hilliard and D.C. DB Omar Truitt.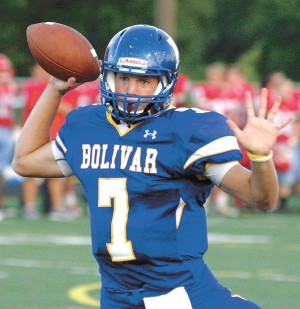 CJ Hilliard, brother of Ohio State's recent offer 2015 LB Justin Hilliard, committed to Iowa over Boston College, Indiana, and the entire MAC conference. CJ's commitment should make Iowa one of Ohio State's main competitors for his brothers commitment. This is Iowa's fifth commitment from Ohio in the past two classes. 
Omar Truitt was the other player to commit to Iowa during this past week. The three star DB selected the Hawkeyes over Maryland and Syracuse. Truitt will take his first ever visit to Iowa next week. 
Arkansas soft-commit QB Rafe Peavey will visit Iowa on Wednesday. Kirk Ferentz will have one last chance to keep the highly rated QB in his home state. Ohio State is another school that has been after Peavey. 
7. WISCONSIN

Gary Andersen has done a solid job recruiting since taking over the job. His biggest recruiting job was to keep the 2014 class in tact, as Bret Bielema already had a four man class. 
Wisconsin is rated this low purely based on the number of commitments. I would take the Badgers six commitments over any six of Rutgers or Michigan State's commits. Look for Gary Andersen and Wisconsin to finish with a top five class in the Big Ten. 
Wisconsin received some good news when JUCO LB D'Vonta Derricott named the Badgers as his leader. He has offers from Arizona State, Arkansas, Baylor, Iowa, Iowa State, Kansas, Kentucky, Minnesota, North Carolina State, Oklahoma State, Oregon State, South Florida, Texas Tech, and West Virginia.
6. MICHIGAN STATE

Michigan State will get one more chance to impress OL Jamarco Jones before he decides on June 27th. Jones is down to Ohio State, Michigan State, and Michigan. Ohio State was once thought to be the clear leader, but the race has tightened as of late.
WR Jalen Brown will also visit those same three school this week. The Arizona HS product will be tough to pull from the West Coast. OL Danny Burns from Fairfield, Ohio might visit Michigan State again on Wednesday. The Spartans appear to be a major player for the under-the-radar offensive lineman. Burns was reportedly impressive at Ohio State's camp this past weekend. 
Random Note: Former Ohio State OC/OL coach Jim Bollman is rated #38 in 247Sports assistant coach recruiting rankings. 
5. RUTGERS

Rutgers remains fifth in the rankings based on the fact that they have 11 commitments. Look for Rutgers to fall in the rankings as other teams begin to pick up more commitments in the coming months. Rutgers has quantity, but lacks the quality needed to be a force in the Big Ten. 
With Rutgers joining the Big Ten, they should attempt to recruit the State of Ohio. Rutgers has had zero presence in the fertile recruiting grounds of Ohio. Rutgers shouldn't have any problem recruiting second or third tier talent from Ohio.
The Scarlet Knights check in at number two in 247Sports Big East recruiting rankings. If Rutgers wants to compete in the Big Ten, they'll need to start recruiting like they are in the Big Ten. 
4. Northwestern

Northwestern fell back one spot in the rankings this week after Penn State picked up a commitment. There is no reason for Northwestern fans to be worried. It is very impressive for Northwestern to be in the top third recruiting in the Big Ten. Pat Fitzgerald has done an outstanding job in Evanston. 
The biggest recruiting battle for Northwestern could be to make sure head coach Pat Fitzgerald doesn't leave for another job. His name pops up each year for job openings, but he has remained loyal to his Alma Mater. I don't see him leaving any time soon. Pat Fitzgerald is the perfect fit for Northwestern. 
NW is off to a great start in recruiting, but with eight months left we shall see if they will be able to finish strong.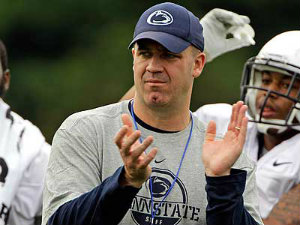 3. Penn State

It is somewhat sad to me that the third best recruiting class in the Big Ten belongs to the school that was just leveled with sanctions. The Big Ten (minus Michigan, Ohio State, and you could probably include Northwestern) really needs to step it up on the recruiting trail. 
Bill O'Brien picked up another highly rated QB after signing Christian Hackenburg last class. Michael O'Connor is rated as a 4-star by 247Sports. He chose to play for Bill O'Brien and Penn State over Missouri, Miss. State, Michigan State, Rutgers, Vanderbilt, and South Florida. The commitment of O'Connor will ensure that Penn State's group of highly rated WR's in the 2014 class will have someone to throw them the ball. 
With the way Bill O'Brien has been recruiting, maybe Penn State won't fall to the bottom of the pack in the Big Ten. 
2. OHIO STATE

Ohio State hosted a football camp for recruits this weekend. Poona Ford (offer) and Terry McLaurin impressed according to ElevenWarrior's own Mike Young. It appears that it might be a tough battle to pull Ford out of the South. McLaurin continues to impress, but still does not have an Ohio State offer to show for it. 
RB Jonathan Hilliman from New Jersey visited Columbus this past weekend. Judging from his twitter, he had a great time. The RB with offers from Alabama, Rutgers, Arkansas, Georgia, and others plans to take more visits before deciding. He had previously named Ohio State as his leader and it appears this visit only helped our chances at securing his commitment in the future.
Ohio State QB target Kyle Allen committed to Texas A&M this week. Brandon Harris reportedly is leaning to Auburn. Darlington grew up a Nebraska fan. Many are wondering where OSU will turn for a QB. 
Ohio State will host a handful of 2014 prospects this week: TE DeAndre Goolsby, DE Solomon Thomas, WR Jalen Brown, OT Chad Mavety, DB Quincy Wilson, and LB Richard Yeargin III. No commitments are expected this week, but you can never rule out Urban Meyer.
Note: Punter Cameron Johnston is a member of the 2013 class. 
1. MICHIGAN

Michigan did not receive a new commitment this week, but remains atop our rankings. In 247Sports.com Team Recruiting Rankings, Michigan fell to number two after Texas A&M picked up QB Kyle Allen. 
Brady Hoke will look to sway Ohio State's top OL target, Jamarco Jones, this coming weekend when he visits Ann Arbor. Many have felt that Ohio State was the team to beat, but the gap has been closing as of late. Stealing Jones from Urban Meyer and the Buckeyes would definitely give Michigan fans something to troll with. Jalen Brown will also visit Michigan (and Michigan State) after he visits Ohio State this week, but no commitment is to be expected. 
Michigan has a comfortable lead in the Big Ten rankings, but I'd expect Ohio State to make it interesting in the coming months. I don't see Michigan or Ohio State falling below number two. 
Rankings Overview

| No. | School | Commits | Scout ★ AVG | Rivals ★ AVG | 247 ★ AVG | ESPN ★ AVG | Overall Avg |
| --- | --- | --- | --- | --- | --- | --- | --- |
| 1 | Michigan | 11 | 3.55 | 3.55 | 3.82 | 4.00 | 3.73 |
| 2 | Ohio State | 9 | 3.67 | 3.56 | 3.89 | 3.56 | 3.67 |
| 3 | Penn State | 11 | 3.27 | 3.18 | 3.36 | 3.67 | 3.37 |
| 4 | Northwestern | 11 | 3.20 | 3.27 | 3.36 | 3.60 | 3.36 |
| 5 | Rutgers | 11 | 3.00 | 2.82 | 2.91 | 3.00 | 2.93 |
| 6 | Michigan State | 8 | 3.25 | 3.25 | 3.38 | 3.20 | 3.27 |
| 7 | Wisconsin | 6 | 3.67 | 3.17 | 3.50 | 3.50 | 3.46 |
| 8 | Iowa | 5 | 3.20 | 3.40 | 3.40 | 4.00 | 3.50 |
| 9 | Illinois | 4 | 3.00 | 3.00 | 3.00 | 3.00 | 3.00 |
| 10 | Maryland | 4 | 3.00 | 3.00 | 3.33 | 3.50 | 3.21 |
| 11 | Minnesota | 3 | 3.33 | 3.00 | 3.33 | 3.00 | 3.17 |
| 12 | Nebraska | 3 | 3.00 | 3.00 | 2.67 | NR | 2.89 |
| 13 | Indiana | 2 | 3.00 | 3.00 | 3.00 | NR | 3.00 |
| 14 | Purdue | 2 | 3.00 | 2.00 | 2.50 | NR | 2.50 |