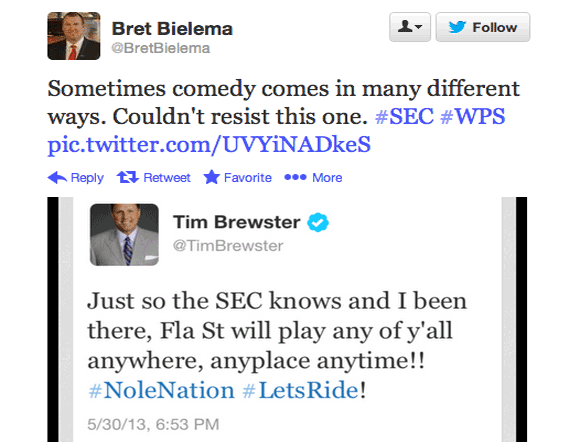 Sometimes comedy comes in many different ways. Couldn't resist this one. #SEC #WPS twitter.com/BretBielema/st…

— Bret Bielema (@BretBielema) May 31, 2013
Arkansas coach Bret Bielema, the philosopher troll king of Twitter, was back at it Thursday, sending the above shot Tim Brewster's way. Brewster, now the tight ends coach at Florida State, has an acrimonious history with Bielema, dating back a Big Ten game between Bielema's Badgers and Brewster's Gophers in 2010.
Up 41-16 late, Bielema called for a two-point conversion after scoring a touchdown. The attempt failed, and Brewster, rightfully outraged, ripped into Bielema in the postgame handshake.
In interviews following the game, Bielema incredulously stated that the conversion was standard operating procedure. "I know Tim wasn't happy with it, but you know what, if I'm down by 25 and it's in the 3rd or 4th quarter, I would call a play knowing that they're probably going to run a two point conversion because that's what the card says."
Brewster was blunt. "He'll have to live with that because it was wrong. Heck, everyone in here knows it and everyone in college football knows it. It was wrong."
So that leads us to Bielema calling out Brewster's bravado yesterday. Why? We're not sure. This is a man that is fond of responding to Twitter hecklers with "Enjoy life alone," so nothing Bret Bielema does on Twitter really makes sense.
Thankfully, Bielema followed up the blast with another tweet, clarifying that he respects FSU, but not Tim Brewster. Basically.
Just an FYI wasn't about the message more about the source. Long history. Respect FSU and history. #relaxpeople

— Bret Bielema (@BretBielema) May 31, 2013