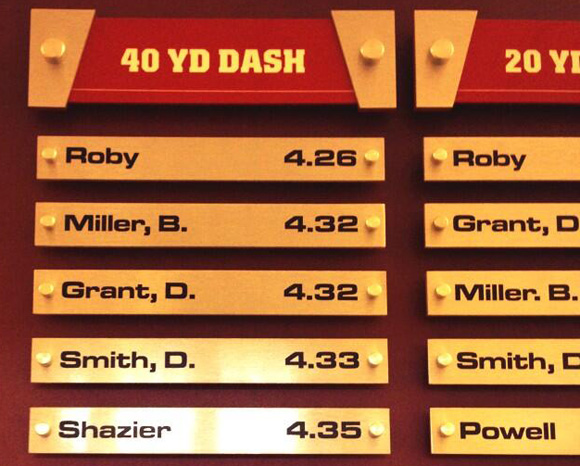 Ah, the Urban Meyer 40 shrine. As coach of the Florida Gators, Meyer posted 40 times for team leaders in Gainesville's Heavener Football Complex. The listed times were all remarkable, if just a tad unbelievable. Four Gators were on record as having sub-4.3 40s, which would translate to the four fastest times at any given NFL Combine.
While not exactly approaching peak truthiness, the board is great for morale and even better when showing off a football facility to impressionable young recruits.
Thanks to a tour of Ohio State's Woody Hayes Athletic Center from noted quaterback guru George Whitfield Jr., we now see who sat atop Meyer's 40 shrine from last season in Columbus. All-American candidate and cornerback Bradley Roby leads all Buckeyes on the board with a time of 4.26 in the 40. That's blazing, and again, would have been the top time at the 2013 NFL Combine. Quarterback Braxton Miller, second on the list, checks in with a 4.32, with corner Doran Grant matching him. Rounding out the top five are wide receiver Devin Smith at 4.33 and linebacker Ryan Shazier at 4.35.
Further down the list is tight end Jake Stoneburner, with a showing of 4.40. Compare that to Stoneburner's Combine time of 4.65.
While it may not be as easy as adding .25 to everyone's time, as in Stoneburner's case, it's helpful to understand that while the Buckeyes do indeed have several burners, they may not be quite as fast as advertised at the WHAC.
Still, it's a great barometer of who the fastest players on the team are, and in Roby's case, that's quite the honor.
Here are a couple of other photos from Whitfield's Wednesday visit to Ohio State.
Spending some time with the #buckeyes this week...I'll take you w me. Here's what you see entering the lobby. twitter.com/georgewhitfiel…

— George Whitfield Jr. (@georgewhitfield) May 29, 2013
What every #buckeye sees as he heads into the Woody Hayes Complex.#OSUtour twitter.com/georgewhitfiel…

— George Whitfield Jr. (@georgewhitfield) May 29, 2013
What every recruit's mom sees regarding Ohio State's Academic Progress Rate. #buckeyenation #OSUtour twitter.com/georgewhitfiel…

— George Whitfield Jr. (@georgewhitfield) May 30, 2013
Every schedule in the Buckeyes facilities refer to their arch rival as - That team up north. @amanda_balionis twitter.com/georgewhitfiel…

— George Whitfield Jr. (@georgewhitfield) May 30, 2013
So you want to go to the NFL, huh? How Ohio St's strength staff reinforces professionalism. ##OSUtour #PayUp twitter.com/georgewhitfiel…

— George Whitfield Jr. (@georgewhitfield) May 30, 2013
What every Buckeye has hanging over his head when weight training..#Grind #OSUtour twitter.com/georgewhitfiel…

— George Whitfield Jr. (@georgewhitfield) May 30, 2013