When I was a younger man, I often struggled with the greater questions in life, the existential, the "big picture" stuff.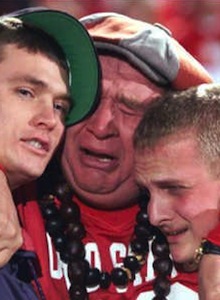 I'd lay awake night after night, searching for answers to questions that I simply, for whatever reason, could not comprehend. I turned, as I often did as a youngster, to my brother; he seemed to have an answer to everything.
"Why, brother of mine, why is it important that Ohio State be better than Michigan in everything? Isn't it really just the score of the game on the football field and basketball court that matters?"
He'd ponder and ponder he would. My brother was never one to speak without thinking, but he'd always come back to the same inevitable point. 
"Jeremy," he'd say. "We're from Ohio, and we have to be better because Ohio is just better. So, if it's football, we need to dominate them, if it's basketball, we need to destroy them. If it's badminton, we need to stomp their shuttlecock into oblivion, it's just that simple. If it's a cooking contest, I want their soufflé burnt to a crisp."
Now I was an impressionable youth, as were many who grew up in Ohio, and my brother was the person I looked up to the most in the whole world, so I never doubted or questioned his logic. My formative years – the 1990s – were hardly kind to anyone who followed Ohio State and its rivalry with Michigan. I was there when we celebrated one of the "greatest wins ever" against Michigan in 1992, a 14-year-old boy who then realized how vital it was not let "that state up north" get the better of you in any way, shape or form. As it were, the John Cooper era forced me to start focusing on an area of athletic competition that I, at the time, had never really put me thought in to: recruiting.
You see, John Cooper was a helluva recruiter, and he was bringing in many of the nation's top players to Ohio State on an annual basis, so it was easy to latch on to that one aspect of his tenure and hold on to the magical ride.
As the years passed it became more and more evident that Cooper's ability to recruit big-name players and his ability to coach the first 11 games of the year had no bearing on his ability to unseat Michigan from their spot that was firmly entrenched in his own head, and he was asked to leave.
When he was removed, Buckeye fans were blessed to find a new leader, one who got it, and the universe was right again. Ohio State made it a regular habit to whip "the leaders and the best" up and down the football field, in the classroom, and in the recruiting rankings. It was a good time to be a Buckeye.
But all good things must come to an end, and as Jim Tressel left, Michigan's own prodigal son (who is, of course, from Ohio) appeared to capitalize on a weakness in the wall built around The Heart of it All, and there's been no shortage of politicking and chest-bumping from the cherubic coach and his faithful followers ever since. Each time a homegrown Buckeye leaves the state, it's hard to bear, but when the destination is Ann Arbor?
"Ohio State doesn't care about Ohio kids anymore, we can have take each and every one" they chant from the rooftops, celebrating each extraction from Ohio's fertile football grounds. "Brady Hoke is dominating Urban Meyer like never before, and it's only just begun!"
While it's true that Blue has been successful in Ohio, the reports of Ohio State's demise within the state's borders are simply not accurate. Yes, there's a new sheriff in town, but his stylistic shift from his predecessor does not in any way, shape or form indicate a systemic change.  
When Urban Meyer took over for Luke Fickell in November of 2011, he went to work quickly. He was named the head coach on November 28th, so we'll give him credit for 12 of Ohio State's 25 commitments for that cycle, starting with Cincinnati native – and Michigan offer – Adolphus Washington. Down the stretch that year, Meyer went five-for-five against Michigan for Ohio prep products.
Washington was the first and he was followed quickly by Se'Von Pittman, Kyle Dodson, Taylor Decker and Canton Glen Oak running back Bri'onte Dunn, who was experiencing a hard sell from Michigan, but ultimately decided to stick with his verbal to Ohio State. Michigan had feasted on Ohio talent during Fickell's interim season, but received only one commitment from an Ohioan after Meyer took over.
Michigan's class of 2013 made noise early, picking up their first Buckeye state commitment – Alliance defensive back Dymonte Thomas – over two months before Meyer got a start on his 2012 class. By the time February of 2013 rolled around, Michigan had nabbed nine prospects from Ohio for the second straight year, and the concern in Buckeye recruiting circles grew louder; Urban was not recruiting Ohio.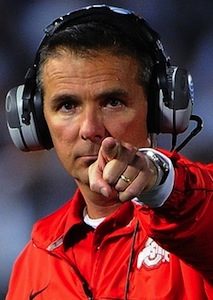 Perhaps the game had just changed, and Meyer, hell-bent on unseating the SEC from the national title throne, turned his recruiting focus to a broader national pursuit? Can you blame him for wanting some of what helped the SEC win all of that crystal?
When Signing Day 2013 had come and gone, the Buckeyes had offered only four of the nine UM signees from Ohio. Mike McCray, offered late in the process, was the son of a former Buckeye captain, and some speculated that the offer amounted to nothing more than a poke at Hoke. Michigan, on the other-hand, only offered four of the ten players the Buckeyes signed in Ohio. The Wolverines did not even bother extending an offer to Ohio's most dynamic player, Jalin Marshall. 
Maybe what we're seeing is an indication of a shift from both schools. As their offensive and defensive styles change, so too do their recruiting pursuits. Michigan has excelled along the offensive line, collecting linemen like Pogs, while the Buckeyes have turned their attention to the defensive front with a constant eye towards electric playmakers (Michigan, too, has a different philosophy when it comes to playmakers).
Maybe, rather than constantly debating the successes and failures of in-state recruiting (Meyer has nabbed 71-percent of all Ohio players he's gone head-to-head with Hoke on) we should celebrate, as Ohio State fans, the fact that the Buckeyes are not content letting the SEC's dominance go unchecked. There are two schools in the Midwest's premiere conference that are attempting to stand up and stand against SEC superiority, and both fanbases – and incoming recruits – should applaud this.
Now, I don't recommend any weekend retreats with anyone donning Sun and Blue, but perhaps Ohio State fans should, you know, trust Urban Meyer. It's never easy seeing guys like Jabrill Peppers pick up a winged helmet, but it's also helpful to know that Meyer and his staff are just as happy to land a guy like Damon Webb from Michigan's backyard.
It appears that I've grown into a rational, level-headed adult. But I'm still hoping that soufflé burns.