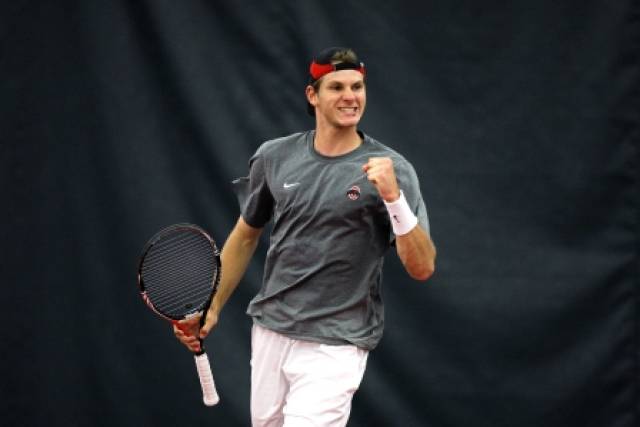 It is the first time in his Buckeye career Rola has advanced to the national final. In 2012, Rola made it as far as the NCAA semifinals where he fell 6-2, 6-1 to Kentucky's and Eric Quigley, the No. 3 seed. So far, Rola, a native of Slovenia, is 12-2 all-time in the NCAA Singles Championship. Improving to 31-1 overall in 2013, Rola has now won at least 30 singles matches in each of his seasons at Ohio State. In 2011-12, Rola was 37-7 overall and last year he posted a 41-7 record.

In 2013, Rola, a three-time unanimous First Team All-Big Ten selection, has defeated 11 ranked singles opponents in dual matches and an additional five ranked opponents en route to the NCAA championship match. Rola and Jenkins faced each other earlier this season in the ITA Team Indoor Championships Feb. 15-18, when then-No. 62 ranked Rola upset then-No. 7 Jenkins 6-4, 6-2 in first singles.

Against DeKlerk, Rola, who is on a 12-match win streak, began the match with a 2-0 advantage before play was suspended and moved indoors because of inclement weather. The junior member of the Scarlet and Gray men's tennis team went on to win the first set 6-2. After beginning the second set down 1-0, Rola won the next three games to make the score, 3-1. Rola ended up dropping just two more games en route to a 6-3 second-set win. It is the fourth time in the 2013 NCAA Men's Singles Championship Rola has won in straight sets.
The junior tennis player from Slovenia dispatched Japie De Klerk 6-3, 6-2, winning the first two of three sets. He will face Virginia's Jarmere Jenkins, the #3 overall player in NCAAs, on Monday. The time has yet to be announced, so make sure to follow the University of Illinois' tournament central website for updates.