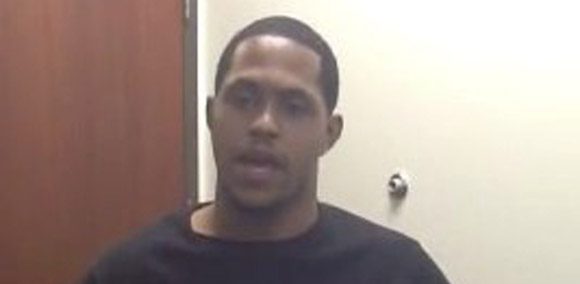 Ray Small spent the better part of his Ohio State career in Jim Tressel's doghouse, which is really saying something, becaue Tressel did not enjoy keeping a doghouse.
When his time on the playing field was up, he threw himself head-first into the memorabilia scandal engulfing Tressel and several Ohio State players by telling The Lantern stories of widespread memorabilia-dealing and preferential treatment for athletes. He would later backtrack, but the damage was done: Small was persona non-grata in Buckeyeland.
Small had fallen off the radar save for a blip when he was arrested for transporting Oxycontin in Meigs Country last year, but now he's back in the news with an, at times, rambling video apologizing to his former coaches, teammates and fans:
"My life did a complete 360 on me and I just want to talk to Coach Hazell. He was my favorite guy because he always kept it real with me. I want to apologize to Coach Tressel because he told me – he tried – he gave me many chances and I'm just here today to speak up on my behalf to say that I'm a man and I understand the things that I did wrong."

[...]

"I just want to give out my heart to a lot of people, like my former teammates. My former teammates were the world to me and I treated them like they were nothing. To the Buckeye Nation, I sorely apologize because I'm a Buckeye for life, regardless of how people like it. I kind of got exed out from being a Buckeye and that kind of hurt my heart."
We're Americans and we're predisposed to applaud redemption, so we'll just hope Ray turns his life around and makes peace with those he has hurt and leave it at that.
H/T: BuckeyeLurker0509