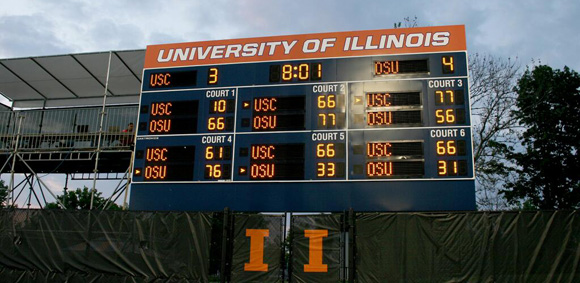 The revenge tour for Ohio State men's tennis marches on. Two days after avenging an early season loss to No. 12 Texas A&M in the round of 16, Ty Tucker's squad knocked off USC, the tournament's four-time defending champion, in a 4-3 thriller at the University of Illinois' Khan Outdoor Tennis Complex.
The Trojans had knocked Ohio State out of two of their last four NCAA tournament appearances.
The two teams split in singles play, but the Buckeyes won the doubles point when Devin McCarthy and Ille Van Engelen won a 9-7 tie-breaker over USC's Emilio Gomez and Roberto Quiroz. The win was a bit of an upset as the higher-ranked Gomez and Quiroz had represented Ecuador in Davis Cup play in April.
The win was Ohio State's 25th in a row, but things only get tougher from here. Next up: a date with top seed UCLA (28-1) in the national semifinals at 2 p.m. Monday.