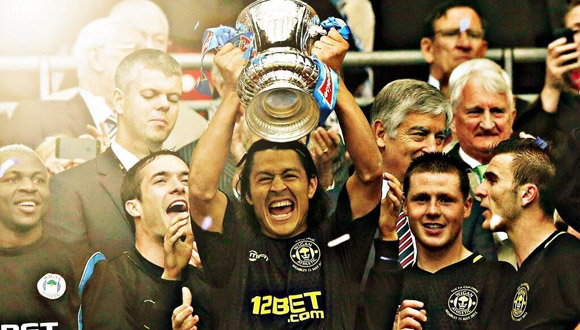 Roger Espinoza, a star on Ohio State's 2007 men's soccer team that made the NCAA championship game, is an FA Cup winner, thanks to Wigan Athletic's shocking 1-0 win over Manchester City in the FA Cup final.
Espinoza, who debuted for Wigan in January following a stint in MLS, earned the start Saturday and became the first Honduran to ever play for a winning side in the FA Cup. He played well, bouncing back from a hard foul from Man City's David Silva and then later getting robbed of a penalty when Pablo Zabaleta crashed into him.
The FA Cup, first held in 1871, is the oldest association football competition in the world, and is open to clubs from across England, from Premier League heavies down to amateur village teams. Lower division teams rarely progress beyond the early stages, but "minnow" fever becomes a thing when a club team becomes a "giant-killer." Wigan's win, coming in their first appearance in the FA Cup final, does not quite qualify as giant-killing, but it was an upset, nonetheless. [Side Note: How cool would it be if NCAA basketball held an FA Cup style tournament every December with teams from NAIA all the way up to Division I competing?]
Espinoza played just one season for Ohio State, but it was a memorable one. He scored the Buckeyes' only goal in their 2-1 NCAA championship loss to Wake Forest and was named first team All-Big Ten.