Like Alice, I've been known to fall down rabbit holes every now and then, though in my case they're of the Internet variety. I've been susceptible to them ever since I was tying up my parents' phone line because a Yahoo! search for Friends spoilers somehow led me to reading about the nightmare fuel history of infamous serial killer — and Michigan Man — H. H. Holmes. 
Wikipedia and IMDB are usually the main culprits, but countless other sites can be similar time-suck distractions like, as a Twitter follower reminded me last week1, TV Tropes. For those unfamiliar with it, TV Tropes is an online encyclopedia overflowing with information on commonly used characters, storylines, and even dialogue in pop culture.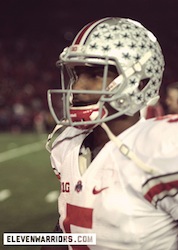 Examples of a certain trope cover several different mediums — TV, film, literature, comic books, video games, etc. — but many could just as easily apply to sports and more specifically, college football. 
May brings us the start of summer blockbuster movies and the conclusion of the traditional TV season. So what better time than now to look at which archetypes and narrative devices relate to Ohio State and the rest of the college football universe. 
Braxton Miller: The Reluctant Hero
"I just want to be normal" is a sentiment shared by many characters who were either born with or given special powers. As we know, Braxton Miller boasts otherworldly moves, but being the Buffy-like Chosen One to lead the Ohio State football team is, much like a 55-yard touchdown run, harder than it looks. 
He was thrust into the job as a freshman, a year earlier than anticipated, and it often showed with hesitant decision-making. Even though there was still plenty of room for improvement his sophomore season, Miller's growth was evident as the offensive catalyst who guided the Buckeyes to an undefeated season. The expectations, and responsibility, will be greater this season.
And that means even more attention will be on him, something that his QB coach Tom Herman claims he hates. He may prefer playing without the spotlight shined on him, but a normal life for an Ohio State quarterback is a pretty futile wish. 
Much to Urban Meyer's delight2, Miller seems to be embracing his role as a leader this spring. Not only did he angrily confront Noah Spence in practice when the defensive end hit him while he was wearing a no-contact jersey, but the quarterback's left tackle, Jack Mewhort, passed along this little nugget:
"I've seen him this spring grab a guy by the collar and say, 'Hey, you need to step up how you're playing,' " Mewhort said. "That's something he wouldn't have done a year ago."
Miller may never deliver a silver-tongued, motivating Jeff Winger-esque speech, but there comes a time when every reluctant hero stops fighting who he is and accepts who he needs to be, because either the fate or the world, or a football team, rests on him.
Ryan Shazier: The Quiet Badass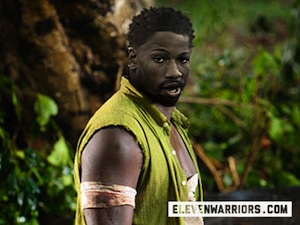 The middle linebacker spot is often referred to as "the quarterback of the defense", yet it's the Buckeyes' weakside linebacker who draws comparisons to his QB. Like Braxton Miller, Ryan Shazier possesses the skill and the experience for being a player his teammates look to for direction. But also like Miller, Shazier may be more comfortable leading by example. 
"Speak softly and carry a big stick" describes The Quiet One, literally in the case of Mr. Eko. He is tough, he is intimidating, and he doesn't say much. When he does talk, though, people listen.
In 2012, Shazier led Ohio State in tackles — regular tackles, tackles for loss, and soul-shattering tackles — and he was injured for half the season, which just so happened to be his strongest half of the season.
It's unclear if Shazier has ever smiled in his life, or if he just constantly has the same menacing expression on his face that he's wearing in his Ohio State bio. 
It is clear, however, that you don't want to mess with this guy.
Michigan: Too Clever by Half
Ohio State fans may not always want to admit this, but it's true: Michigan is a really good school and they usually field a respectable, if easily hateable, football team. That being said, see if the following reminds you of anyone we know:
...are probably pretty arrogant (in fact, they tend to think they're even better than they are).
And that can turn into a Break the Haughty situation, which like Michigan losing to Appalachian State or having to endure the Rich Rodriguez failed experiment, is hilarious comeuppance for such insufferableness. Sheldon from The Big Bang Theory is referenced as an example over at TV Tropes, which works for me because likening Michigan to The Big Bang Theory is an insulting, and therefore appropriate, comparison.
Iowa Football: I Have to Wash My Hair
Sure, BTN. "Technical issues." Your lame excuse to not have to watch Iowa football is pretty transparent:
Sounds like Lorraine Baines trying to get rid of Biff Tannen to me.
Johnny Manziel and AJ McCarron: Friendly Rivals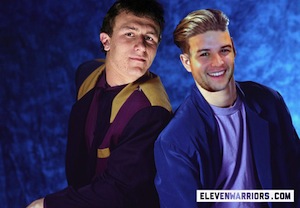 Johnny Manziel and AJ McCarron have quite a bit in common: both are quarterbacks for an SEC team, both have an impressive resume on the football field — a Heisman for Manziel, a couple of national titles for McCarron — and both date/dated models3. They're probably both enrolled in a History of Ice Cream course at their respective schools too, but that's just speculation.
Despite the similarities, they should be rivals. Manziel's Aggies dealt McCarron's Crimson Tide their sole loss last season, one that could have cost them a chance at a national championship. Or at least, it could have if they played in a conference other than the SEC. 
Yet, like Zack Morris and AC Slater, whatever competition there was between the two has transitioned into them becoming Heterosexual Life Partners. They're even vacationing together:
"We're either going to Key West or Cancun and will hang out with our other friends," McCarron told USA TODAY Sports. "Me and him, we don't ever let that (football talk) bother us. He's a good friend of mine, and he's a funny dude."
I hope they get matching tattoos. 
The NCAA: The Omniscient Council of VaguenesS
From towel regulations to bowl bans to how they do or don't measure violations, I couldn't explain the decisions the NCAA makes if I wanted to and like other organizations that pull the strings, so much of what they do is shrouded in mystery.
While the NCAA can pretend like they only have a student-athlete's best interest at heart, that's definitely not always the case. I know that nefarious organizations are motivated by money and power, and that the NCAA is motivated by money and power, and I also know that anytime a TV show chooses to go The Powers That Be route, the storylines become convoluted and nonsensical. Just like the NCAA.
1 Details of that particular rabbit hole: I saw an article about the HBO adaptation of The Normal Heart, which led to me reading about the early days of the AIDS crisis, which turned into reading about different seasons of The Real World and what the cast members are up to now. I never even watched The Real World, but I did waste about an hour and half of my evening. ↑
2 Urban said he's taken "quantum leaps" in that department. Like another reluctant hero: Dr. Sam Beckett. ↑
3 I have no idea if they're still dating their respective girlfriends and as much as I enjoy looking up random, pointless information on the Internet, on this matter I really didn't care enough to check. ↑