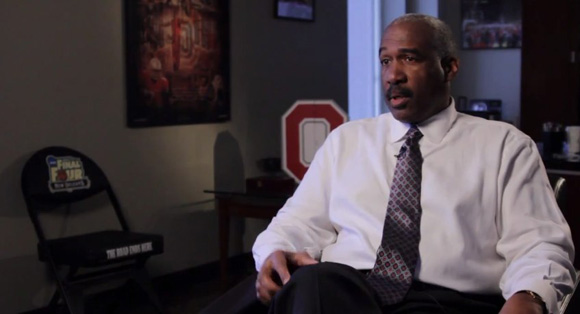 Gene Smith is now in his eighth year as the director of athletics at Ohio State. Manning the largest department in the country with deep pockets and plentiful resources sounds easy, but the Buckeyes are not immune to problems. 
That was evident two years ago. But now Ohio State is positioned for annual success in football and men's basketball, while several Olympic sports continue to finish near the top of the Big Ten.
Smith has seen it all during his seven years in Columbus – a Rose Bowl win, two Final Fours, the stunning fall of a coaching legend and his own status questioned. He sat down with Eleven Warriors recently to discuss the ever-evolving state of college athletics, night games in Ohio Stadium, Twitter and much more.
Eleven Warriors: (Michigan athletic director) Dave Brandon is in favor of a 10-game conference schedule. I know you two agree on most things. Were you not in favor of the nine-game schedule? It certainly seems like there are more pros to going to 10 games?
Gene Smith: Most of us preferred the 10-game schedule, but it just won't work because of the seven home game model you need for local funding. We all landed on the nine-game schedule as the best option. We studied the 10-game schedule hard to see if we could figure it out, but it just won't work.
11W: Will the marquee non-conference games be affected by the nine-game schedule, or is it possible to match up the year you have five road conference games with the home non-conference game?
GS: We're just building around it. It's not that coordinated. I wish it was that sophisticated. One year we'll have five home conference games, the next year we'll have four. It will be every other year. Because of that, we can look at our current existing non-conference agreements and try and build around them. We don't know the teams that will be in the 5-4-5-4 except Michigan.
11W: If there are years where you only have six home games, obviously the money has to be made up somewhere.
GS: That's not going to happen to us during my tenure. We're going to be able to schedule seven home games. That seventh game a lot of people may not like sometimes, but it's just too big a (financial) hit. One of the things Dave Brandon and I have talked about is it's not just (the athletic department), it's the economic impact in the community. We're sensitive to that. The gas stations, hotel rooms, restaurants, convenience stores, all of that. It's huge. We see it as a bigger responsibility than just our individual local budget.
"The reality is expansion was about a couple things, but at the top of that pyramid is finances."
11W: Last year you made a change in scheduling philosophy by aggressively scheduling BCS schools. Will the nine-game conference schedule change that at all?
GS: No, actually that's what we talked about as ADs – for everyone to try and do that. There are a number of schools that have games against FCS schools, including us. When you move to 2016 and out, if there are schools with FCS agreements and they can't get out of them, we don't want them to schedule anymore. So we'll be playing BCS schools, now what level?
For lack of a better definition, we've talked about everyone playing one marquee game. Everyone should do that. Then you try and do some upper-tier BCS teams and go from there. Everyone is trying to upgrade a little bit.
11W: Was this philosophy all related to the playoff?
GS: Yes, and TV partners. When we started, it was playoff driven, but as a result of conversations in the league some of it is TV, too.
11W: Do you anticipate the selection process being similar to the basketball tournament where strength of schedule is a big component?
GS: That's interesting. There are different opinions now. I went into this week thinking, yes, something would weigh your non-conference versus your conference schedule and home versus away games. I'm starting to hear that might not be the case. It's all speculation right now, so I don't know. I would think you'd have to have some weight on the non-conference schedule. You could just go with the old Kansas State model. I would hope there would be something there with the non-conference.
11W: Do you want to stay away from scheduling MAC schools?
GS: Well, MAC schools are in a BCS league. What you don't want to do is schedule too many. It's an inventory issue, too. You have to keep that in mind. You have five, for lack of a better definition, major conferences. Everybody has 12 games. Then you only have 126 BCS schools. Say everyone has nine conference games; you just don't have that many teams to pick from, and you're all trying to do it in the same window in September. It's a moving target. You have to play MAC schools and Mountain West schools periodically.
11W: Are you satisfied with the new Big Ten divisional alignment?
GS: The ADs all came to an agreement that that's the best model. Obviously for us, if you go back 15-20 years and look at a historically analysis of the competitiveness, our division is tougher. But I like it. It's East-West. It's easier for our fans and it eliminates one of my biggest concerns of a student-athlete not playing a school during their four-year career. This allows you to solve that problem. The only protected crossover will be Purdue and Indiana. I think this is the best way to go. Putting Ohio State and Michigan in the same division helps the conference office from a scheduling point of view. It's a tougher division, but it's better for the conference.
Wrestling is meeting in April to decide whether they want to go divisions or not. Basketball is the same way. We'll meet about that. You can make an argument to go to divisions like the Big 12 did, or just stay at 18 conference games. Right now, there is no sport other than football going to divisions. But it will be talked about.
11W: Is there still a discussion to have a Big Ten Lacrosse Conference?
GS: There is a discussion. There's talk about bringing in an affiliate member. The bylaw says you have to have six. Because of the nature of that sport and its growth and Maryland's success, we've discussed identifying an affiliate member and possibly creating a Big Ten Lacrosse Conference.

11W: A majority of fans weren't thrilled with conference expansion the past three years. What do you say to fans that are upset that Ohio State will play Rutgers and Maryland in football every season but not Illinois and Iowa, teams they've played for nearly 100 years?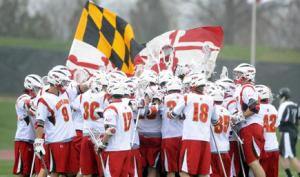 GS: It's change. There's one constant in life – change. We're a very progressive conference. I think back to when we did the Big Ten Network, which gave me a few gray hairs. People were apprehensive and there was trepidation. That's understandable when you're doing something creative and there's change. And it worked. It's been a wild success.
I'm always looking forward. We knew when we started expansion that there would be concerns. But we also had a focus on what we had to do to maintain the strength of our consortium, and that's what we did. Adding Maryland and Rutgers is significant for our long-term success. That's very important to us.
11W: Was money the driving force behind expansion?
GS: No question. If anyone tells you expansion was about anything else, they're being disingenuous. The reality is expansion was about a couple things, but at the top of that pyramid is finances. Second is stability and trying to find a place where you philosophically agree with your membership.
Texas A&M didn't have to leave the Big 12 for money. They left the Big 12 because they wanted stability and philosophy alignment because they struggled with the philosophy of the other members of the Big 12. That's the same reason why Nebraska left.
Those are the big issues when you look at the top of the pyramid. Our industry is challenged financially. We have to constantly find ways to strengthen revenue streams, and expansion was one of them.
11W: You've been an administrator for a long time. Back in the early and mid-'90s, did you think expansion was inevitable or foresee this happening?
GS: No, I wish I was that good. Maybe some of the long-term commissioners could have forecasted something like this. But I never thought we'd get to where we are.
11W: Earlier this year, Urban Meyer mentioned wanting to play more night games. Do you think that will be a reality?
GS: Yes, if you remember I mentioned that a couple years ago. I was very pleased that we progressed as an institution where we could do night games. If you remember back to the Texas game (in 2005), there was a lot of trepidation and concern. But we've progressed where I'm very comfortable that we can manage night games.
My concern now is we're always playing two on the road and one at home, which means our guys get home at 3 in the morning twice a year. That's not just a competitive disadvantage but also a student-athlete welfare issue. So we need to have two at home and one on the road as opposed to suffering the other side of that.
That was my impetus, Urban's was recruiting. I agree with that. Our effort is to have a couple night games at home and one on the road, unless we change our television contract. We might look at November night games. But right now I'm very comfortable with having two at home and one on the road.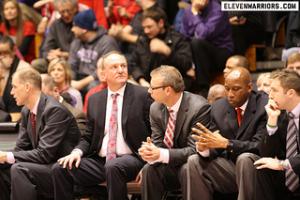 11W: Will the designated marquee game with the new ticket plan, aside from Michigan, always be a night game?
GS: No, not always. Oklahoma, for example, when we play them that could be a 3:30 kickoff.
11W: Dave Brandon and (Michigan State athletic director) Mark Hollis are very active on Twitter. You used to be. Why the change?
GS: I got off during the NCAA case. I just dumped it. It was too much. Obviously I needed to focus on what we were dealing with at the time, and I'm one of those people that feels obligated to respond to everything. I had enough with my email, so I just dumped Twitter. I probably won't go back until she (senior associate athletic director for strategic communications Diana Sabau) tells me to. But ask Dave and see if he really wants to stay on it (laughs).
11W: It was recently reported that Ohio State is monitoring student-athletes' Twitter accounts. Is that simply to prevent them from doing something stupid?
GS: Our thinking is to educate them, and when they do something we want to show them and say, 'let's take a look at that decision you made.' In all the seconds in the year it only takes one to make a stupid decision. We're trying to teach them to make good decisions and build your brand the right way, not just if you're going pro but also if you're going to work at, say, IBM. HR people look at that. We try and educate them and track and see if there are any compliance issues. We're doing everything we can to turn over every rock there.
11W: With recent coaching changes in women's basketball and men's hockey, there's a perception that there's a newfound commitment to so-called lesser sports.
GS: All those sports are about having success. That's not a change. Wrestling, women's volleyball, tennis, track – it's all about being successful in every way you operate and how you compete. That's not new.
11W: Obviously football and men's basketball aren't the only sports at Ohio State, but those two drive everything. They're in very good position right now. You probably never rest easy, but have you ever felt better about where this athletic department is than right now?
GS: There's no question, I've never felt better. You start with Thad. How many of us could have guessed that his plan would work here? And it's worked in a great way. We haven't had this level of consistent success in basketball. We haven't had it. To me, that's phenomenal. I don't worry about how he operates his program.
Urban is just phenomenal. He's made the transition. Besides the wins, and I know that's so important, all the other ways he's made the transition – imbedding himself in the community, being involved, learning this complex organization and how to communicate within it, being accepting to open things up for (the media), which is huge.
With those two sports, I couldn't feel better. They're in great hands and moving in the right trajectory. I feel good about it.