Last week I examined Ohio State's addition of the pistol formation to their offense and Braxton Miller's spring progression.
Today I want to finish my spring recap by focusing upon the rest of the offensive personnel. In particular I want to dig into the one open offensive spot left: the right tackle position.
Silver and Gold
If spring practice demonstrated anything, it is that the Buckeyes have an embarrassment of riches at tailback. Nearly 1,000-yard rusher Carlos Hyde only saw limited practice time. Second-stringer Rod Smith built upon his improvements from the second half of last season before being held out of the spring game with a concussion.
Yet even with Hyde and Smith out, OSU had little drop-off with Bri'onte Dunn and Warren Ball getting the majority of the reps. Ball was particularly impressive in his first extended action after his injury-induced redshirt last season.
Dunn and Ball are both what I would describe as smooth striders for bigger tailbacks. They are both able to get the angle and break into the second level, running past guys in the secondary. Dunn also demonstrated nice hands and his ability to run after the catch in the spring game. Add Ezekiel Elliott and Dontre Wilson come fall and the Buckeyes have ample talent lining up behind (or next to) Braxton Miller.
Come fall, expect Hyde to be primed for another strong season. He is a perfect fit for Urban Meyer's bread-and-butter tight zone play. He runs north-south with authority, makes one cut and generally gains positive yards. Hyde is also great at keeping the Ohio State offense "ahead of schedule" and provides a nice complement to Braxton Miller. He is also reliable as a lead blocker and pass protector. The biggest improvement Hyde can make is demonstrating an ability to break off explosive plays – run plays over 15 yards.
For the remaining tailbacks, the key will be demonstrating a differentiating trait that earns playing time. There will certainly be carries for the No. 2 tailback. Smith seems to have the inside track, assuming he holds onto the football. But Dunn and Ball have demonstrated they have the talent as runners to earn carries. Their biggest challenge continues to be the other parts of the position, such as pass protection.
For Elliott and Wilson, the key is whether they are able to fill a hybrid-type role and pose a threat attacking the edge with jet sweeps, option plays, and the like. The Buckeyes have the good problem of having plenty of talent and not enough footballs to go around. 
Got ENough?
The Buckeye receiving corps is a far cry from the "clown show" that Meyer declared they were last spring. That may have been more motivating tactic than reality, but there is no doubt Ohio State's wideouts are a stronger unit heading into 2013.
That starts with Corey Brown. Meyer announced after spring practice that Brown was playing at an All-Big Ten level. In my opinion, he was an All-Big Ten receiver last fall. Brown was the Buckeyes' security blanket. He was the go-to receiver on third down, particularly in the underneath to middle zone with the offensive staff moving him between the Z outside position and H slot role to ensure he was generally the primary target. Brown became better after the catch as the season progressed. The key will be continuing to improve in that regard. He also demonstrated an adept ability this spring to adjust and catch vertical routes.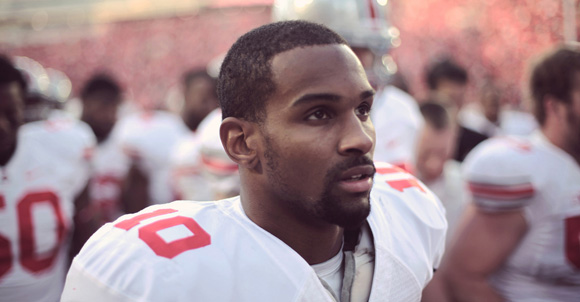 The latter was Devin Smith's specialty last season. And he has certainly demonstrated that ability again this spring. He, Brown, and Miller have shown a lot of success on four vertical routes. Smith's charge is improving the other aspects of his game, beginning with consistency, which was apparent during spring practice. Smith was often featured on hitch routes off zone read play-action from the pistol. This allows Smith to take advantage of soft coverage from corners worried about him running vertically. He has demonstrated a nice ability to run after the catch with those short routes. He simply needs to continue to improve his route running to become a more well-rounded receiver.
On an offense with few outstanding issues, one is what receivers would play in addition to Brown and Smith. One intriguing player is Jordan Hall. Hall worked full-time with the receivers this spring. He exhibited a lot of ability as a route runner from the all-important 'H' slot position, using a quick first step to gain route separation. He then sat out much of the remainder of spring practice (as did many seniors). It will be interesting to see how Brown and Hall are worked in together at the slot position.
Evan Spencer, Chris Fields, and Michael Thomas all exhibited improvement. Meyer went so far as to declare Fields a starter. That title is largely honorary, since all three will play. The key for all three is to demonstrate that they are reliable threats in game action.
Meyer announced that he has six reliable receivers but wants 10. That provides plenty of opportunities for incoming recruits. The most obvious is Corey Smith. Coming from junior college as a junior, Smith's time to contribute is now. He has an opportunity to provide a mid-range threat from the X position. Incoming freshmen such as Jalin Marshall will have plenty of opportunities as well, particularly if they can demonstrate an ability to gain yards after the catch.
Best Ever?
Meyer could not contain himself from heaping praise upon his tight ends Jeff Heuerman and Nick Vannett, calling this tight end group the best he has ever coached. This includes when he was at Florida and had a decent tight end named "Aaron Hernandez."
While neither is nearly the threat with the ball in his hands that Hernandez is, Heuerman and Vannett are both well-rounded tight ends, providing OSU versatility. This is crucial because Meyer and his staff ask a lot of their tight ends. They must be able to receive, block on the line of scrimmage, and function as pulling lead blockers. Essentially tight ends and fullbacks rolled into one.
Heuerman in particular has looked impressive. He was featured on option routes in the pass game. He is also a very good blocker, perhaps the most important attribute he brings to the Buckeye offense.
Four and ?
The Buckeyes' offensive line was a team strength last year and should be even more so this season. The spring game did nothing to alter that fact.
Offensive line play is all about continuity amongst the front five. The Buckeyes played the spring game without two of their starters, left tackle Jack Mewhort and center Corey Linsley, and with their right tackle Taylor Decker playing left tackle. The defense also did not have to concern itself with a run threat as Braxton Miller was not allowed to run. The natural result is going to be an increase in sacks or negative plays.
But that does not diminish this line's potential. Mewhort and Linsley are two staples. Mewhort was the Buckeyes' best lineman at the crucial left tackle position last year, and should be again this season. Linsley is a critical stabilizing force in the middle. Meyer has declared that Linsley is one of the team leaders. That is crucial, because an offense would always like its quarterback and center to be two of its primary focal points.
Norwell and Mewhort were as critical to the Buckeyes' undefeated season as anyone on the team.
As for the returning guards, Andrew Norwell has always been a mauler, but not as naturally fluid. But as Meyer pointed out, he has been working on his hip and knee bend and is primed for an All-Big Ten campaign. The combination of Norwell and Mewhort on the left side last season was whom the coaching staff leaned upon whenever they needed tough yards. The two were as critical to the Buckeyes' undefeated season as anyone on the team.
There is no reason to expect that to change this season, though Marcus Hall may be the most improved. He was inconsistent early last season, struggling at times with quicker defenders. But Hall made significant improvements in the second half of the season and looks like he is carrying it over this spring. He has improved his body composition and looks more athletic.
The only question is who will play right tackle. Meyer has played up this uncertainty this spring. He has also emphasized the competition between Taylor Decker and Chase Farris. But Decker received the majority of first team reps this spring and Ed Warinner confirmed his first-string status following the spring game. This should come as no surprise. Meyer tends to ride his offensive linemen, particularly when they are unproven. One need only remember his statements regarding Reid Fragel last year. His goal is likely to push Decker to work hard throughout the preseason.
The upshot is that Meyer's comments may be more motivational than reality. I would be very surprised if Decker did not start this fall. Decker obviously has the prototypical frame, but also largely played well throughout the spring. He played well in the spring game in pass protection, even though he was playing left tackle.
Farris, by contrast, is somewhat out of position at tackle. He does not have the size or more importantly the length for the position. He is more naturally suited for guard where he can better able to use his athleticism. Farris will likely be the 'utility' lineman should one of the Buckeyes' starting five get injured.
Though OSU's starting five is very strong, the Buckeyes have to keep their fingers crossed against injures. That is because after Farris — and maybe Jacoby Boren at center — there is a steep drop-off. Luckily, those backup players will very likely not have to be called upon this year. It will leave the offensive line a question mark in 2014, however, which is why the coaching staff is looking for 1-2 juco linemen. OSU also needs Evan Lisle and Tim Gardner to be able to compete to be backups this fall. For 2013, though, the Buckeyes can take comfort in being very strong up front.
Pulling it Together
It's no secret that the Buckeye offense is primed for a huge 2013 season. They are experienced, have plenty of playmakers, including a Heisman Trophy candidate in Braxton Miller and it's an Urban Meyer Year Two team.
Fall practice will be dedicated to nailing down the complementary players for fall and getting things tuned up and ready to go. What will make this offense truly scary is having players other than Miller who demonstrate they are game-breaking threats.