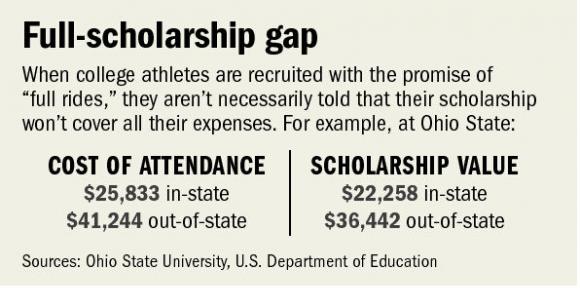 The above graphic is from a Dispatch article from 2011, and I think is pretty indicative of some of the problems that exist with regard to scholarships in general. Paying players is a discussion that the NCAA will have to have sooner than later, but when you've got people with attitudes like Christine A. Plonsky's (the women's AD at Texas), it's hard to think that the conversation will even be able to get started:
"Who gets a four-year, $120K deal guaranteed at age 17?" Christine A. Plonsky, women's athletic director at the University of Texas, wrote in an e-mail to The Chronicle. "The last thing young people need right now is more entitlement."

 

But, according to the Chronicle, former players say the cuts still happen far too frequently — and they add to the excess of player transfers that occur across college athletics. According to the report, the NCAA says about 40 percent of men's basketball players will not be members of their original school by the end of their sophomore years; that figure is similar in other sports.
40%? Yikes.