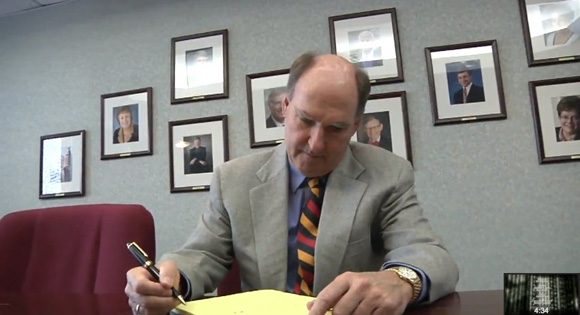 The Big Ten moving to a nine or 10-game conference schedule has been a foregone conclusion for a while now. In February, conference commissioner Jim Delany told ESPN that the Big Ten wanted to increase the number of league games and that the conference would study both options.
According to a CBS Sports report, the league is set to make the change to a nine-game schedule, beginning in 2016, a formality:
As early as next week, Big Ten presidents and chancellors will vote on and likely approve a nine-game league schedule starting in 2016, Wisconsin athletic director Barry Alvarez told CBSSports.com.

A 2016 start allows Rutgers and Maryland a two-year transition and Big Ten membership time to plan non-conference scheduling before adding a league game. The chancellors also could vote on divisions, which ESPN.com reports will be a geographic split starting in 2014.

Alvarez said he believes the nine-game vote will be a formality and wasn't sure of the exact date but thought it was next week, early May at the latest. CBSSports.com has left a message with a Big Ten official for clarification on the date. The league's spring meetings take place May 13-15 in Chicago.
The nine-game option has always been considered the safer choice. The Pac-12 and Big 12 already play football under such a model, while no other conference plays a 10-game schedule.
The move to nine games also leaves more room for league teams to schedule marquee intersectional games that will become more important in the playoff era as computers, pundits and everyone you know is trying to compare the strength of one conference against another.
Along with the vote for the nine-game schedule, league presidents and chancellors will also likely vote on new Big Ten divisions, realigning the Big Ten geographically. Under such a plan the Big Ten will have an "East" and a "West" division, although the actual division names have not been finalized.
---
UPDATE: The Big Ten will jettison "Legends and Leaders" for "East and West." It should not have taken three years to come to this conclusion.
EAST: Maryland, Michigan, Michigan State, Ohio State, Penn State, Rutgers, and Indiana
WEST: Illinois, Iowa, Minnesota, Nebraska, Northwestern, Wisconsin, and Purdue