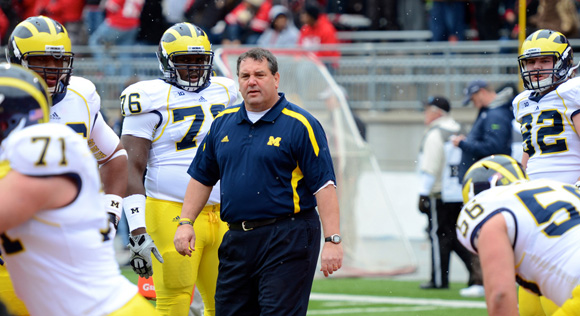 With each team favored to win its Big Ten division, Ohio State and Michigan face the prospect of having to play each other twice in the span of seven days. This is unprecedented in the long history of college football's greatest rivalry, but Michigan coach Brady Hoke has a plan:
"I've tried to do some due diligence; guys in the NFL, maybe every two weeks, they play the same opponent," Hoke said on Tim Brando's SiriusXM radio show today. "My brother's the secondary coach for the Bears; talking to him and talking to Lovie (Smith) while he was still there, how you handle it, what do you tweak, what do you do different, what do you stay with and all those things?
If an instant rematch is to happen, this will likely have to be the year for it as the two schools are rumored to be division mates when the Big Ten announces realignment plans to accommodate Rutgers and Maryland later this spring.