Someone had better get Wilson, Nike and Spalding on the phone, because the 2013 Ohio State Buckeyes are going to need a lot more footballs.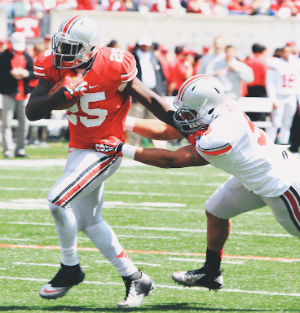 Wealthy in the skill positions, the Buckeyes suddenly find themselves having to placate a large number of offensive weapons. Tom Herman will be tasked by Urban Meyer to maximize the efficacy of his offense this fall. Herman has the personnel to do that, but the problem — which is a good one to have — is keeping everyone well fed with the sweet delicacy of touches.
Braxton Miller is expected to have the ball in his hands on virtually every snap, so it won't be a problem getting him his touches. Miller seems the kind of guy who would be happy doing whatever it takes to make the team successful, so cutting his carries probably wouldn't bother him. That said, there have been times where he's kept the ball when he shouldn't have — perhaps more so out of a desire to make a play than a bad read. A greater trust in the weapons around him should alleviate that.
Miller's (and Herman's) options will be multiple, whether on the ground or through the air. Ohio State has a stable of talented running backs, a burgeoning group at wide receiver, and the best group of tight ends Urban Meyer has ever had. Taking a look at each group makes one wonder how Meyer and Herman will be able to satisfy the hunger of all his skill guys.
Running Back
It all starts with El Guapo. Carlos Hyde should see the bulk of the carries this season from the tailback position. Coming off a 970-yard season in 2012, Hyde is starving for a 1,000-yard effort this fall. Only an injury prevented it last season. But this year, the emergence of Rod Smith and Bri'onte Dunn and the return of Warren Ball could possibly siphon enough carries from Hyde to keep him from reaching that milestone.
Smith sat out the spring game with a concussion, but reports out of spring camp were very positive. We've seen Smith's raw ability in action, but ball security issues have kept him off the field at times. If the junior-to-be can take care of the rock, it'll be tough for Meyer to keep him off the field.
Bri'onte Dunn and Warren Ball are battling it out for the third-string tailback spot. Dunn will be a sophomore and Ball a redshirt freshman. Dunn has shown good speed and power and soft hands in the passing game. His issues last year were largely due to inexperience — missed assignments, turning the wrong way at the snap, and so forthTM* (TM Jim Tressel). Theoretically, he'll be in line for more playing time in 2013.
However, Ball threw a monkey wrench into the works by being a force this spring. Ball consistently produced the longest runs in spring practice, and both Meyer and Herman are looking for more explosion plays. Long runs in game situations will certainly earn Ball more, well, balls.
Ohio State will add another talented back this fall when Ezekiel Elliott enrolls. The four-star back out of St. Louis is one of the top recruits in the country at his position and will push for immediate playing time. He produced more than 3,000 all-purpose yards and 50(!) touchdowns as a senior in high school. More than 2,000 of those yards and 40(!) scores came on the ground.
The "Percy Position"
In the hybrid role, Jordan Hall will be trying to put on his best Percy Harvin act. Hall missed most of last season due to injury and offers an intriguing blend of running and catching skills. He may be slightly more likely to catch the football than run it this season, but Herman will deploy this weapon in a number of ways. The more successful he is in that role, the more footballs will come his way.
Potentially pushing Hall for that hybrid role will be incoming freshman Jalin Marshall. The Middletown product was one of the state's top overall recruits as a quarterback, although that isn't how Meyer plans to use him. (Still, don't be surprised if he throws a pass or two in his OSU career.) The Marshall plan is to mold him into that Percy position. If he develops quickly, he'll steal some carries and catches from the upperclassmen early.
Wide Receiver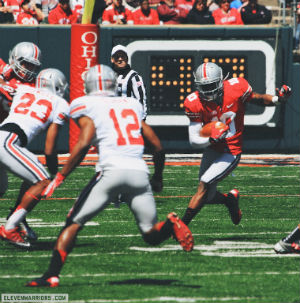 The starting wide receivers this season will be Philly Brown and Devin Smith on the outside, with Chris Fields in the slot. Fields was named a starter after the spring game.
He came out of nowhere to go from journeyman/career backup to starter after a solid spring, during which he impressed the coaching staff and his teammates. Fields showed his versatility in the spring game, rushing for a touchdown and catching five passes for 37 yards, playing for both the Scarlet and Gray squads.
Brown had a breakout year in 2012, catching 60 passes for 669 yards and three touchdowns. He averaged more than 50 yards receiving per game. Toward the end of the season, Brown started to show more elusiveness in the open field and turned more short gains into first downs and bigger plays. If that trend continues he'll become an all-conference performer and will surely see more passes thrown his way.
Smith was a home run threat last season as a sophomore but only caught 30 passes. He'll be looking to expand his role in 2013. Evan Spencer and Michael Thomas will also be pushing for more snaps and more catches this fall. Keeping all of those guys happy will take a tremendous juggling act by both the coaching staff and the quarterback.
In addition, incoming freshmen James Clark, Corey Smith and Dontre Wilson may see the field early, although the latter may end up at running back, per Stan Drayton.
Stan Drayton said there is still a fight for Dontre Wilson but he thinks he'll end up in RB room to start off

— Marcus Hartman (@marcushartman) April 17, 2013
All three frosh have the potential to crack the two-deep their first season. They could leapfrog a guy like Frank Epitropoulos, although I'm rooting for the Galloping Greek to see the field this year, if only because I coined the nickname "The Galloping Greek" for him and want to use it more often.
Tight End
It seems like every year we hear about the tight end position and how involved it will be in the offense. After Meyer told the College Football Live crew that this group of tight ends is the best he's ever had, that talk has reached a new level of hyperbole.
It's true that it's a talented group. Jeff Heuerman and Nick Vannett have already shown what they can do. Vannett averaged almost 14 yards per reception as a freshman last year on nine receptions. Heuerman caught only eight balls, including a post-Eat Too Brutus touchdown against Nebraska. He also grabbed the key two-point conversion in the Purdue game. Incoming freshman Marcus Baugh out of Riverside, CA, could be even better than both before he's through. I'm going out on a limb here and saying the tight ends will catch more than 17 combined passes in 2013.
How will Braxton keep this many weapons happy? Winning games will help, but clearly Miller will need to spread the ball around quite a bit to feed all his hungry playmakers. Of all the problems a football team can have, having to find ways to get the football to everyone is a pretty nice one.