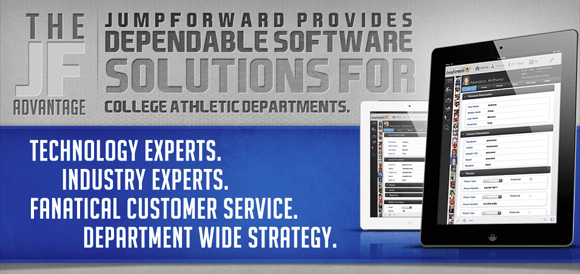 In the wake of the Tatgate scandal that cost Jim Tressel his job in 2011, Ohio State announced across the board improvements to their compliance efforts, creating what some called a "fortress of compliance."
In a letter to the NCAA, dated August 15, 2012, the school spelled out new positions, new hires, and enhanced monitoring efforts including vehicle oversight and reporting on student athletes' use of social media (PDF):
Monitoring Social Media – The institution has created a more detailed Student-Athlete Social Media polcy to inform student-athletes of the institution's social media expectations. The institution is utilizing electronic software to assist with the monitoring of student-athlete social media accounts. This software will enable the institution to monitor the social media accounts of all student-athletes that are open to the public for violations of NCAA, Big Ten Conference, and University and Athletic Department Rules.

Each student-athlete will be educated on social media best practices and will be required to sign a statement signifying that they understand the instituition's social media expectations. In instances where the OAC believes that an NCAA violation might have occurred, the OAC will require the student-athlete to provide acces to the non-public areas of their personal social media accounts.
In other words, "we're monitoring what you say, students, so play nice, or we'll come in and look at everything you've ever posted, private or not."
The appendix goes on to spell out what the school monitors for across student athletes' "Facebook, Twitter, MySpace, LinkedIn, YouTube, Tumblr, Instagram and Flickr" accounts:
° NCAA, Big Ten Conference or other athletic governing rules violations (including, but not limited ot, commenting about recruits, discussing a recruit's visit to campus, communicating with recruits via social media at a coach's direction or endorsing or promoting commercial products, organizations or services); and

° Violations of the Department of Athletics Standards of Conduct or the ethics and intent behind such Standards; and

° Derogatory comments and/or offensive or inappropriate pictures about other team members, coaches, teams, administrators or the Department of Athletics.
Sanctions listed include "loss of privileges and other sanctions as appropriate, including but not limited to verbal or written reprimand, probation, loss of practice privileges, loss of competition privileges, suspension or dismissal from the program."
So, we've long known the school monitors athletes' social media accounts, but, thanks to an interview athletic director Gene Smith gave to the Lantern, we now know the company behind the monitoring:
To accomplish such a feat, OSU uses the help of a company called Jump Forward, which produce recruiting and compliance tools for college athletic departments, to monitor everything.

Diana Sabau, OSU associate athletics director of external relations, said Jump Forward's services, though, are based on a retainer agreement and that the athletic department does not "actively" monitor its student-athletes.

Rather, she said, Jump Forward serves as a "safeguard" with the option to track athletes or not.

Additionally, Sabau said she did not know the value of the deal between Jump Forward and OSU. An OSU athletic department spokesman did not return requests for comment.
Smith also added a bit of color to emphasis the passive nature of the monitoring:
"If you see somebody with a Colt .45 and $500 bills in their hand at a Christmas party, then you got to go and pull them in," Smith said.
(Wait. Are $500 bills still circulating?)
Jump Forward, run by Brad Niedermaier, a former Northwestern baseball player, and with offices in Chicago, boasts a multi-platform solution for school administrators to monitor key words and what Smith called "repeat offenders."
Compliance staff from Ohio State is able to login via web, mobile or tablet and view reports that aggregate social media activity across 25 different services, including the platforms mentioned in the school's letter to the NCAA and others like eBay, Etsy, and even business review site Yelp.
From Jump Forward's social media monitoring page:
JumpForward records all conversations and social media relating to a student athlete's profile. This information is captured in screenshot form and is exportable (to excel, pdf, etc.) for further analysis and archiving to communicate potential issues internally and externally with the NCAA.
Jump Forward boasts over 100 customers, including the University of Kentucky, the University of Nevada and Marshall University. Many of the athletic departments utilize more than one of Jump Forward's products, including solutions for recruiting management, compliance management and equipment management. Compliance in the clowd, so to speak.
As to the cost of the service, we're awaiting comment from Ohio State.