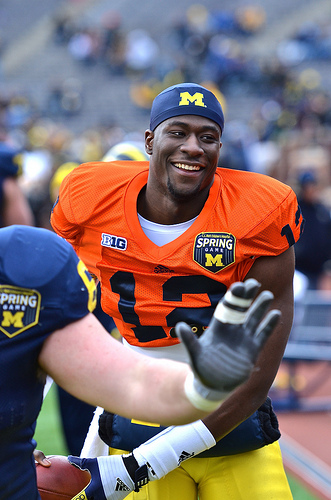 Ohio State and Michigan held spring games on Saturday. They were largely mundane affairs, as these glorified practices tend to be.
The Buckeyes played their game in an Ohio city that isn't nuts about Ohio State football – yes, these places exist – and borders SEC country. The Wolverines were at home in Ann Arbor, but the game was contested in snowy conditions, not exactly ideal for building excitement within the fan base. Fewer than 20,000 turned out to Michigan Stadium.
But the first post-Denard Robinson spring game provided Michigan fans with hope, this coming on the heels of a heartbreaking defeat in college basketball's national championship game.
At nearly the same moment, Ohio State and Michigan, with games separated by 250 miles, gave fans a glimmer of what could come in the fall. Braxton Miller completed a 49-yard pass on the first play, while Devin Gardner connected with a receiver on a 29-yard strike.
Saturday's performance from Miller was expected. He dazzled with his arm and his legs, leading the Scarlet team to four touchdowns in a 31-14 victory. What Gardner would do, though, was a little more uncertain. After all, this was a player who began 2012 as a backup quarterback, then shifted to wide receiver, only to be thrust into the starting quarterback position when Robinson was injured in late October.
Gardner played well in spot duty, winning his first three starts while ending the season with consecutive losses to Ohio State and South Carolina. He completed nearly 60 percent of his pass attempts for the season and tossed 11 touchdowns and five interceptions.
But now the Maize and Blue is undoubtedly Gardner's team.
"It's his throne now," senior safety Thomas Gordon told the Michigan media. "He's a lot more comfortable back there and has taken control of the offense. It's really exciting."
Said Gardner: "It felt kind of weird not having Denard around. I've had him around since I got here. But other than that, it felt like it was my team."
Recruits are taking notice, too, as Drake Harris, one of the top wide receiver prospects in the country, committed to Michigan on Sunday. His reasoning: Gardner's two more seasons of eligibility and a chance to play early.
In five series on Saturday, Gardner completed 11 of 16 passes for 145 yards and a touchdown. During one stretch, he successfully linked up with intended receivers on 7 of 9 passes. And he showed off the skills that made him a coveted recruit three years ago – arm strength, accuracy and quickness. He's a dual-threat quarterback that can succeed in a pro-style offense.
"Devin naturally throws a tight ball," head coach Brady Hoke said.
It all plays into something Gardner wants himself and his Michigan teammates to have, or in this instance not have, this season – limitations. Prior to the start of the spring, Gardner made a note to himself vowing that nothing would hold the Wolverines' offense back.
There were flashes of the pre-Rich Rodriguez offenses that the Lloyd Carr-era Michigan teams employed – utilizing the tight end, screens and deep passes using play action. 
"You can tell from the play-action game standpoint how comfortable Devin is and how good he can be in that offensive style," Hoke said.
The area most likely to limit the Wolverines is the offensive line. Unlike their enemy to the south, Michigan doesn't return a unit almost entirely intact. Instead, the Wolverines have to replace three starters. One of the highly regarded underclassmen vying for a starting job is Kyle Kalis, already a perfect villain in the eyes of Ohio State fans for decommitting from the Buckeyes.
The offense will go as far as Gardner will take them. When he's not texting offensive coordinator Al Borges to discuss strategy, Gardner is gathering teammates or reading his playbook. Love him or hate him, Robinson was an excellent leader for Michigan, and the Wolverines will need the same quality and demeanor from Gardner if it hopes to supplant Ohio State atop the Big Ten.
"I'm proud he's figuring out being the Michigan quarterback is something special," Hoke said. "His work ethic, his intelligence, all those things – he is a football junkie, and he's done a nice job of wrapping his arms around his responsibility."
In Robinson, Michigan had a quarterback that was part Barry Sanders, no parts Peyton Manning. Still, it seemed like he could always find a way, even when arm punting with the best of them. He wasn't able to lead Michigan to a Rose Bowl or national championship, and the Wolverines never really got that signature win during Robinson's reign. Victories over a 6-7 Ohio State team and undeserving Sugar Bowl participant Virginia Tech do not count.
Now Michigan has a quarterback that can make the tough throws and also evade would-be tacklers. In the huddle, the Wolverines have a strong presence. In a what-have-you-done-for-me-lately culture, Gardner could be the final piece to the puzzle for Hoke.
"(Gardner will) let that thing fly, it doesn't matter where he's at on the field," Gordon said. "He's so competitive. With him back there…he can do everything. You never know with Devin, so you've really got to be on your P's and Q's."
For over a year, the talk emanating from Columbus 192 miles north to Ann Arbor has centered on Urban Meyer and Hoke. Two head coaches from Ohio that are deeply entrenched into their respective universities. There are emotions and images that evoke the Ten-Year War.
But the next two years are all about the quarterbacks: Braxton vs. Devin.
"I feel like we worked hard to get to that point," Gardner said. "I feel like we're right there. Last year we had a few faults where it just escaped us. The way we've been working this winter and this spring, I feel like that's not going to be an issue.
"When we need that big play, we'll get that big play. When we need that extra yard, we're going to get it."