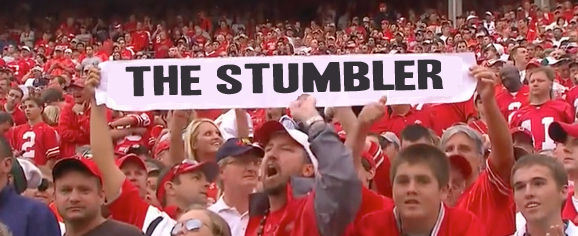 Hello, faithful Stumbler readers, and welcome to another edition. With the college football dead zone upon us (summer, you temptress) we need the Stumbler now more than ever.
It's hard to say what fans of collegiate pigskinnin' did before they could search for random Internet clips, photos, GIFs and collectibles of their favorite teams. I mean, there's only so much kick the can you can play, amirite?
Anyhow, as I was Stumbling for this edition I found a number of things including this Horseshoe collectible football, a pretty solid "Buckeye Country" flag, and this tasteful OSU Mr. Potato Head. 
While all of those were intriguing potentials, ultimately I landed on this McFarlane Beanie Wells figurine.
The 6-inch statuette makes a strong to very strong first impression, and is guaranteed to impress the people who are as weird about OSU football as you are.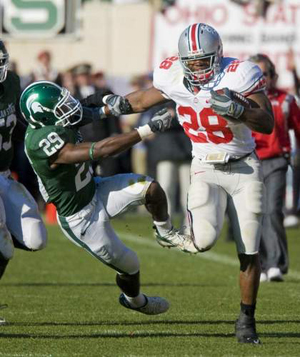 From the grass stains on the knee pads to the "ima truck you" body language, this is a thing of beauty.
No. 28 was truly a man among boys. To prove it, let's take a closer look at what the phenom out of Akron was able to accomplish during his time as a member of the Scarlet and Gray.
Freshman Season
Coming out of H.S. Beanie was an incredibly heralded recruit. Rivals and Scout had him listed as a 5-star and each had him as the #1 RB in the country.
Needless to say, Wells was expected to deliver almost immediately. 
Luckily the load did not fall directly on his young shoulders as talented junior Antonio Pittman had solidified himself as the starter.
Pittman was assured his carries, but Beanie took advantage of the opportunities given to him to the tune of 104 carries for 576 yards and 7 TDs. Those numbers might have been even more impressive had Wells not come down with a terrible case of fumblitis during the season.
One great way to make Buckeye fans forget about past performance is to make plays in the Michigan game, and that's exactly what Wells did. Get loose, Beanie:
Sophomore Season
Beanie's sophomore year was his coming-out party. With Pittman leaving early for the NFL Draft, the position was Wells' alone to occupy. The bowling-ball back didn't disappoint, carrying the ball 274 times for 1,609 yards and 15 TDs (that's a 5.9 AYPC, folks.) 
During the season Wells rushed for 100+ yards nine times including a 221-yard, 1-TD game against Michigan State and a 222-yard, 2-TD outing against the Sun and Blue in Ann Arbor. The performance was one for the record books as no Ohio State player in the history of the rivalry has racked up more yardage on the ground than Wells did that day.
Here's footage of Beanie and the rest of the Buckeyes doing work on that cloudy afternoon in 2007. I'm looking at you, Mike Hart:
Junior Season
Coming off a barnburner 2007 season, talk of Wells for Heisman was at an all-time high.
Things were set up perfectly for Beanie to make an impression, as the #2 ranked Buckeyes were set to take on the #1 ranked USC Trojans at the Coliseum in the third game on the slate.
To start the season, everything was going exactly as planned. In the home opener against Youngstown State, Wells had racked up 111 yards and 1 TD on just 13 carries. Then this happened…
Suddenly everything changed.
Reports came back that the injury was turf toe and Wells was ruled out of the next three games, including the showdown with the Fighting Carrolls.
Without their home-run hitter in the backfield, the Buckeyes were only able to muster a measly 3 points and were embarrassed in primetime. Still, the season was not over for Wells and the Buckeyes, who were able to bounce back and win eight of their remaining nine games. Despite the three-game void, Wells was able to eclipse the 1,000-yard mark for the second straight year, rushing for 1,197 yards and 8 TDs.
The strong season coupled with a workman-like outing in the Fiesta Bowl (16 carries for 106 yards) earned Wells a first-round draft selection and cemented him in the hearts of Buckeye fans across the country.
Beanie was a class act. When healthy, he was arguably one of the best backs in the country.
With that said, there was no argument when it came to best stiff-arm in the country. That of course belonged to No 28.
We appreciate the memories (and the knockouts), Beanie:
Thanks for stumbling in. Let's do this again sometime.