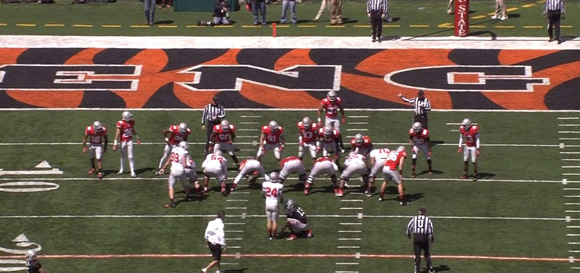 The largely unspoken topic during Ohio State's 15 spring practices was special teams. There were plenty of discussions about Braxton Miller and the Buckeyes' high-octane offense, and about the fearsome foursome on the defensive line. But there was scant mention of the part that often decides national championships.
Whether it's field goals, punting, kick returns or coverage units, special teams is a vital piece to every team with designs on winning it all. They say defense wins championships, which is largely true, but football remains a team game – offense, defense and special teams.
With Jim Tressel as head coach, Ohio State fans learned to appreciate the plays they used to miss due to bathroom breaks. He popularized the punt, famously calling it the most important play in football. During his tenure, the Buckeyes pieced together some of the best special teams units in the country (minus a few coverage units). Coinciding with that was a decade of dominance.
A change in head coaches didn't alter Ohio State's success – it did finish 12-0 last season – but the special teams were far from pretty. Multiple blocked punts were returned for touchdowns, there was a 100-yard kick return and the field goal unit was last in the country in makes. The Buckeyes did only attempt 11 field goals on the season, but the 72.7 percent conversion rate still wasn't impressive.
"Special teams have to improve, and they will improve," said Kerry Coombs, who was recently named special teams coordinator.
Urban Meyer doesn't take special teams lightly. He's preached their importance since he became a head coach at a tiny outpost in Northwest Ohio, and he's proven that by spending time with kickers and punters during each practice. He's also made it clear that the first step to being a contributor is making a splash on special teams.
"If you're not performing, there's going to be conversations about that and why you're not embracing your role," Coombs said. "Our expectation is that if you're a starter, you're on one of the two (coverage) teams. If you're not a starter, then you should be on all four. And if you're not, then why not? Why are you not competing to be that guy?"
Last season, Meyer doubled as head coach and special teams coordinator. During the offseason, however, Coombs was promoted to the latter position. He has experience having held the same title at Cincinnati, so the move made sense. In naming Coombs the special teams coordinator, Meyer cited his "expertise" and "true passion for special teams." He also called Coombs an "excellent motivator." Have truer words ever been spoken?
"The special teams have always been a part of the game that I have enjoyed coaching," Coombs said. "These plays are so critical to the success of a team, and they can really swing momentum. I look forward to having an increased role in the development of them."
Before Coombs even got the job, Ohio State was hit with bad news. Punter Johnny Townsend, a longtime verbal commitment, performed the old switcheroo when it came time to make his commitment official, opting to stay close to home and attend Florida, his favorite school growing up. Combined with the graduation of Ben Buchanan, it left the Buckeyes with zero scholarship punters.
Instead of having Townsend kick for the next four seasons, Ohio State's hand was forced. The duties now fall on placekicker Drew Basil, who last punted in high school. In the spring game on Saturday, Basil punted three times with subpar results. One was downed inside the 10, one traveled just 30 yards and the other ventured 39 yards. Basil averaged 34 yards per punt.
"IT'S A LOT OF MAN STUFF. I'VE GOT TO BEAT MY MAN, I'VE GOT TO DO MY JOB, I'VE GOT TO GROW UP. ANYTHING LESS IS UNACCEPTABLE."
During spring practice, Coombs described Basil as "talented" and sounded confident in his new punter's abilities.
"He was a great punter in high school," Coombs said. "Very comfortable, great poise, and his operation times are outstanding. We can win with Drew Basil as the punter."
That much is true. With an offense equipped with rocket boosters, a punter might not even be needed. And the defense could be so destructive that the Buckeyes could buck conventional wisdom and cover up a deficiency in their game.
"Punting, I have some concerns," Meyer said. "(Basil) can certainly do it. When you watch him hit one, it's a beautiful thing. But he doesn't have that experience, so I'm very concerned at punter."
The field goal kicking was "good, not great," according to Meyer. Wind gusts up to 21 miles per hour made it difficult, with Basil making nearly all of his attempts from inside 45 yards. The misses only started adding up once he moved beyond 45 yards, which is not automatic territory for kickers, though Basil did connect from 52 yards out.
"I'm very happy with him as field goal kicker," Meyer said.
Over the summer and once fall camp commences, Coombs will start limiting Basil's kicking. That's right, he'll want Basil to rest his leg. The treatment of a placekicker who doubles as the punter is similar to that of a pitcher – they're placed on a pitch count, or in this case a kick count.
The magic number for Basil is 120 boots per week. A tired or overworked leg could derail the massive plans the Buckeyes have for the season ahead.
"We count them, we chart them," Coombs said of Basil's kicks. "We've got all of that stuff down."
There were no glimpses of the freak show or piranhas with the absence of kickoffs and all punts being fair caught. Both of those units showed progress last season until they were cut down with injuries and saddled with youth and inexperience.
No unit on the team has struggled more than kick and punt coverage in recent seasons. It has turned into Ohio State's biggest Achilles heel. Going as far back as the 2010 Rose Bowl and as recent as last season's Purdue game, return men have almost spelled doom for the Buckeyes.
Coming up short of the ultimate goal – a crystal football – is hard enough. To do so because of suspect special teams would be unforgivable to Buckeye Nation, a group that numbers over one million and has waited more than a decade for another national title.
"We weren't good, and we have to be better," Coombs said. "That's the mantra. It's more effort-based than anything. It's a lot of man stuff. I've got to beat my man, I've got to do my job, I've got to grow up. It's got to be a priority for me to do my job and be successful.
"Anything less is unacceptable."