Around the Oval is Eleven Warriors' weekly love letter to Ohio State sports that don't get the coverage they should.
Once again this past week Bill Davis Stadium played host to five Buckeye baseball contests, the first three against the Michigan State Spartans and then one each against Youngstown State and Miami of Ohio.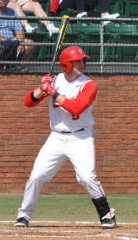 Against Michigan State, Jaron Long sailed through three innings on the mound for the Buckeyes and his team led, 2-0, heading into the fourth. The middle three frames produced much more offense and the lead was only 5-4 in favor of Ohio State. Long's replacement, Brett McKinney, retired all three batters in the seventh as his team added an insurance run, but the next inning was much more complicated for the Ohio State bullpen. McKinney loaded the bases and was replaced by Ryan Riga, who promptly gave up a two-run double and was himself replaced by Trace Dempsey. But Dempsey fared no better, throwing two wild pitches as the Spartans scored four to lead, 8-6. Even though the hosts scored another in the bottom of the eighth, it wasn't enough as their winning streak ended with an 8-7 loss.
The Buckeye bullpen had no such problems the next day when Brad Goldberg got the start. A failed pickoff and a Jacob Bosiokovic single gave the Buckeyes two in the first; a run on a double play and another as Ryan Cypret was thrown at second meant the hosts already had all the runs they would need. More runs in the fourth, fifth, seventh and eighth gave Goldberg and company enough room to work and ultimately only allowed six hits and three runs as Ohio State evened the series with an 8-3 win.  
Heading into the rubber match, the Buckeyes looked to improve upon their 4-1 Sunday record and to solidify a 5-1 start to the conference calendar. However nobody told Spartans starter Mick VanVossen those stats since he went out and dominated the Buckeye lineup, giving up only seven hits and two runs as his complete game proved decisive for his team's 7-2 win. Though he only struck out one batter, his team made no errors behind him and the Buckeyes stranded six runners over the course of the game. Brian King got the loss for Ohio State after he gave up six runs and his team didn't score until the bottom of the ninth. 
Both midweek games produced shutouts for Ohio State, first a 3-0 win on Tuesday against the Penguins and a slim 1-0 victory over the Redhawks the next day. Youngstown was beaten thanks to three hits from Troy Kuhn and only tallied two hits against five Buckeye pitchers. On Wednesday, Kuhn had Bosiokovic on third and his grounder to second was enough to score his teammate. More excellence from the bullpen in the final three innings leave the Buckeyes with a 18-8 record.
The team has another five-game week ahead, which begins with a three-game set in Minneapolis against the Gophers, before they return home once again to play West Virginia and Marshall on Tuesday and Wednesday. 
Unstoppable home and away
Having only lost twice this season, the Ohio State men's tennis team had three away matchups this past week against Nebraska, Iowa and Kentucky. First it was the Cornhuskers last Friday, and the Buckeyes found complete success in the doubles competition, sweeping the category. They also only lost one singles match and were anchored by Blaz Rola, whose win against Andre Stenger clinched the victory for OSU as they won comfortably, 6-1. 
Now with a 4-0 conference record after their trip to Lincoln, they looked to continue their Big Ten dominance against Iowa. In the end, it proved to be a more one-sided contest than their last; sweeps in both the doubles and singles competition gave the Buckeyes the win, 7-0. The pair of Rola and Kevin Metka improved to 13-0 during the season while No. 4-ranked Peter Kobelt came back after falling one set behind to get his 27th win of the year.
Again on Wednesday, the Buckeyes were too much for their opponents. Just like against Nebraska, Ohio State failed to come out on top in only one singles match, beating the No. 8 Kentucky Wildcats, 6-1. Devin McCarthy got the crucial win for the Buckeyes, who are now ranked fifth in the nation. This weekend sees the team return home for three matches: Wisconsin on Friday evening at 5, and then a doubleheader on Sunday against Minnesota and Wright State at 12:30 and 5, respectively.
Even more impressive than Ohio State's 21-2 overall record is their current 163-home win streak, the longest active one in Division I athletics. Wins this weekend would mean the team hasn't been beaten at home in a decade, with their last loss coming on April 5, 2003. 
Women's Tennis
On the women's side, there was a losing streak to be dealt with, a four-game one to be exact. They hosted Iowa this past Sunday hoping that home form resembling that of the men's team could help them stop the rot.
It was the Hawkeyes who took the No. 1 doubles set but they didn't win either of the other two. Ohio State's tandem of Grainne O'Neill and Kelsey Dieters won, 8-4, while the team of Fidan Manashirova and Gabby Steele proved even more effective, winning 8-3.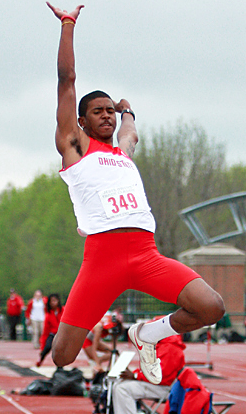 Singles were also dominated by Ohio State as they won five out of six. Steele won her team-leading 20th match of the season, while there were also wins for Nicole Flower, Kara Cecil, O'Neill and Dieters. With a final win of 6-1, the Buckeyes move to 9-8 overall and 2-3 in the Big Ten. They face Wisconsin today at 2 in Madison and then continue their travels on Sunday with a contest against Minnesota at 9 a.m. 
Surpassing a legend
Anytime you break a record held by Jesse Owens, you know you've done something right. And that's exactly what senior Michael Hartfield of the men's track and field team did this past weekend at the 86th Clyde Littlefield Relays in Austin, Texas.
Competing in the long jump, Hartfield soared 8.15m, which broke Owens's 77-year-old school outdoor record of 8.13m. It was the second consecutive personal record Hartfield has set, after being named the Big Ten Field Athlete of the Week only a week before. He placed second behind Marquis Dendy of Florida, and also ranks second in Division I this season with the jump.
Hartfield and his team will compete this Friday at the Jim Click Shootout in Tucson, Arizona.
Where the bands are
Only one performance this week: the OSU Symphony Orchestra will be playing next Friday from 8-9:30 p.m. at the Weigel Hall Auditorium. The usual ticket prices apply.