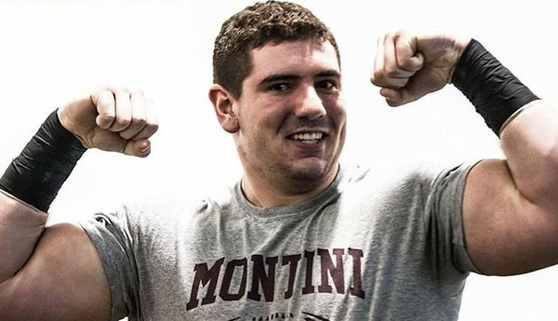 Many Chicago area targets have emerged on the Buckeyes' coaching staff's radar for the 2014 class and the first one has dropped. Montini Catholic's DL Dylan Thompson announced today that he will play his college football in Columbus.
Thompson pledged to the Scarlet and Gray while on his first visit to campus this weekend. His first looks at the university were enough to convince him it should be his home for his college years.
He was offered by Ohio State on February 7 and told me that an early commit was possible if he found the perfect situation for himself. He found it on the banks of the Olentangy. 
Thompson, 6-foot-5 and tipping the scales at over 270 pounds, picked Ohio State over 10 other offers that included Ole Miss, Clemson, Illinois, Indiana, USC, Vanderbilt, Syracuse, Tennessee, Purdue, and Missouri.
The addition of Thompson could give the Buckeyes a leg up in the recruitment of two of their top targets, LB Clifton Garrett and OT Jamarco Jones. The three both work out for and represent the Core 6 Athletes organization in the Chicago area that assists kids in talent progression and obtaining exposure from college programs. All three performed in the Core 6 Showcase in Cincinnati. The next time the trio is in Ohio together it could be a permanent arrangement.
Keep an eye out in the coming days as we connect with the future Buckeye.
You can follow Dylan on Twitter at @BRONCODE59.
---
[Junior Highlighs | Sophomore Highlights | Interview]