Ending the season with a game as perplexing as last night's 70-66 defeat at the hands of a 9th-seeded – though hat-tippingly tough – Wichita squad has a tendency to bring the naysayers to the surface.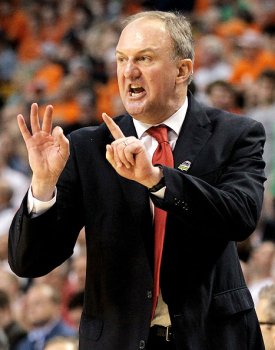 There's no question the loss was a trainwreck as Ohio State fell into an early hole that grew to as large as 20 points midway through the 2nd half before making a late run that didn't have quite enough juice.
The typically sturdy Aaron Craft was decidedly awful, missing 10 of 12 shots as the Shockers practically begged him to shoot. Fellow seasoned vet Deshaun Thomas, who will most likely leave for the professional ranks, misfired on nine of his first 13 shots before rallying to tally 23 points. Junior, and two-year starter, Lenzelle Smith Jr. was held to single-digit points (5) for the 10th time in the last 11 games. Ohio State shot 31%, their second-worst effort of the season. They missed 20 of 25 triple tries. I could go on and on but you saw it. You get the idea. 
Still, while the loss stings and there's a select few throwing out their frustration-fueled negative hyperbole amidst the rest of the fanbase looking to keep perspective, it's important to remember that this year's Ohio State Buckeyes set a school record for reaching a fourth straight Sweet 16, earned a #2 seed in the Big Dance, made some significant strides as a team, saw a handful of returning players show a ton of individual growth, won 29 games, and closed the year by going on a captivating 11-game win streak before things ended with a thud. 
There's no guarantee the Buckeyes will be a better team next season. In fact, it's entirely possible they could struggle to consistently score points if Deshaun does decide to turn pro. Of course, there's also the distinct possibility the returning players continue their development over the summer and the incoming Marc Loving and Kameron Williams add meaningful depth, giving Ohio State another top 10 caliber squad.
What also shouldn't be forgotten is just how special of a run this team cobbled together after looking dead in the water at 8-5 in the B1G conference following Wisconsin's manhood-stripping of the Buckeyes in a 71-49 blowout that preceded the late-season charge. 
Check out the team numbers during the 13 games of the B1G conference slate compared to the final 12 games Ohio State played against league and tournament foes:
OHIO STATE TEAM STATS: ANATOMY OF A TURNAROUND

| RANGE | FG% | 3FG% | FT% | FTA/G | FTM/G | ASST | TO | STL | Pts |
| --- | --- | --- | --- | --- | --- | --- | --- | --- | --- |
| 1ST 13 B1G GAMES | 45% | 35% | 69% | 16.2 | 11.1 | 11.5 | 11.6 | 5.5 | 63.6 |
| FINAL 12 GAMES | 44% | 34% | 75% | 20.8 | 15.5 | 12.8 | 8.4 | 7.4 | 69.3 |
Winning just eight of those 13 games to start conference play, the Buckeyes typically struggled to find offensive rhythm on nights Deshaun wasn't toting the team on his back. Too often, the offense was caught standing around waiting for Thomas to do something and didn't value the ball at a good enough rate to post a better winning percentage.
The offensive stagnation produced nearly 12 turnovers per game, saw the Buckeyes fail to attack the rim to at least earn trips to the charity stripe, and even when the Buckeyes did reach the line, they shot a disappointing 69%.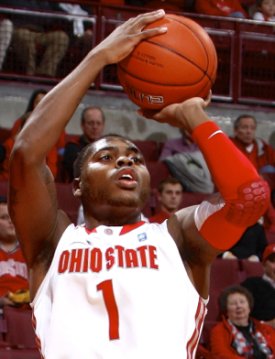 In fact, Ohio State scored 10+ points from the stripe in just six of the 13 games. From distance, the Buckeyes made at least five triples in only five of the games and getting back to those turnovers, they had 10+ in nine of the 13 outings.
But a funny thing happened on the way to a feared potential crash and burn. 
Thad Matta experimented with a smaller lineup for stretches, the team made a renewed commitment to defense (7.4 steals per game), Craft found a groove, and sophomores Sam Thompson, Shannon Scott and LaQuinton Ross started realizing growth that catapulted this team to the next level. 
Over the final 12 games that featured the 11 straight wins before last night's shooting debacle ended the season, the Buckeyes shot the rock with almost identical accuracy from the floor and beyond the arc. Clearly, this wasn't Matta's best shooting team at Ohio State but they did feature an improved ball movement down the stretch, becoming a much more aggressive outfit. 
As the numbers show, the Buckeyes got to the line nearly five more times per game and they scored over four more points from the stripe per night, thanks to those increased trips and a conversion rate that climbed from 69% to 75%. Impressively, the Buckeyes scored at least 10 points from the stripe in 10 of 12 games and no fewer than 19 points in the final four outings. 
An increasingly unselfish group, they assisted on 54% of their field goals over the 11-1 finish, up from 48% during the 8-5 opening to league play. Putting more focus on valuing the basketball, the Buckeyes saw their turnovers decrease to only 8.4 per night. No question, the team came together as players accepted their roles, with three of them, Thompson, Scott and Ross, absolutely taking their games to a higher level. Midway through the the season-closing surge, I took a look at Scott's progression and curious to see how his growth further unfolded, I revisited his numbers in addition to those of Thompson and Ross now that this year's edition of the basketball Buckeyes is officially in the history books. 
There's no about it, the trio of soon-to-be juniors all made impactful strides that not only helped save a seemingly sinking ship but also provided a much-needed dose of optimism heading into an offseason that could very well see the team's leading scorer look to begin a pro career. 
SHANNON SCOTT
The numbers pretty much speak for themselves, especially when glancing at the chart and your discerning eyeball test is more than enough to show the impact he had on defense. Behold:
SCOTT: A FACTOR AT BOTH ENDS OF THE FLOOR

| RANGE | MPG | PTS | FG% | 3FG% | FT% | reb | Asst | stl | TO |
| --- | --- | --- | --- | --- | --- | --- | --- | --- | --- |
| 1ST 13 B1G GAMES | 18.5 | 2.6 | 30% | 33% | 55% | 2.4 | 3.1 | 0.9 | 1.5 |
| FINAL 12 GAMES | 23.3 | 5.3 | 42% | 23% | 68% | 3.5 | 3.9 | 1.9 | 1.3 |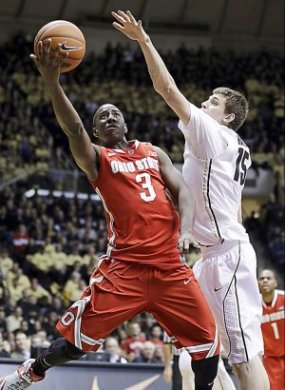 Sure, nobody's mistaking Scott's shooting touch with Larry Legend's but the kid made significant progress. He added 12 percentage points to his FG% and not only did he see a sharp gain in his accuracy from the stripe, he more effectively drove the lane over the final 12 contests, earning 28 trips to the line (19 makes) compared to just 11 attempts over the first 13 conference games. 
Despite logging more minutes, and playing in increasingly intense games, Scott saw his turnovers per game slightly decrease while handing out slightly more assists and grabbing an extra rebound. His ability to handle the point guard duties, helping generate better flow and ball movement, also allowed Craft to play off the ball more, a situation in which Aaron began to flourish after struggling to do much offensively when playing alongside Scott in the first 13 games. 
Offense aside, it was on defense where Scott really made his imprint. Showcasing his skills as a ball-hawking, physical defender, Scott, paired with Craft, gave Matta an often game-changing pair of perimeter defenders that made life hell for opposing guards, disrupting the flow of entire offenses for significant stretches of games. For his part, Scott saw his steals per game jump from 0.9 in the first 13 B1G games to 1.9 during the almost-magical run. 
Scott will obviously be back next year to again team up with Craft to drive opposing guards and coaches crazy with their defensive tenacity. If Shannon can continue to improve his still-shaky-but-improving midrange jumper and ability to finish in traffic, Lenzelle Smith Jr. will be forced to address his offensive inconsistency or Scott will continue to eat away at his minutes, whether he starts or not. 
SAM THOMPSON
A 6'7" high-flyer with a fairly one-dimensional game upon his arrival in Columbus two seasons ago, Thompson started all 37 games as a sophomore, and showed some flashes of offensive maturation down the stretch: 
THOMPSON: ON THE CUSP OF BIG THINGS?

| RANGE | MPG | PTS | FG% | 3FG% | FT% | REB | ASST | STL | TO |
| --- | --- | --- | --- | --- | --- | --- | --- | --- | --- |
| 1ST 13 B1G GAMES | 25.2 | 6.5 | 50% | 36% | 46% | 2.8 | 0.9 | 0.5 | 1.0 |
| FINAL 12 GAMES | 27.5 | 9.2 | 51% | 54% | 69% | 4.0 | 0.8 | 0.5 | 0.5 |
During the first 13 conference games, Thompson relied upon a combo of alley-oops and slashes for dunks to make an offensive contribution as he struggled to knock down outside shots. He only took 15 threes (20% of his total FGAs), indicating a lack of confidence in his shot, and that was justified as he knocked down only five from distance. 
Playing only two more minutes per game during the final 12 contests, Thompson started to show increasingly consistent glimpses of what his ceiling might be if he can further develop an improving jumper. 
Thompson took 24 triples over the last 12 games, hitting 13, showing a confident stroke that was another factor in an Ohio State offense that scored six more points a game. Of note, Sam hit at least one three-pointer eight of 12 games, up from only four of the first 13 games. 
Taking a more aggressive tact on offense, Thompson saw his points per game increase to 9.2 amidst the final push and he more than doubled his trips to the line. During the streak, Thompson hit on 22 of 32 free throw attempts (69%), up from only 13 free throw tries (making six) in the first 13 conference games. 
I get that these aren't mind-blowing numbers but if he actually can add a knockdown mid-long range jumper as a complement to his ridiculous athletic ability, he will be right there with Ross as the two players to generate the largest increase in their points per game next season. 
LAQUINTON ROSS
You know his story. Ross crushed any chance of contributing as a freshman when grade issues kept him from practice until mid-December. Playing on a team loaded with proven commodities, there simply wasn't minutes for an erratic offensive player that couldn't play D. This year, things started slow but nobody came on stronger in March than Ross: 
ROSS: THE SKY'S THE LIMIT

| RANGE | MPG | PTS | FG% | 3FG% | FT% | REB | ASST | STL | TO |
| --- | --- | --- | --- | --- | --- | --- | --- | --- | --- |
| 1ST 13 B1G GAMES | 14.8 | 5.8 | 47% | 44% | 58% | 2.2 | 0.3 | 0.1 | 1.4 |
| FINAL 12 GAMES | 16.4 | 9.8 | 48% | 43% | 80% | 2.7 | 0.4 | 0.4 | 1.5 |
As the Buckeyes floundered in the early stages of the conference season, Ross was mostly a non-factor. He reached double figures only twice in the first 13 games, showing little confidence in anything other than his spot-up outside shot. Now, he shot a very respectable percentage from the floor, but his decision-making was questionable at best and he was largely passive on offense. Ross attempted just 12 free throws in those 13 games and many were beginning to wonder exactly when, or if, the light would come on for the talented, yet unproven kid.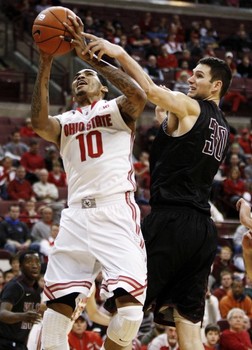 Ross scored 10 points on 4/9 shooting in the blowout win over Minnesota that kicked off Ohio State's 11-game winning streak and though he wouldn't reach double figures over his next four outings, his 11 points in a rout of Nebraska preceded a six-game stretch to close the year that saw Ross make meaningful-to-heroic contributions, elevate his confidence to new heights and expand his overall game. 
Ross had nine big points in a three-point defeat of Sparty and added seven points and four boards in a grinder over Wisconsin to help capture the B1G tournament championship. He never got it cranked up in the Dance opener against Iona but responded in a big way over the final three games.
Q lit up Iowa State for 17 points, including 10 straight during a second-half run that gave Ohio State the cushion they needed to just barely overcome a collapse in the final minutes. He hit 6/10 from the field, including 3/5 from downtown in what was then his best game as a Buckeye. Of course, he would trump that act four days later as he again scored 17 points, including the game-winning three with 2.1 seconds left against Arizona in the Staples Center. Ross hit on 5/8 from the floor and showed a willingness to attack the rim, earning five trips (and five points) to the line. 
Finally, in yesterday's loss to the Shockers, Ross poured in 19 points with 15 of those coming after halftime. He shot just 4/12 but his continued aggression off the bounce allowed him to convert nine of 10 free throws. 
Over the final 12 games, Ross increased his points per game by four thanks in large part to his newfound confidence in being a threat off the dribble. He went to the line more than twice as much as he did in the first 13 conference games and upped his conversion to 80%. With defenses having to be a little more mindful of the drive, Ross was able to add one more made field goal per game (3.3 to 2.3) in the final 12 games compared the prior 13 and his made three-point field goals per game increased from 0.6 to 1.36. 
Even with the small sample size, there is obviously plenty of room for optimism when it comes to projecting LaQuinton's upward trajectory. He's a Deshaun decision away from being a starter and most likely the leading scorer on next year's squad.