G'morning.
As Thad Matta prepares his bunch for the Elite Eight contest against the Wichita State (looked it up: not even a real state!) Shockers this evening, today's morning feature will talk about some various news items pertaining to both college hoops and, of course, our beloved football team. We won't waste much time. After all, there's an important game this evening.
 NBA AND Q. I'm a little concerned how permissive Ohio State's defense has looked in the past few games. The Buckeyes pride themselves on defense. Ohio State's defense, perhaps more than anything, is what has keyed its winning streak since that debacle in Madison in February.
However, without B1G TEN refs allowing B1G TEN play, the Buckeyes' defense has looked passive and timid. We saw a lot of this against Arizona. In a tight game where everyone was getting fouls in the first half, Aaron Craft (two fouls) and Shannon Scott (one foul) were not playing like the two-man gang of knife-wielding hornets they usually are.
All three games this tournament have seen Ohio State concede 70 point games to the opposition. Ohio State had last done that in that 71-49 loss at Wisconsin. Prior to the start of the NCAA Tournament, Ohio State had only one game where it conceded over 70 points to the opposition and won. That was against UNC Asheville and that hot-shooting guard/son of Bruce Hornsby.
Fortunately for Ohio State, its offense has come alive to save the day. One player who has turned it on since the B1G TEN Tournament is LaQuinton Ross, who had the game-winner on Thursday. He had 17 points in each of the Buckeyes' last two games. He's looked crisp shooting the ball and has demonstrated — if unreliably — serious strides in driving to the basket. His "NBA step", at times, looks NBA-ready.
In fact, perhaps no player has done more to help his draft stock this tournament than LaQuinton Ross. Joe Kotoch of Sheridan Hoops believes (justifiably) that Ross is demonstrating right now why he has the most pro potential of any current Buckeye. Chad Ford, of ESPN Insider, echoed similar sentiments on Twitter.
So will he jump ship after Ohio State's tournament concludes? We'll see. While Ross has made significant strides this month, it doesn't seem like he's high on anyone's draft board right now. This might serve as a deterrent to Ross and incentivize him to return to push his draft stock comfortably into the first round. This could allow him to have a breakout season like Evan Turner had in 2009-10.
At least to this observer, it's hard to see LaQuinton Ross declaring for the NBA Draft unless Ohio State proceeds even deeper in the tournament, possibly winning it with Ross' contributions. If that happens, well, happy trails. There's no complaint on my end.
If he does come back, he will be critical in compensating for the loss of production if/when Deshaun Thomas declares for the NBA Draft. Thomas is an early second-round draft pick right now. This doesn't assure him of a roster spot or a contract, but he would be a very hot commodity in Euroleague. If he doesn't land on an NBA roster, he will be coveted by some of the top teams in Europe in countries like Israel, Italy, and Spain.
 DYNAVISION AND OHIO STATE FOOTBALL. I don't know how long Ohio State football has been doing this, or if it has even been doing this during the Tressel era. Still, I thought it interesting and wanted to pass it along.
In an interview after practice, cornerbacks coach Kerry Coombs mentioned that his players are doing Dynavision drills. Don't know what it is? Well, it's a vision program that is very useful for fighter pilots in the United States Air Force Academy. At a lesser pace, it's also useful for those with eye problems or those who are rehabilitating from injuries that have affected eyesight and cognitive functioning.
For Ohio State football's purpose, the Dynavision machine in the weight room tests players' peripheral vision and reaction time using a series of flashing lights. Here's a demonstration below.
Naturally, Ohio State football has turned this machine into another instrument for intra-group competition. Brad Roby has said his high score is an 81 (lights per minute), well below the apparent record of 139 lights per minute held by Tim Duncan. Any excuse to mention Tim Duncan is a good excuse.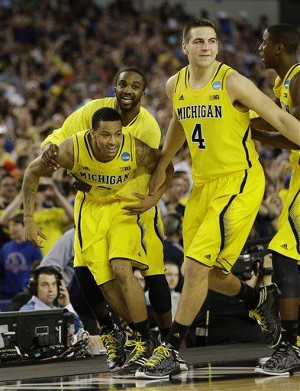 B1G AND ELITE OR JUST SWEET? So, what has become of our conference brethren?
In an outcome I admittedly did not anticipate, Michigan erased an 11-point deficit at the under-4 media timeout in the second half and staged a furious rally to beat the Kansas Jayhawks in overtime. I say I did not anticipate it because the first 38 minutes of the game looked exactly as I anticipated it. Kansas' interior size scared Michigan's guards, and even smaller forwards like Glenn Robinson III, from driving to the rim. Jeff Withey played the gatekeeper at the rim, finishing the game with 5 blocks and 8 rebounds to go with 12 points.
The first half saw KU own the rim, with all but two field goals coming from inside the paint. Those two field goals happened to be three-pointers. Indeed, only some sloppiness by the Jayhawks saw KU go to half with just a six-point lead instead of a double-digit lead.
The Jayhawks were again sloppy out of the gates in the second half, but regained its double-digit lead by the under-4 media timeout. Leading 70-59, KU became bystanders to a show put on by Mitch McGary and Trey Burke. McGary, who probably should've started the season for the Wolverines in lieu of Jordan Morgan, chipped in four points during this rally while Trey Burke buried some timely three-pointers, including the one that sent the game to overtime.
The choke job was complete when Elijah Johnson eschewed a game-tying layup (or foul shots) in lieu of a kick out for a floating three-point attempt that saw Kansas' season end.
Meanwhile, Michigan State's season came to a conclusion following a suffocating loss to Duke. Duke's three-point shooting was a huge culprit in the loss. Seth Curry was an ungodly 6/9 from behind the arc, finishing with a game-high 29 points.
As I kind of expected, Duke was able to match Sparty's size inside. Teams in the B1G TEN didn't have a combo that could play against Derrick Nix and Adreian Payne. It's why, for example, the best Ohio State could do was put Amir Williams on Derrick Nix and put Deshaun Thomas on Adreian Payne and just hope for the best. Against Nix and Payne, Mason Plumlee and Ryan Kelly were able to give Duke valuable points inside. Plumlee had 14 points and Kelly had 9 points. Each had 7 rebounds.
So, yes, only Ohio State and Michigan are "elite" this season in the conference, at least in using that measure. It's Big 2, Little 10. Shooty hoops style.
 MISCELLANY. The fan reaction pic that blew up the whole damn internet... $180 million? Got dang... $108 million for Romo? C'mon, man... Florida Man really is the worst... Appalachian State and Georgia Southern are moving from FCS to FBS to play in the Sun Belt... Idaho and New Mexico State, orphaned by the Western Athletic Conference, are joining the Sun Belt too... Hey guys, Mack Brown is re-energized (again)... Kenny Smith may want to lose the vest... Breaking down LQR's game-winning three-pointer, from Arizona's perspective... World Wide Wes: persona non grata in Lucas Oil Stadium... An outright amazing self-trolling... Kliff Kingsbury is totally hip, you guys.