Good morning, and welcome to an Elite Skull Session.
In case you missed it, Ohio State played Arizona for the right to go to the Elite Eight. In a game that must've given those with pacemakers some cause for concern, Ohio State won on a clutch three-pointer by LaQuinton Ross with two seconds left to win, 73-70.
It was a pretty darn sweet shot. Some may want to watch the video of it over and over, while some may prefer a GIF to go along with the other big moments of the game.
Hopefully the final shot doesn't overshadow how close and compelling this game was. Arizona got out to a quick start and maintained a 4-8 point lead for most of the first half thanks to some excellent guard penetration and hot shooting. Ohio State eventually recovered from its defensive malaise and looked like the better team for most of the last 30 minutes, but even when Ohio State was rolling in the second half the lead was never larger than 10.
The final two minutes of play were quite stressful, with Arizona making up a six-point deficit culminating with a harebrained foul by Ross that allowed for a tying three-point play on what would be Arizona's last meaningful possession. (It's a good thing Ross hit the final shot, or he might've had a long walk home.)
Had the referees not given Aaron Craft a verrry generous whistle on an inbounds play where he didn't have possession of the ball, Arizona could've been ahead by a point going into the last shot. All's well that ends well, I suppose.
The 73-70 victory propels the Buckeyes into the Elite Eight to face 9 seed Wichita State in the West regional final.  Ohio State will doubtless be a big favorite for that game, and should Ohio State win, the most likely Final Four opponent would be top overall seed Louisville. Handling its fearsome defense is a tall order, but with the team playing offense like this anything is possible.
 QOLDBLOODED. The shot LaQuinton Ross took to put Ohio State over the top is as big as it gets. For Ross, it was completely out of character.
Per ESPN Stats & Info, the game-winning 3-pointer by LaQuinton Ross was the first game-tying or go-ahead shot Ross had attempted in final minute of any game. So why the change? Why the different approach? In an article by Gary Parrish of CBS Sports, Ross and his teammates credit a change in attitude and buying into the program for the turnaround:
"Coming in my freshman year, I think I was kind of immature as far as my thinking," Ross acknowledged late Friday. "'Why am I not playing? Why am I not doing this?' But I think everything paid off. All the hard work is now paying off in this tournament."
Numerous people have named Ross as the X-factor for the Buckeyes, and he has lived up to the hype in the tournament: after averaging 7.7 points per game this season, he's averaging 13.7 through three games and contributed 17 points last night. Not only does he have a higher usage, but he's more efficient: though his overall field goal percentage hasn't changed much from the regular season to postseason (51% in Big Ten Tournament and NCAA Tournament games versus 47% for the season), his three-point field goal percentage is 60% over the same period versus 38% for the season. That's a low sample size, but Jon Diebler is jealous of his recent marksmanship.
Ross still hasn't been consistent enough to bring confidence that he'll be the team's second-leading scorer for the rest of the tournament, but his improvement indicates that he'll be in that role next season.
 AMIR IS NO MERE CENTER. One of the factors that threw Ohio State's defense out of sync early on was the tight officiating.  Both Arizona and Ohio State were in the double bonus with seven minutes left in the first half on some chippy fouls, leading to a number of players having early foul trouble. With little choice, Thad Matta used a heavy dose of Amir Williams at center, who had himself an excellent game.
On the offensive end he had an unusually savvy game, with some offensive rebounding and spacing allowing teammates more opportunities to score. On the defensive end, he had an excellent performance, with stellar interior defense forcing altered shots and traveling violations. He even did it cleanly: of his two fouls, one was offensive. After the game, Williams had some comments on his performance:
"When I get into the game I get animated, fist pumps, talking more to my teammates," he said. "When I get the juice like that it feels good and gives everyone energy."
Play like that furthers the theme of the maturation of Ohio State's sophomores. Keep it up, buddy.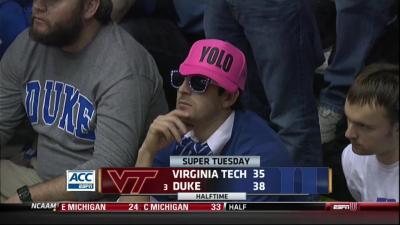 THEY CAN'T ALL BE WINNERS. Other basketball games were played last night, but none of them was as good or close as OSU-Arizona.
In the first game of the evening, Marquette took it to Miami. After Marquette's escapes against Davidson and Butler, one might have expected Miami to emerge with a comfortable win, but when you shoot 34% from the field and your opponent shoots 54% you're gonna have a bad time.
Their opponent in the East regional final will be fellow Big East school Syracuse, which suffocated Indiana with its 2-3 zone. Indiana had an all-around miserable game, and has to feel a bit disappointed now about how the season played out. As a preseason #1, as a team that oversigned and cut a scholarship player to get back under the limit, as a team that had a number of chances to take the top overall seed, a Sweet 16 loss is probably not how they envisioned the season ending.
As mentioned above, Ohio State's opponent in the West regional final will be Wichita State, which dismantled 13 seed La Salle. There's not much to say about Wichita State other than if they play like that against OSU, whuh-oh. Stay tuned for our preview.
The prospect of an all-Big Ten Final Four is shot now, but if you're inclined towards conference teams, Michigan plays Kansas and Michigan State plays Duke tonight. You don't need to be told who the sympathetic side is in MSU/Duke; if you do, the image above is all you need to know.
Also, Louisville plays Oregon and Florida plays everybody's favorite underdog, Florida Gulf Coast. FGCU is going to get squished, probably, but it's been a great run.
OSU GOES HOLLYWOOD. It's fitting that Ohio State would get some Hollywood endorsements while playing in Los Angeles. A few celebrities were cheering for Ohio State. Expected was Drew Carey; unexpected was this guy:
Cmon buckeyes

— Jose Canseco (@JoseCanseco) March 29, 2013
Well, uh, thanks for the support, Mr. Canseco. He may be bat-guano crazy and have no particular affiliation with Ohio State, but anybody can be a bandwagon fan if they want. Couldn't he have picked Duke, though? The guy in the YOLO hat could use some company.
 LINQS. Penn State player arrested for counterfeiting money... A cunning robbery... One of the Big Easts must rename or lose an autobid... Unsafe at any speed... State Border War Part Deux?... Maryland does not have a copy of its Big Ten contract... This looks fun terrifying... Terrelle Pryor might get a shot at starter in Oakland.