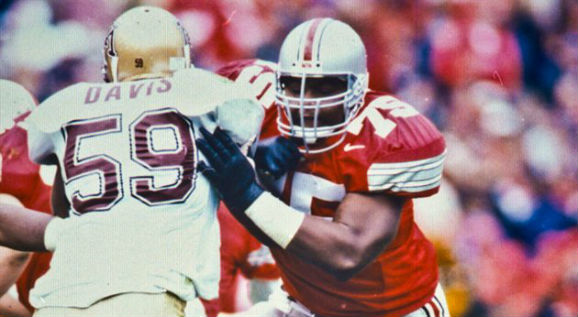 If you sometimes look at your morning pancakes and are reminded of football, Orlando Pace did that.
At 6-foot-6 and 330 pounds, the only objects larger than Pace in his hometown of Sandusky, Ohio, were the roller coasters at Cedar Point. Pace was born in Sandusky on Tuesday, Nov. 4, 1975, just a few days after Ohio State's 24-14 win over Indiana and a few days before the Buckeyes smacked down Illinois, 40-3, in Champaign — Ohio State would finish 11-1 and only a tough loss to UCLA in the Rose Bowl prevented a national championship that year.
It was foreshadowing. Ohio State near-championships would one day be a running theme during Pace's college days.
A two-sport star for the Sandusky High Blue Streaks, Pace was more than just a man-mountain. Very few men of his size possessed his athleticism and quick feet. He once helped his high school basketball team beat Lorain Admiral King for the league championship by scoring the go-ahead basket at one end and then getting back and blocking a last-second shot attempt at the other.
His lead block on a 55-yard touchdown on a counter trey at Vermillion is still talked about in Sandusky, because tailback LeAndre Moore never caught up to him.
Pace wasn't just a good lineman; he was a freak athlete with deceptive speed. His quick hands and feet allowed him to maximize his already considerable size advantage over his opponents. He was exactly the way you'd build an offensive tackle in a laboratory if you started from scratch.
During his OSU career, Pace made the breakfast food famous by tallying 80 "pancake" blocks — knocking a defender to the ground, onto his back — his junior year. Pace was adept at not only pancaking his own man at the line of scrimmage, but also racing downfield to pick off a second would-be tackler. He was a tackle that moved like a pulling guard. He would go on to a three-year stint as a Buckeye that was so successful he would wind up on the 1990s version of Mount Buckmore.
One of then-head coach John Cooper's biggest (figuratively and literally) recruits, Pace selected Ohio State out of Sandusky High, enrolling in the fall of 1994. His impact was felt immediately. Pace became a true freshman starter at tackle, and was reportedly only the second true freshman in OSU history to start on opening day.
One almost feels sorry for Ohio State's opponents during that time. Not only were defenders asked to stop running back Eddie George, but they were also tasked with getting past Pace to do it. Behind Pace and his linemates, George racked up 3,369 rushing yards and 36 touchdowns in 1994 and 1995.
Freshman Year
In 1994, Pace and the Buckeyes went 6-2 in Big Ten play, finishing second behind 8-0 Penn State. Ohio State was 9-4 overall in a disappointing campaign that concluded with a 24-17 loss to Alabama in the Florida Citrus Bowl. That game will be remembered more for the dog on the field than for Ohio State's performance. The 1994 team's biggest highlight was presenting Cooper with his first victory over Michigan as OSU coach — the Buckeyes beat the No. 15 Wolverines, 22-6, in the Horseshoe on Nov. 19.
At the end of that campaign, Pace, an offensive lineman, was named the conference's Freshman of the Year.
Sophomore Year
With George returning after a productive 1994 season, the outlook for Ohio State was very good entering 1995. Pace continued knocking guys down and George continued to amass yards and touchdowns in bunches.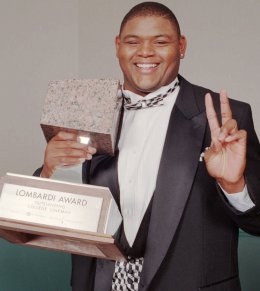 The Buckeyes opened the season with a 38-6 drubbing of Boston College in the Kickoff Classic at Giants Stadium in East Rutherford, New Jersey. It's still the only Ohio State game my sister has ever attended, as well as the only one I've attended with my dad. Still, I remember less about the game than I do about getting rear-ended on the highway off-ramp leading to the stadium. I do, however, recall Shawn Springs' 97-yard kickoff return touchdown.
Pace, George, Bobby Hoying, Terry Glenn and the rest of the Buckeyes ripped off 10 more wins in a row, with half of them coming against ranked opponents. This stretch included a 45-26 drubbing of No. 15 Notre Dame that resulted in one of three of my career field rushes. George and Glenn were particularly outstanding that day, and Pace wore the Irish out.
The 11 wins to start the season also included George setting a school record with 314 rushing yards against Illinois, aided in large part by the large Pace.
The No. 2 Buckeyes looked like juggernauts, amassing 40 points or more in four straight games before heading to Ann Arbor to face No. 18 Michigan. As happened far too often, Cooper's team came up short in The Game, and Ohio State's championship hopes were dashed in a 31-23 loss. And you just threw up in your mouth a little thinking of Tim Biakabutuka's 313 yards that day.
Worse, at 7-1, Ohio State finished second in the B1G that year to 8-0 Northwestern, a team not on the Buckeyes' schedule. The Wildcats went to the Rose Bowl and Ohio State headed south to play Peyton Manning's Tennessee Volunteers in the 1996 Florida Citrus Bowl. The Vols won, 20-14, on a pair of fourth-quarter field goals.
Pace did not allow a sack in 1995 and earned both All-Big Ten and All-America honors. He was named Big Ten Offensive Lineman of the Year and became the first sophomore in history to win the Lombardi Award.
Junior Year
The Buckeyes reloaded quickly for Pace's junior year of 1996, after losing Hoying, George, Glenn and tight end Ricky Dudley, among others. Ohio State responded to its new two-headed quarterback (Stanley Jackson and Joe Germaine) and a new starting tailback in Pepe Pearson, by racking up 70 points in the first two games of the season. The first was a 70-7 thumping of Rice to open the season. The second was a 72-0 annihilation of Mark May's beloved Pittsburgh Panthers.
A Week 3 road win over the No. 5 Irish in Notre Dame Stadium had Ohio State fans rethinking their preseason assessments of the Buckeyes, and a 38-7 home win over No. 4 Penn State did nothing to derail that line of thought.
A nailbiter of a 17-14 win over Wisconsin was followed by easy wins over Purdue, No. 20 Iowa, Minnesota and Illinois — the latter two by a combined score of 93-0. Ohio State did indeed seem invincible, with Pace leading the ground attack.
A trip to Bloomington was a little more nervy than expected, but Ohio State prevailed, 27-17, at Indiana. Many assumed the Buckeyes were looking ahead to their showdown with No. 21 Michigan the following Saturday.
Let's not belabor the 13-9 home loss in The Game here, but it was enough to (again) derail a potential national championship season. Ohio State finished with a 7-1 conference record, tying Northwestern for the league title. Ohio State got the Rose Bowl berth and went on to beat Jake Plummer and the Arizona State Sun Devils, 20-17. Somewhere in an Amarillo, Texas apartment, I wept tears of joy for the first time in my life, seeing my first OSU Rose Bowl victory since I was seven years old (Jan. 1, 1974).
For the second consecutive season, Orlando Pace refused to yield a sack.
Pace again earned consensus All-B1G and All-America honors, along with his second Lombardi Award and the 1996 Outland Trophy. He became one of 12 players to win both the Outland and the Lombardi, and won the Jim Parker Award. He was also named UPI Lineman of the Year. By winning the Lombardi a second time, Pace became the first player to do so.
He repeated as Big Ten Offensive Lineman of the Year and was also named B1G Offensive Player of the Year and Football News Offensive Player of the Year. He received the Chicago Tribune's Silver Football Award as the conference MVP and was a finalist for both the Maxwell Award and the Heisman Trophy.
Pace finished fourth in Heisman balloting in 1996, the highest finish for an offensive lineman since Ohio State's John Hicks placed second in 1973.
Legacy
In his Ohio State career, Pace's teams went 31-7 over three years, with a 20-4 mark in Big Ten play. His 1996 squad won the conference title and the Rose Bowl, and two of his three seasons were spent in contention for a national championship that sadly never materialized.
He was twice named a first-team all-conference and All-America performer, was B1G Offensive FOY in 1994 and Offensive POY in 1996, with a Silver Football Award, an Outland Trophy and two Lombardi Awards. Pace was also selected by his Ohio State teammates as team MVP in 1996.
In the 1997 NFL Draft, Pace became the first offensive lineman since Ron Yary in 1968 to be selected first overall. The St. Louis Rams traded up with the New York Jets to move into the spot.
In 1999, Sports Illustrated named Pace to its All-Century team as a starter. Joining him on the 85-man roster were fellow Buckeyes Archie Griffin, Chris Spielman, Jack Tatum, and Jim Parker.
After Ohio State
Orlando was every bit as dominating as a professional as he had been in college. Pace was named an NFL All-Pro five times and was selected to seven Pro Bowls. He won the Ed Block Courage Award in 2008, and he helped his Rams defeat Eddie George's Tennessee Titans in Super Bowl XXXIV on Jan. 30, 2000, in Atlanta's Georgia Dome, 23-16.
Pace played in 169 NFL games with St. Louis and Chicago, playing 13 seasons with the Rams and one with the Bears. He started 165 of those games. On Jan. 31, 2010, he was announced as a second-team member of the NFL 2000s All-Decade Team. Second team? Good job, good effort, NFL.
After an amazing collegiate and professional football career, there's no doubt that Orlando Pace stands among the very best of all time to ever play offensive tackle. We'll always keep a special place in our hearts for big No. 75.