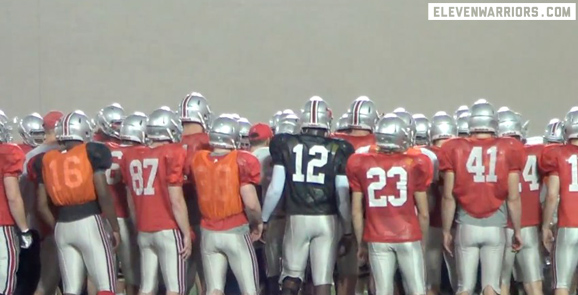 Four new starters on the defensive line of a team coming off a 12-0 season would signal red flags to many. But Ohio State is still among the top contenders for a national championship entering the 2013 season. 
When the "new" names include the likes of Noah Spence, Adolphus Washington, Michael Bennett, Tommy Schutt and Joel Hale, a sigh of relief from the coaches comes as no surprise. They might not be seasoned vets, but few teams have linemen with so much skill and potential wrapped up in one, even if there are only nine career starts on the roster.
Spence, a sophomore, is the ringleader of the group. One of Urban Meyer's prized recruits in his first class, the defensive end has developed into an invaluable force along the defensive line. Present-day college football is won in the trenches, and it's a trend that Meyer is cognizant of every day.
"If we put together a good D-line and linebackers, I think we'll have a good team," Meyer said after the first spring practice. "If not, we won't. It's pretty simple."
Benefiting the defensive line – and the rest of the defense – is competing against an offensive line that returns four starters and a unit that possesses high-quality skill players.
"They are one of the top offensive lines in the country," Bennett told reporters last week. "When you go against talent like that every day you are going to get better as a whole group. That's experience a lot of D-lines are not going to get."
This is the first time in 28 years Ohio State has an entire new crop of defensive linemen. When you have guys like Spence that admit they only know what they are doing 50 percent of the time and still appear to be unblockable, it's easy to see why most think this group will be just fine.
The energy and awareness displayed by Spence and his cohorts harkens back to past decades when the Buckeyes' defensive line was annually among the nation's best. That's the level the players and coaches are after. It's where John Simon and Johnathan Hankins, arguably the two best defensive players in the conference a season ago, played – endurance and effort paired with speed, size and power.
Each of the newly minted members of the line rotation has exhibited that potential before. Spence and Washington played extensively as true freshmen on the undefeated team, Schutt also displayed a knack for making plays as a freshman, and Bennett and Hale, rising juniors, are the veterans of the group.
Steve Miller, Chris Carter, JT Moore, Tracy Sprinkle and Tyquan Lewis are also in the mix to receive playing time.
The three young classmates – Spence, Washington and Schutt – played with reckless abandon last season and must turn that into skilled technique a year later. They've been working on becoming all-around linemen, not just gifted but raw players.
"They're learning," said defensive line coach Mike Vrabel, who happens to own the school record for sacks. "They take to coaching and get after it."
Bennett is the most experienced of the returnees, having started twice and accumulated 28 tackles, six for loss and four sacks. But a groin injury derailed his sophomore season, causing him to miss five full games and hampering his play in the remaining seven.
"We need Michael Bennett," Vrabel said.
The setbacks look to be a thing of the past. The frustrating season didn't allow Bennett to reach his potential in a year that featured otherwise outstanding play on the line.
Bennett and Hale are expected to provide leadership to the unit as its oldest, most veteran members.
"It's time for us to step up as leaders," Hale said.
Still, even with more seasoned and savvy players, the attention always seems pointed at the group that came to Columbus together in Meyer's first class when the chips were down.
Of particular interest is Spence, who added 15 pounds of muscle and had one sack a year ago, getting a taste of what the good life is like.
"I'm glad he's on our team, that's all I can say," offensive line coach Ed Warinner said. "His speed off the edge is amazing. He'll make (the offense) better because he gives us something every day to work on."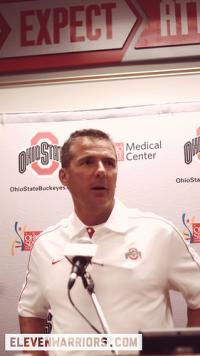 Rules of the Game
Meyer made headlines on signing day for two things – his recruiting class and his outspokenness against several new recruiting rules allowing unlimited contact between coaches and prospects. 
Several other coaches joined Meyer's call to apply the brakes; even the Big Ten Conference chimed in. It apparently worked, because the NCAA decided not to go forward with the proposals.
Recruiting staffs will not be permitted to balloon to unlimited numbers and the amount of printed materials sent to prospective recruits will be capped. The proposal that would have allowed coaches to use unrestricted forms of communication during "live" periods is also likely to have a final destination in the NCAA graveyard.
It's all good news to Meyer.
"One of the concerns our staff has, and I know the Big Ten coaches have, is the fall is for coaching players. If it's unlimited phone calls and all that stuff, then you're spending all your evenings calling recruits," Meyer said. "We don't need to speed up the process anymore. The recruiting calendar is perfect the way it is."
Coaches around the country – Meyer included – were dismayed when the changes were announced in January. They are the ones most affected by any alteration in the rules, especially when it pertains to recruiting, yet they were not consulted.
"Some of those things are just not very smart, to be able to allow schools all the mailouts and text messaging," co-defensive coordinator Everett Withers said. "Kids lives are already being intruded on so much. They wouldn't have a life at all if some of that stuff were going on. Some teams would send thousands of letters. It's good for coaching, it's good for recruiting and it's good for college football. I don't think that stuff was good for the game.
"It sounds like the NCAA just threw its hands out and said, 'you guys police yourselves,' and this was the result."
Notes
 
Chris Rock, a DeSales graduate and former Michigan player, is now walking on at Ohio State. He is wearing No. 91 and will be eligible to play this season. He has three years of eligibility left.
Today was by far the most physical spring practice for the Buckeyes. Lots of hard hitting and some skirmishes. The biggest involved Corey Linsley and Joel Hale.
Pittsburgh Brown and Armani Reeves were two players that caught Urban's eye. Each made several big plays in the secondary.
Meyer said the offensive line has started right where they left off. The four returning starters are fine, but he's still looking for a fifth guy.
Meyer said it's now or never for Pittsburgh Brown. He added that he thinks Brown could be a Reid Fragel type of guy who comes out of nowhere for a strong final campaign.
Jordan Hall was absent from practice again today. Meyer noted his hamstring was still an issue, but there were academics to tend to as well.
Urban said Braxton has been good, not great. Said he's behind as a quarterback but not as a football player.
The D-line remains a concern for Meyer. He said the lack of veterans is an issue, but Michael Bennett is stepping into that role.
Bennett showed leadership today when he yelled at his teammates for allowing the offense to score on a goal line play.
Meyer said Bennett has graded out positively in five of six practices. Also lauded the play of Noah Spence.
Urban also mentioned Christian Bryant as a guy who needs to provide leadership on defense. Withers added the name CJ Barnett to the conversation.
Urban said Rod Smith has gone from nothing to something in one year. Smith looked great today. Had a couple big-time runs.
Withers said Bryant needs to work on tackling. Said good players work on weaknesses, not what they already succeed at.
Withers said Pittsburgh played bad in a scrimmage last week. Withers texted him and said pick it up because he recruited really good DBs.
Brown said he realizes this is his last go-round. He said he's embracing the challenge and not settling.
Brown is up to 205, from 191. Said working out with Marotti is all he needed to add 14 pounds of muscle.
In drills inside the 5, Rod Smith had multiple bull-rushing touchdowns, as did Bri'onte Dunn.
The best pass play from Braxton was a 92-yard touchdown pass to Jeff Heuerman. Miller tossed the ball 30-40 yards. Heuerman did the rest.
Luke Roberts had a great form tackle on Dunn at the goal line. It was quite a collision, no touchdown.
Braxton fumbled a snap that was recovered by the defense and was run down by Steve Miller in the backfield near the goal line.
Blake Thomas lined up at fullback a lot today and caught a big fourth-down pass that extended the chains.
Michael Thomas is still someone who's looking great. Don't forget he was Braxton's WR in San Diego with Whitfield. They have chemistry.
The running backs were very impressive. Carlos Hyde didn't practice much because the coaches know what they have. Smith, Dunn and Ball all turned heads. 
Cardale Jones got a lot of snaps with the second-team offense. Kenny Guiton may have been limited with a minor injury.
Eli Apple had a pick-six off Jones. Apple made several big play. After one, an elated Kerry Coombs rushed over and slapped Apple on the helmet.
Tommy Schutt has a sprained ankle, but still took part in drills. His ankle was wrapped heavily, but Meyer said he'll be fine.
Noah Spence and Adolphus Washington continue to be men on the D-line. Each abused the O-line at times.
It was a noticeably poor day for the linebackers. Curtis Grant and Josh Perry were yelled at by Luke Fickell more than once.
Marcus Hall's weight is down 15 pounds, to 315. It's given him noticeably better footwork, something Meyer and Warinner are pleased with.
Taylor Decker and Chase Farris continue to compete for the right tackle spot vacated by Reid Fragel.