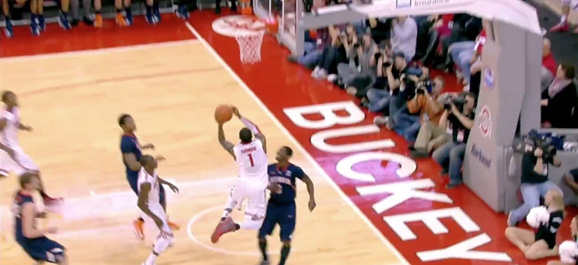 COLUMBUS, Ohio – The phrase "Go big or go home" has long been an apt descriptor in sports. For Ohio State, however, it's been all about small ball.
The Buckeyes went to a small lineup to grind out two wins over Northwestern, take command at Indiana and, again, on Sunday to overtake Illinois and win, 68-55.
Poor shooting just after noon over the opening minutes hamstrung Ohio State. But the saving grace was drawing fouls. With Nnanna Egwu and Sam McLaurin in foul trouble in the first half, much like Victor Oladipo and Cody Zeller on Tuesday, the Buckeyes used it to their advantage, going to a four-guard lineup and turning a deficit into a nine-point halftime lead.
"I thought the biggest segment of the game was the Ohio State run at the end of the first half," said Illinois head coach John Groce. "You take that out and we're right there. We had three of our seven (first-half) turnovers at the end of the half. If (Ohio State) gets out in transition, it's a dunk or a 3. That segment was really the determining factor."
The small, athletic lineup gave Ohio State the dose of energy it needed, igniting a 20-7 run. It coincided with an ice-cold stretch from Illinois. The Illini went more than six minutes without scoring to end the first half and never got closer than seven after that.
"We didn't have it for the first 12 minutes of the game," Ohio State head coach Thad Matta said. "We had an odd look. I told them during a timeout, 'We've tried your way, now let's try the Ohio State way.'"
The Buckeyes shot 50 percent from the field for the half but also only made six of 12 free throws, squandering easy opportunities to extend the lead. Illinois was limited to 30 percent shooting in the first half and 35 percent for the game. The Illini converted just seven of 25 three-point attempts.
The win guarantees the Buckeyes the No. 2 seed in next week's Big Ten Tournament in Chicago. They play the winner of Purdue-Nebraska on Friday at 6:30 p.m. on Big Ten Network.
Ohio State enters the postseason on a five-game win streak, dating to its horrendous showing at Wisconsin, where it lost, 71-49, three weeks ago. Since then, Ohio State has knocked off two top-five opponents and an Illinois team that humbled the Buckeyes with a 19-point loss in early January.
"I'm so proud of this basketball team," Matta said. "A lot of people had this team dead to rights a month ago. We haven't lost since. What these guys have been able to do, I couldn't be prouder of them."
Holding a double-digit lead most of the second half, Ohio State kept allowing the Illini to linger. Poor shooting was the reason early in the half, and then Lenzelle Smith Jr. picked up a technical at the midway point, leading to three Illinois points, which cut the deficit to eight. But Ohio State quickly restored that back to double digits.
Deshaun Thomas, possibly playing in his final home game, paced the Buckeyes with 19 points, four rebounds, two assists and a steal. Asked about his impending decision, Thomas was coy.
"We'll think about that decision after the tournament," he said. "Right now, there's a lot more basketball left. I'm going to enjoy my time and try and get to the Final Four. All I care about is the team, coaches and trying to get better."
Craft added 14 points, four rebounds, six assists and three steals, Smith had 10 points and six rebounds and Scott had seven points, nine rebounds, three assists, two steals and a block.
On his Senior Day, Evan Ravenel started slow, missing two field goals and two free throws. But once the adrenaline and nerves evened out, he made several big plays in the second half. Ravenel finished with seven points and five rebounds.
"You look at the success he's been a part of in this program, I couldn't be happier for him, just seeing his growth," Matta said. 
It was Craft and Scott who, once again, created havoc for an opposing team. The duo forced multiple turnovers in the closing minutes of the first half to befuddle Illinois.
The play of the game, and one of the plays of the year, happened during the Buckeyes' panic-inducing late-half surge. Scott anticipated an Illinois pass along the sideline, caught it in midair and tossed the ball behind his back to Craft, who then threw a backwards over-the-head pass to Thomas, who finished at the rim.
"We wanted to put a lot of pressure on the ball," Scott said. "It made it a lot easier for us."
So will the Buckeyes now partake in the unthinkable – willingly root for Michigan? The Wolverines did so last year when Ohio State needed a last-day victory. Matta and several players were asked about the interesting dynamic and each gave a politically correct answer.
"We took care of what we needed to take care of," Craft said. "Everything's out of our hands. Whatever happens, happens. Our biggest thing is getting better for the Big Ten Tournament."
Said Thomas, with a ponderous look on his face while stroking his beard: "I might check it out a little bit."