The Ohio State Buckeyes are one of the nation's most talented teams at the quarterback position entering the 2013 regular season. Junior starter Braxton Miller is widely regarded as a front-runner for the Heisman trophy and if he progresses in the passing game this season, the sky is the limit for where the team can go offensively.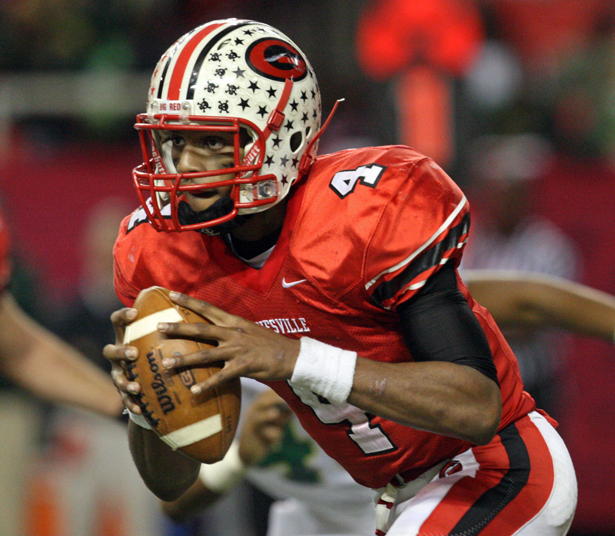 Backing up Miller is Kenny Guiton. You might remember the 5th-year senior from his heroics against Purdue last season. The Texas native is more than capable of taking the reins if pressed into action.
Redshirt freshman Cardale Jones and true freshman JT Barrett are the other two at the position under scholarship. It is expected that Barrett will redshirt this upcoming season, as he continues to recover from an ACL tear suffered during his senior season of high school. Jones took a redshirt last year and the staff has liked what they've seen from the former Glenville star thus far.
With Guiton's impending departure, and Barrett and Jones being unproven, another top prospect will need to be added to the mix in 2014. Fear not, though, as recruiting is a strength of the Ohio State coaching staff, and they know the importance of bringing in a great signal caller.
Just how will Ohio State address the quarterback position during the 2014 recruiting cycle? Read about that and more after the jump. 
Five-star recruit Deshaun Watson is a highly sought-after commodity. Colleges near and far will continue to attempt to thrust themselves into the mix for the Gainesville (GA) product, who is rated as the nation's second-best dual-threat quarterback according to the 247 Composite.
Watson committed to Clemson over a year ago and has built a strong relationship with the Tigers' offensive coordinator, Chad Morris. If Morris does not leave the program, a signature from the nation's top signal caller will be tough to steal from Dabo Swinney and his staff. If any school can do it though, it may be Ohio State.
Watson has visited Georgia, Florida, Florida State, and Auburn since committing to the Tigers, but the star passer canceled a visit to Columbus in February for unknown reasons. Getting that visit back on schedule will be key, and without it there is no chance he wavers on his pledge to play at Death Valley.
Right now Watson is the only quarterback prospect with an OSU offer in hand, so Urban Meyer must think his chances are pretty good in landing the Peach State star.
After Watson, there are a handful of top prospects Tom Herman and Ohio State have a line on. Kyle Allen, William Ulmer, Drew Barker, DeShone Kizer, William Crest, Joey Duckworth, and Caleb Henderson all have reported some kind of interest from the Buckeyes thus far.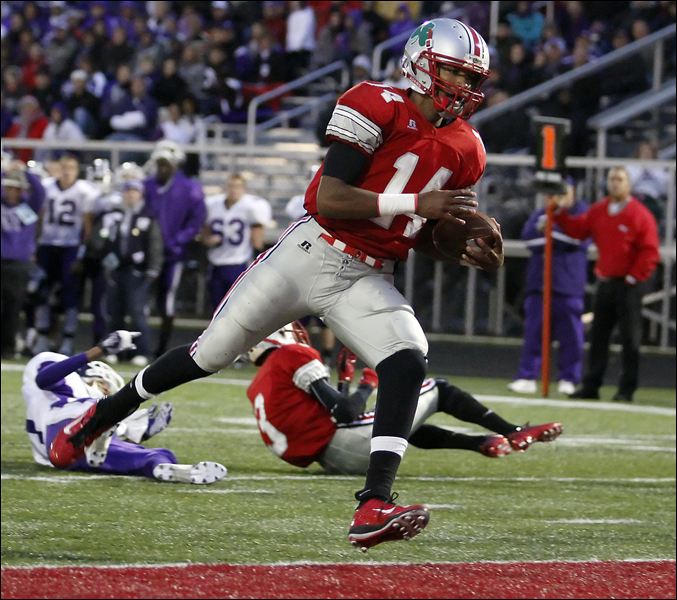 Allen throws around the pigskin for Desert Mountain High School in Scottsdale, Arizona. He is of the shorter variety, but has a strong arm and has remained in constant contact with OSU offensive coordinator Tom Herman.
The four-star prospect is reporting 12 scholarship offers thus far that includes North Carolina, Ole Miss, Wisconsin, West Virginia, UCLA, Oklahoma State, and the in-state schools. Look for a camp visit to Columbus over the summer from Allen, as he has told me he is considering it in hopes of earning an offer from the Scarlet and Gray.
The nation's capital is home to a quarterback that has a very similar game to that of Braxton Miller. William Ulmer's elusiveness and open field moves have drawn comparisons to the Heisman candidate, but an offer has yet to come.
The St. John's College High School leader has visited Ohio State once, but will most likely have to throw again in front of the OSU coaching staff to earn an offer.
Barker is a well-known prospect and is a popular choice among many of the Buckeye faithful. Offers have come from everywhere for the Hebron (KY) recruit, with Kentucky and South Carolina appearing to be in the best position at this time.
Barker wants to make an earlier college decision so he can help mold the recruiting class he becomes a part of, making Ohio State an unlikely destination as of now. If the staff feels their chances of Watson are faltering though, look for them to quickly offer the four-star recruit, since he does have heavy interest in OSU. 
Toledo (OH) Central Catholic QB DeShone Kizer is arguably the top player in the state at his position in the 2014 class. What can't be argued is that he has the best offer list of all the prospects that play under center in Ohio.
In the last few weeks, Kizer has received scholarship offers from SEC powerhouses LSU and Alabama. Nebraska, Wisconsin, Michigan State, Louisville, Kentucky, Arkansas, North Carolina, Penn State, Rutgers, and Tennessee had already thrown their hat into the mix as well.
The Toledo native took part in the Friday Night Lights camp at Ohio State towards the end of July of last year and may have to return to camp at OSU to show the progress he has made in order to receive an offer from the Buckeyes. There is no questioning he is a great athlete, but he'll have to show he's made strides in both accuracy and power in the passing game.
Baltimore (MD) signal caller William Crest visited Columbus almost a year ago, but things have quieted down between him and the Buckeyes ever since. He claims an offer from the staff, but Crest is another that will have to throw in front of the staff to be given the "go-ahead" on a commitment. West Virginia and Maryland are other schools at the top of his list and they may reap the benefit of the OSU staff moving slowly on this one.
Duckworth is from Louisville (OH) and is competing with Kizer and Chris Durkin of Youngstown for top quarterback honors in Ohio. Duckworth threw the ball well in the Friday Night Lights camp in Columbus last July, and will need to blow the Ohio State coaches away again this summer to be offered because he does not exactly fit the dual-threat mold they are looking for. 
Henderson has admitted to being a huge Ohio State fan growing up, and has expressed his desire to play for a Big Ten squad. Having already offered a scholarship, Michigan State sits in the best position currently for his services at this moment.
Should the Buckeyes decide to throw their hat into the ring for Henderson, they will be very difficult to beat. The Burke (VA) Lake Braddock signal caller has told me a visit to OSU this spring is very possible as the staff continues to evaluate him. He is definitely a sleeper prospect to get the lone quarterback spot in the class.
My thoughts are that the Buckeyes are going to take their chances in pursuing Watson, but a secondary offer could go out after the camp period over the summer from someone that impressed them. I think it would come from a group of four in Ulmer, Kizer, Crest, and Henderson.
New names will almost certainly pop up as well with it being very early and a very fluid situation.