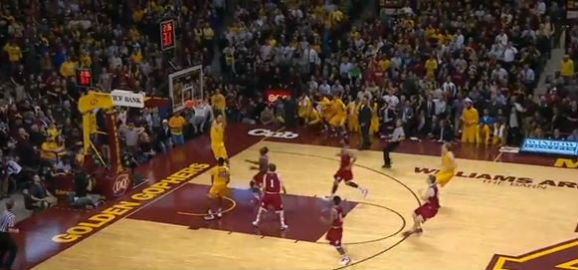 The final week of the 2012-13 regular season is upon us and at this time next week we'll know who won the B1G and what the seedings will be for the conference tournament.
We're coming off a week of upsets — including a pair of the monumental variety — which have opened up the B1G title race, although everyone is still chasing Indiana.
The Hoosiers have clinched at least a share of the conference title, and their loss in Minnesota was minimized somewhat by Michigan State's loss in Ann Arbor, Michigan's unlikely upset in Happy Valley, and Wisconsin's home debacle against Purdue.
Ohio State enters the week knowing that all the right dominos have fallen for it to possibly snatch a share of a fourth consecutive conference crown. Still, a win in Bloomington tomorrow night is required to keep the Buckeyes in the running. Both the Mitten State schools and Wisconsin would also still be alive, but one thing at a time. The final week will be decisive, as it so often is in the B1G shark tank.
The recent resurgence by Minnesota and Illinois has both teams back at the .500 mark in league play. Iowa missed the opportunity to do the same with a loss at Indiana Saturday, so eight teams in the conference have at least an even B1G record.
Penn State has clinched the 12 seed in the B1G tourney, despite the LOLs the Nittany Lions delivered with their upset of the Wolverines this week. Just about every other spot is up for grabs.
There was a bit of movement near the top this week. Here are your penultimate B1G basketball power rankings:
1. INDIANA (25-4, 13-3)
Jordan Hulls scored 17 points, hitting 5/7 from the arc, and Victor Oladipo posted 16 points and five boards, but it wasn't enough to keep No. 1 Indiana from falling to Minnesota at Williams Arena Tuesday, 77-73. Cody Zeller and Yogi Ferrell combined for 19 points on 4/19 shooting.
The Hoosiers were beaten on the glass, 38-25, including a crazy 17-5 disparity on the offensive end. The second chances for the Gophers led to nine extra field goal attempts. Before the trip to The Barn, Indiana had won nine of its last 10 games.
Zeller's 22 points and 10 boards led the way, as Indiana bounced back Saturday night against Iowa, winning 73-60. Ferrell scored 19 with five dimes, and Oladipo added 10 points and eight rebounds.
It was far from a thing of beauty for the Hoosiers. They shot only 39% overall and were 2/14 (14%) from deep. What helped Indiana is what usually does in Bloomington — a gigantic disparity in free throws. Indiana went to the line 42 times, hitting 29. That's not a great percentage, but the Hoosiers still outscored the Hawkeyes by 12 from the line.
The other thing that helped Indiana avoid back-to-back losses was Iowa's charity, in the form of 18 turnovers.
Indiana will look to wrap up the B1G title this season, but it won't be easy. Ohio State visits Bloomington tomorrow night, and the Hoosiers visit Ann Arbor on Sunday in the finale.
T-2. OHIO STATE (21-7, 11-5)
For a while it appeared the No. 16 Buckeyes would escape Evanston without the usual nail-biting finish. Ohio State rode Lenzelle Smith's hot three-point shooting to a double-digit first-half lead. But the Buckeyes failed to take advantage of a six-minute Northwestern scoring drought and let the Wildcats get back in it.
Northwestern even took a brief second-half lead on Kale Abrahamson's ridiculous buzzer-beating triple, before Deshaun Thomas took over late and led the Buckeyes to a 63-53 win at Welsh-Ryan. Smith led the team with a season-high 24 points on 6/11 from distance to go with six rebounds and three steals.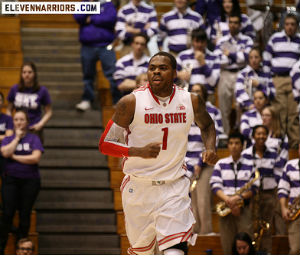 Tank kicked in 19 points, with much of that coming in the final 10 minutes. He also grabbed seven rebounds. However, his 0/5 night from the arc was part of the reason the Cats hung around. Slam Thompson helped seal the deal with four blocked shots and a late breakaway dunk.
The Buckeyes are somehow still alive in the conference race after this week's round of upsets, but must still win out and get help to add another B1G title to Thad Matta's resume.
If Ohio State can exact revenge at Indiana tomorrow night and at home against the Fighting Illini on Sunday, it still has a shot.
T-2. MICHIGAN (24-5, 11-5)
Tim Hardaway Jr. scored 19 points and grabbed seven boards to lead four starters in double figures, but somehow Michigan still derped its way into a loss in Happy Valley, 84-78. The Wolverines became the first team in the B1G to lose to Penn State this season, despite shooting 52% from the floor on the road.
Trey Burke did his part, with 18 points and six assists, but he also had an uncharacteristic six turnovers. Michigan lost the turnover battle, but made up for it with a 37-27 advantage on the glass. The difference in the game was a 30-15 deficit in points from the arc. The Wolverines shot just 5/20 (25%) from three.
Did Michigan get caught looking ahead to Sparty, or was it just a case of B1G roaditis? Either way, it looked bad for a team that owned the No. 1 ranking a few weeks ago. The Wolverines most likely waved goodbye to a No. 1 seed in the tournament, barring something unforeseen.
Burke's strip and steal of Keith Appling provided the winning margin in TTUN's crazy 58-57 win over Sparty on Sunday. Michigan held off a late rally that saw the Spartans overcome a 10-point deficit and tie the game.
Michigan State had possession with a chance to take the lead when Burke picked Appling's pocket and went the distance for a dunk. Burke led all scorers with 21 points, and notched eight assists, four rebounds and five steals.
Mitch McGary provided some energy and 11 points off the bench for Michigan, which failed to hit a three-pointer for the first time since a 1999 contest against Northwestern. The Wolverines were 0/12 from the arc, but repeatedly got into the lane for easy points.
Some favorable calls on MSU charges got the ball rolling in the second half for Michigan, which trailed by three at the break and by as many as seven in the first half.
Michigan visits Purdue on Wednesday, before finishing the regular season at home against the Hoosiers Sunday.
4. MICHIGAN STATE (22-7, 11-5)
After spending much of the season in the top two of our rankings, Sparty slides.
The Spartans will lament the missed opportunity at the end of the game in Ann Arbor, when Gary Harris' pass for Keith Appling was stolen, erasing any chance of a game-winning shot in the final seconds.
Tom Izzo called timeout with five seconds left and Adreian Payne trying to dribble through four Wolverines in the backcourt, although the timeout came just as Payne got rid of the ball to an open teammate for a probable layup.
Sparty did a lot of dumb things in the game, but in fairness, so did Michigan. The Spartans outrebounded Michigan, 41-28, but committed 18 turnovers and fell a bit too much in love with the three ball (6/22, 27%).
Payne was a force with 17 points and 12 boards. Harris scored 16 points. Appling struggled with 3/9 shooting (0/3 from range) and the late miscue that handed Michigan the lead.
Michigan State concludes its 2012-13 regular season schedule with home games against Wisconsin and Northwestern on Thursday and Sunday, respectively.
5. WISCONSIN (20-9, 11-5)
The No. 17 Badgers took advantage of Indiana's loss Tuesday by pounding Nebrasketball at the Trohl Center, 77-46. Sam Dekker's 19 points off the bench led the way. Ryan Evans showed off his fancy free throw jump shot en route to 14 points and seven boards. Ben Brust added 13 points.
Wisconsin hit 51% of its shots, while holding Nebraska to just 33% from the field. The Badgers also outrebounded the Cornhuskers, 37-29, and hit eight of their first 11 triples to take command. Overall, Wisconsin outscored Nebraska, 36-9, from the arc.
Jared Berggren notched four swats to become the crew cuts' all-time leader in blocks, with 126.
Entering Sunday, the Badgers had a chance to stay within a game of Indiana and take sole possession of second place if Sparty lost, but...LOL. Wisconsin had an uncharacteristically horrible second half at home in a surprising 69-56 loss to Purdue.
The Badgers shot a horrific 8/27 (30%) after halftime, scoring only 20 points. Incredibly, Wisconsin missed its final 18 three-point attempts — all this despite shooting 50% in the opening 20 minutes.
Berggren scored 13 points with eight rebounds, but was inefficient, requiring 12 shots and four free throws to get there. Evans and Dekker added 10 each. Wisconsin was beaten, 36-26, on the glass.
After Wisconsin faces Sparty in East Lansing Thursday night, it visits Happy Valley for Sunday's finale at Penn State.
6. MINNESOTA (20-9, 8-8)
The Golden Gophers' loss at Indiana on Jan. 12 started a downward spiral that saw Minnesota drop eight of 11 games, including back-to-back losses by 20+ last week at Iowa and Ohio State. Gopher fans couldn't have felt good about their team's fading NCAA hopes with Indiana coming to town. Then Tuesday came.
Trevor Mbakwe went into beast mode against the Hoosiers, hitting 8/10 shots and registering game-highs in points (21) and rebounds (12). It was Mbakwe's seventh double-double of the year — the most in the B1G. Andre Hollins chipped in 16 points and the Minnesota bench outscored Indiana's, 16-13.
The Gophers' awakening continued into the weekend, when they slapped Penn State silly in Williams Arena, 73-44. Minnesota held the Nittany Lions to 12 first-half points, crushed them on the glass, 41-20 (10-2 offensive), and shot 50%, en route to evening its B1G record at 8-8.
Mbakwe obviously doesn't suffer from triskaidekaphobia, because he scored 13 points and grabbed 13 boards against the Nitts. Joe Coleman chipped in 12 points and Andre Hollins added 11 more. Rodney Williams and Julian Welch both pitched in 10, with two of Williams' points coming on this sick alley-oop slam.
The Gophers finish the season on the road, visiting Nebrasketball on Wednesday and Purdue on Saturday.
7. ILLINOIS (21-9, 8-8)
The Illini struggled against Nebrasketball on Saturday, but ultimately did enough good things down the stretch to squeak out a 72-65 win on Senior Night.
Brandon Paul scored 14 points with five rebounds and became the ninth-leading scorer in school history. As usual, it took him a lot of shots to get there (6/14), and he was worse than Nickelback from downtown (1/7).
Tracy Abrams (16), D.J. Richardson (13), Mike Henry (12), and Nnanna Egwu (10) all reached double figures, with Henry snatching nine boards. The Illini held a 32-22 rebounding edge and outscored the Huskers, 15-6, from the charity stripe.
Illinois visits Iowa tomorrow night ahead of Sunday's trip to Columbus.
8. IOWA (18-11, 7-9)
Aaron White and Roy Devyn Marble scored 18 points each, accounting for 62% of Iowa's offense, in Wednesday's 58-48 home win over most hated rival Purdue.
The stat sheet offers few clues as to how the Hawkeyes won this game. Iowa shot just 31% to Purdue's 37%, had one fewer field goal attempt, outrebounded the Boilers by just a few (37-34) and played without starter Mike Gesell (foot). Yet the Hawkeyes never trailed in the game.
Iowa did enjoy a 13-8 edge in offensive rebounds and had six fewer turnovers than the Boilermakers, while attempting 19 more free throws than Purdue. Still, the three starters not named Marble or White combined for just nine points.
The Hawkeyes were horrible from distance at Indiana Saturday, hitting only one of 13 three-point attempts (8%). Combined with 18 turnovers and a 42-24 disparity in free-throw attempts, there was little chance of an Iowa upset.
There were positives, though. Iowa outrebounded Indiana, 34-33, and held the Hoosiers well under their usual offensive efficiency. Marble scored 20 points with six boards, and White added 14 and seven. Eric May contributed 12 points and seven rebounds off the bench.
The Hawkeyes have a pair of home games this week to close out the regular season — tomorrow against the Fighting Illini and Saturday against Nebrasketball.
9. PURDUE (14-15, 7-9)
Donnie Hale scored 13 points off the bench to pace Purdue in Wednesday's loss at Iowa. A.J. Hammons added 12 points and nine rebounds. D.J. Byrd scored 11 points, but was just 3/10 from the arc, and Purdue was just 3/14 as a team from outside.
The Boilermakers got to the line only 10 times, hitting seven, while sending Iowa to the stripe 29 times for 21 points.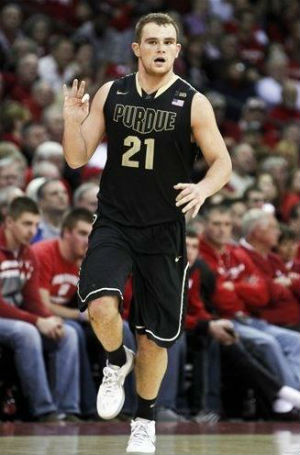 Byrd went nuts in the second period at Wisconsin, scoring 16 of his game-high 22 points. Just for fun he also posted eight boards, two steals and two assists. Terone Johnson tossed in 16 points with seven boards and Sandi Marcius added 10 and five off the bench, with eight of his points coming after the break.
The Boilers ruined Wisconsin's Senior Day by taking control with a 21-3 run and shooting 46% overall and 50% (6/12) from long range.
Purdue closes the regular season at home, facing Michigan Wednesday and Minnesota on Saturday.
10. NEBRASKA (13-16, 4-12)
Dylan Talley's 21 points and eight rebounds at Wisconsin Tuesday ultimately did very little to keep the Cornhuskers in the game. Brandon Ubel added 10 points, but nine other Huskers combined for just 15 points.
Despite putting up some numbers, Talley and Ubel weren't even efficient. It took Talley 20 shots to get his 21 points and Ubel needed 11 shots to score 10. Nebraska was a dreadful 27% outside the arc (3/11) and saw a 16-5 disparity in free throw attempts.
The Cornhuskers hung around all game long in Champaign on Saturday, mostly due to a 50% (9/18) performance from the arc. But when the game hung in the balance late, they took poor shots and didn't defend well.
Ray Gallegos scored 23 and Talley added 20, but the other three starters combined for only 22 and the Nebraska bench got waxed, 38-0.
Nebraska's B1G season concludes with a visit from Minnesota on Wednesday and a trip to Iowa City on Saturday.
11. NORTHWESTERN (13-16. 4-12)
Despite being outrebounded and committing nine more turnovers than Ohio State, the Wildcats again found a way to stay in the game against the Buckeyes. A look at the stat sheet shows Northwestern didn't shoot any better than Ohio State, nor did they hit a lopsided number of triples (both teams hit eight).
Tre Demps scored 14 points and Dave Sobolewski added 13 to lead Northwestern, which seemingly only stayed in the game due to Ohio State's 13/23 (57%) night at the charity stripe. Kale Abrahamson provided life with a three-point shot that had no business going in, finishing with nine points and nine rebounds.
Northwestern shot better from distance (42.1%) than it did on two-pointers (41.9%).
The Cats have lost six straight and will host cellar dwelling Penn State Thursday before finishing the season Sunday at Michigan State.
12. PENN STATE (9-19, 1-15)
The Nittany Lions put together a 48-39 second half against Michigan and avoided becoming the first 0-18 team in B1G history and the first winless team in the conference since the 2000 Northwestern Wildcats.
The team had been inching closer and closer to that elusive first conference win, but quite frankly I expected it to come at Northwestern — not against the No. 4 team in the country. Penn State snapped a 19-game conference losing streak that lasted more than a year.
Jermaine Marshall carried the Nitts with 25 points, six rebounds, three assists, two steals and a block. D.J. Newbill added 17 points and five assists, with Ross Travis kicking in a surprise double-double on 15 points and 12 boards.
The difference for Penn State was a 10/20 (50%) night from the arc. Most of that came from Marshall, who was 6/10 from downtown.
After several good outings that culminated in the upset win over TTUN, the Nitts went back to their old selves in Saturday's beatdown in Minnesota. Penn State shot just 27% overall and 21% from distance.
Newbill led the team with 15 points, although it took 16 shots to do it, and Marshall added 10. The rest of the team scored only 19 combined. It was Penn State's worst loss since getting hammered in Bloomington on Jan. 23.
The Nittany Lions visit Northwestern on Thursday before finishing the regular season Sunday against Wisconsin.
NEW FRIENDS
Maryland (20-9, 8-8)
The Terps fell to 1-6 on the road in conference play with a 78-68 loss at Georgia Tech on Wednesday. Losing on the road in conference play will properly prepare Maryland for its transition to the B1G. But don't think you have Maryland figured out. You don't. The Terrapins defied your pathetic attempts to define them by winning a road game at Wake Forest on Saturday, 67-57.
Maryland would be in that Iowa-Purdue range this week.
Rutgers (13-14, 4-12)
The Scarlet Knights visited No. 7 Georgetown Saturday night and it went about as you'd expect, with a 64-51 loss. Rutgers managed to keep it close in the first half, trailing by just one at the break. The Knights have lost 10 of 11 and have not won a road game since Jan. 9 at St. John's.
Rutgers is on par with Northwestern, which is sad considering the Wildcats' injury problems.