Ohio State landed a tremendous secondary haul with their class of 2013. All-Americans like Eli Apple, Cam Burrows, Vonn Bell, and Gareon Conley joined the fold, while standouts Jayme Thompson, Darron Lee, and Chris Worley could all be big-time players at the college level as well.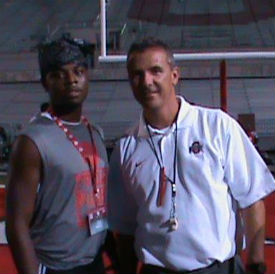 Even with such a large and talented group coming in this fall, the OSU staff is out again in 2014 looking for playmakers at both cornerback and safety. Both CJ Barnett and Christian Bryant graduate at the safety position, while cornerback Bradley Roby is likely to leave early for the NFL.
One of the latest high school prospects to receive an offer to fill the upcoming voids in the defensive backfield is Chester (VA) Thomas Dale S CJ Reavis, who received an offer from Ohio State early last week.
The scholarship from the Buckeyes was the four-star prospect's 15th offer. He is now up to 17 after Nebraska and Connecticut followed Ohio State, and those three schools join Virginia Tech, Virginia, North Carolina, Tennessee, Vanderbilt, Wisconsin, West Virginia, NC State, Maryland, and others on his list.
At 6-1/202, Reavis has great size for just a current high school junior and fits the mold of what the Buckeyes are looking for in a big, physical safety. Just as OSU would like to reel him in, Reavis is also fond of the Buckeyes, noting specifically how much he enjoyed participating in the inaugural Friday Night Lights camp in Ohio Stadium last July.
We caught up with the nation's 30th-ranked athlete to hear what he thinks of his offer from the Buckeyes, where things stand in his recruitment, what visits he may have planned, and more.
Join us after the jump to hear about Ohio State's newest safety offer, CJ Reavis.
How did your junior season go?
My team was 4-6, so that was not so great, but we're going to do a lot better next year. On the other hand, I played pretty well this season, so I was happy with that.
Recruiting has really picked up for you lately. How many offers are you at now? Are there any schools you think could be close to offering?
I now have 17 offers. Clemson is a school I think might offer soon. I have also been talking to Notre Dame and Florida State lately.
You recently were offered by Ohio State. How did you find out about the offer?
Coach Withers first messaged me on Twitter and was telling me how they had to replace three safeties on their roster next year. We talked further and he told me they were offering.
What did you think of getting that offer?
It is a big offer. It's a big-time program. It's a blessing.
You visited Ohio State for the Friday Night Lights camp last July. What did you think of that experience?
I liked it a lot. It was a big turnout and I can only imagine what it's like there for a game. I really liked the campus and feel at OSU.
Are you planning on making a return trip to Columbus?
Yeah, definitely. I am going to get out there either this spring or summer.
Have you spoken to any other Ohio State coaches?
Yes, I speak to Zach Smith, who is my area recruiter. I also met some of the coaches, including Coach Meyer, at Friday Night Lights.
Have you taken any other visits? Do you have any trips planned?
I have already been to North Carolina, Wake Forest, Clemson, Tennessee, Virginia Tech, and Virginia. I am getting back down to Tennessee on March 23.
Do you have any favorites or schools standing out right now?
I don't have any favorites right now.
When would you like to make a college decision?
Right now I'm targeting end of November to make a decision.
What are deciding factors for you when looking at schools?
I want to get a feeling of the school just being a place I want to be at. I want a homey environment and for the university to be in a nice city or town. I'm looking for great academics and most importantly, a chance to win.
What are some things you do well? What are things you are working on?
I just make plays out on the field and I tackle very well. I want to continue to get faster, as I am a bigger, physical defensive back, so having as much speed as I can will be very valuable.
HIGHLIGHTS: