While Ohio State's shooty hoops squad prepares for a run to the Final Four, and, ideally, the promised land beyond that, our attention in this story is momentarily diverted toward football. Ohio State students are now returning from spring break and spring practices are resuming as we look forward in anticipation to the 2013 football season.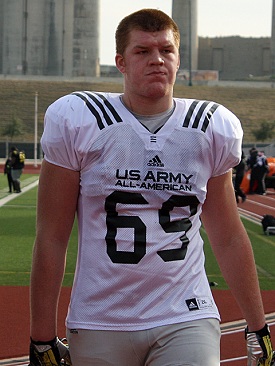 Therefore, the fifth installment of the fifth edition of this now 24-part series titled Better Know A Buckeye profiles Evan Lisle. Evan Lisle, an offensive lineman from Centerville, Ohio, had a very brief, if very eventful, period of recruiting. His recruitment started with the traditional Cincinnati and Illinois offers before picking up offers from powerhouses like Alabama and Michigan. Ohio State offered on February 22, 2012, and Lisle accepted less than a week later.
This story is recapped below, which is followed by a discussion of strengths and weaknesses, and a projection of redshirt status. I mention some miscellaneous things of minor interest before concluding that Evan Lisle is better known.
Height: 6'5
Weight: 280 lbs
Fake 40: 5.2
High School: Centerville High School; Centerville, OH
Twitter: Follow @richielisle
His Recruitment
Lisle's recruitment began in earnest midway through 2011, just before his junior year of football. Lisle was the next in line of a recent stretch of great players from the fabled Centerville program, which had just sent Michael Bennett to Ohio State and was in the process of sending Ifeadi Odenigbo to Northwestern. Lisle, the next in that list, started as most kids do in Ohio: attending camps and combines and making unofficial visits to Ohio State.
The visits to Ohio State were not exactly a problem for Evan Lisle. Like most kids from the area, Lisle was a lifelong Buckeye fan. As such, it was no chore for him to be in attendance on the sidelines watching Ohio State beat Wisconsin on a late Hail Mary pass from Braxton Miller to Devin Smith. Having played against Braxton Miller twice in 2010 (Miller's senior year), seeing those heroics from Miller was something Lisle should expect. That said, he did admit to thinking it cool that Miller was capable of having that impact that early into his time at Ohio State.
Still, the fact remained that Evan Lisle was without an offer. He had been in contact with multiple programs, including Northwestern, Notre Dame, and Ohio State, among others. The offers eventually came in late November 2011. The first few offers were the usual suspects. Cincinnati offered first. Boston College followed next. Miami (Florida) and Illinois offered over the next few months.
Minus the offer from Miami, and the lack of MAC offers, this is the usual track. It took a far different track from late January. Michigan threw its hat into the ring, extending a verbal scholarship offer to Lisle and encouraging Lisle to take a visit. Oklahoma expressed interest at the same time, resulting in a scholarship offer a month later (when Lisle was soon to commit to Ohio State). Finally, Notre Dame extended a verbal scholarship offer. The ultimate trump card in college football these days, Alabama, also offered as part of its continued interest in recruiting Southwest Ohio.
Ohio State finally moved on February 22, 2012, informing Evan Lisle that he had a verbal scholarship offer. It was the one that Lisle seemed to want, and he wasted little time capitalizing on it.
His Commitment
On February 28, 2012, Evan Lisle committed to Ohio State, becoming the fifth member of the 2013 recruiting class.
Despite having plenty of options, and the leverage to wait until National Letter of Intent Day for a decision, Lisle wanted to commit before the summer in order to focus on his senior season.
As for "why Ohio State?", Lisle reiterated that there was too much to like about the program itself to pass it up for another opportunity. Per Lisle, Meyer was excited to hear about that.
After pondering his situation over the weekend, Lisle picked up the phone and made the call to Ohio State head coach Urban Meyer.

"I told coach Meyer that I liked everything about Ohio State, that it's a good program, that it would set me up later in life, and that I just wanted to be a Buckeye," Lisle said.

Lisle said Meyer was audibly excited by the news and the big tackle will be back in Columbus soon to get an even more in-depth look at the school as a whole.

"He was real excited," he said. "I'm going down there to check it out again and take a look at the academic stuff and get a better look at the school."
Lisle chose Ohio State mostly over Notre Dame, though had offers from Alabama, Miami, Michigan, and Oklahoma as well.
Where He Excels
Evan Lisle was recruited for offensive tackle. This position always tends to be a position of need, give the prominence of the offensive line and the importance of both the running game and keeping the quarterback upright.
For an offensive tackle prospect, Lisle has a great frame. He packs on a pretty good amount of weight in a lean frame. He's mostly without fat and with all the benefits of natural athleticism that brings.
In addition, Lisle plays through the figurative (and, well, literal) whistle. Footwork is very good. Leverage is good too. He gets low and finishes his blocks with regularity.
Must Work On
Evan Lisle was recruited for the position of offensive tackle, but is he an offensive tackle? Lisle could slide into a guard position at Ohio State. If he does, though, then we have to recruit another tackle.
Lisle will also need to add a lot of weight. This may not be much of a problem. We also have a lot of confidence in Mickey Marotti. However, we're talking about adding 20-30 pounds.
Biggest question right now is Lisle's ability in pass protection. Most high school football everywhere is run-heavy. Centerville, though, is very run-heavy. The Elks may toss the ball about five times a game, if that. The offense resembles Georgia Tech's by way of comparison. If Lisle is to have an instant impact in 2013, he will need to come a long way on this important part of the game.
Highlights
Senior year.
Redshirt?
This one is tough. I can't see Lisle starting at either position in 2013. Jack Mewhort is already protecting Braxton Miller's blind side and Taylor Decker seems like an heir apparent at right tackle.
Still, the two-deep is far from certain. I think he stands to benefit from saving a year of eligibility if at all possible, but I think he picks up garbage minutes in non-conference play. This would burn his redshirt.
Miscellany
Evan Lisle represented Ohio State in the 2013 Army All-American Bowl, along with Eli Apple, Ezekiel Elliott, and Mike Mitchell.
He's a close friend of Michael Bennett. The two would work out when Bennett was on break from duties at Ohio State.
Like close friend Michael Bennett, the military connections run deep. His father served in the Army and his older brother enlisted not long ago.
He was selected by USA Today as a First Team High School All-American, the only Buckeye commit on that first team. Joey Bosa was on the second team.
Well, I think Evan Lisle is better known.