Around the Oval is Eleven Warriors' weekly love letter to Ohio State sports that don't get the coverage they should.
For the second time in two days, it was Ohio State vs. Michigan State at Value City Arena, as the Lady Buckeyes looked to emulate their male counterparts by pulling one over on Sparty.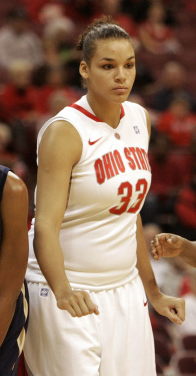 Having lost at the death on Thursday night, Ohio State started Monday's game with real intent. Their opponents did as well, and they led 13-10 midway into the first half. That advantage would be their last, as the Buckeye starting five all pitched in during an 18-2 run. At half the hosts led by seven, and they remained in control for the rest of the game.
That's not to say the Spartans didn't have fight in them; even though they trailed by 12 at one point they were able to reduce their deficit to only three points with just :38 left to go. But with all five Buckeye starters scoring in double figures, they couldn't be stopped. Michigan State's ensuing foul couldn't have come against a worse player — or a better one in Ohio State's estimation — as Tayler Hill sank both her free throws to make it a two-possession game and seal what was ultimately a 67-60 victory for the Buckeyes.
Then on Thursday night the Buckeyes traveled to Champaign to face Illinois, hoping to end their road schedule with a win. To begin the game, it was the Illini who held the lead for longer periods, until six points from Darryce Moore gave Ohio State a five-point halftime lead. 
The second half was very much the Tayler Hill show, as she scored 18 of her 21 total points. With their star at the top of her game, the visitors kept the lead in double digits for the final ten minutes, and won their second in a row by a score of 64-53. Ashley Adams had arguably the team's best performance, with ten rebounds and 17 points to complete the double-double. 
The Lady Buckeyes have their final game of the regular season this Sunday at Value City Arena against Michigan. Tipoff is at noon. 
HEY, PUCKS, come on down
Expectations were high when Ohio State's great rival Michigan skated into Value City Arena for the Buckeyes' final homestand of the regular season, one which could move them closer to home-ice advantage in the first round of the CCHA tournament — albeit at a different venue. But more on that later.
In front of a national audience on Friday, Ohio State didn't start particularly well after they passed up two power-play opportunities before conceding the opening goal with less than five minutes to go in the first period. It was more of the same in the second after Jacob Trouba's bullet doubled the visitors' lead.  
The Buckeyes were finally on the board less than one minute into the third period through the hot hands of Max McCormick, his third straight game with a point. Two more power plays were squandered as they looked for a tying goal, and Michigan punished Ohio State's wasted chances as they regained their two-goal lead with less than ten minutes remaining. Scoring leaders Tanner Fritz and Ryan Dzingel netted goals in the final five minutes, but both canceled out by more Wolverine goals as they ran out 5-3 winners.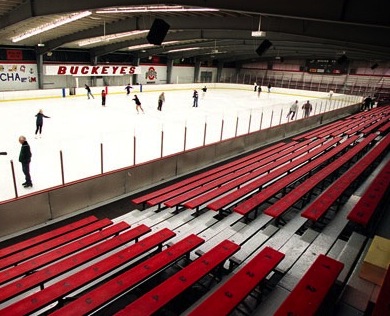 A crazy first period on Saturday showed that the Buckeyes were not going to go as quietly as they did the night before. Fritz began the occasion by scoring a power-play goal eight minutes in. The Wolverines responded seconds later, and their tying goal was followed by a second only three minutes later. But Fritz stepped up as he has all season and tied the game for the Buckeyes yet again five minutes before the end of the period.
After the teams shared goals in the second, the game was finely poised going into the third at 3-3, but Michigan again prevailed. Two goals past Brady Hjelle and an empty netter completed the 6-3 score line and a weekend sweep for the men in maize and blue.
Although their final regular season homestand didn't go as planned, all was not lost: the Buckeyes still clinched a first-round bye courtesy of Michigan State's win over Alaska. It was in the first round that Ohio State lost to Notre Dame last season, so getting to avoid that stage of the competition is an important achievement for Mark Osiecki's team.
They know their opponent in the quarterfinals will be Ferris State, but the owner of home ice has yet to be determined. Both teams sit on 42 points in conference, so the Buckeyes need to better Ferris's points tally this weekend to gain the higher seed. Strangely, if Ohio State does get the fourth seed, they won't be playing at the Schott. The cozy confines of the OSU Ice Rink just might see its largest attendance. In any case, the Bulldogs travel to Ann Arbor, while the Buckeyes face the top team in the conference, Miami of Ohio, in Oxford. Friday night's game is at 7:35 p.m. while Saturday's is at 7:05 p.m.
Baseball HAS A BIG WEEKEND
After losing their first two games, the Ohio State baseball squad has made a quick and complete turnaround when they won four games this past weekend to extend their winning streak to five. 
Playing in Port Charlotte, Florida, the Buckeyes took two from South Dakota State, first on Friday night and then on Saturday afternoon. Brad Hallberg led the way with four RBI and Joe Ciamacco went 3-for-3 on Friday night as the Buckeyes were comprehensive 10-2 winners. Then in the early afternoon the next day, it was Tim Wetzel who had the big game as he had three hits and drove in a run for a 5-2 win.
Ohio State's Saturday night opponent was Mount St. Mary's, who found that the Buckeye bats from the previous night were back in action. Brad Goldberg pitched 6 1/3 innings of shutout baseball, and seven runs in the middle innings gave OSU a comfortable 13-2 win. A five-run fourth on Sunday afternoon was the catalyst in the Buckeyes' 13-4 win over the same opponents, giving them a clean sweep of the weekend's proceedings. 
The Buckeyes are now 5-2, and they travel to Deland, Florida, this weekend to play three more games. Friday night they face Connecticut at 1 p.m., while on Saturday night they face hosts Stetson University at 7 p.m. Finally on Sunday morning at 11, they finish up their trip with a game against Central Michigan. 
Women's Lacrosse SPLIT CATHOLIC Weekend
The Buckeye women's lacrosse squad posted a win and a loss this past weekend after they faced off against Boston College and Notre Dame.
BC was first on Saturday, with the Eagles traveling to Columbus with the No. 20 rank in the nation. But they proved no match for their hosts, who were ranked higher at 13. Junior Katie Chase led the way with a career-high four goals to give the Buckeyes a 15-8 win. There were also hat tricks from sophomore Kelsea Ayers and freshman Clan Dabrowski as the Scarlet & Gray continued their high-scoring exploits after putting 21 past William & Mary last week. 
But coming up against No. 9 Notre Dame on Wednesday was an entirely different prospect, with the Irish proving a formidable force at home. To their credit, the Buckeyes still hung with them, even going ahead 4-3 in the first half. Notre Dame responded with three goals before the break to lead by two and things would stay that way the rest of the way. Even another hat trick from Cian Dabrowski couldn't save the Buckeyes from a 13-8 defeat.