Everybody's workin' for the weekend, because, if we are to believe Loverboy, everybody wants a new romance. The weekend becomes the desired end, for which the weekday is the means, so that we can all go on dates with our lady or guy friends.
I can't speak to that, though I am definitely inclined to believe Mike Reno's proposition here. He wears a red headband to most events, as well as red pleather jacket and pants. All of these are cues that convey wisdom. Also, he sang "When It's Over".
However, I work for the weekend so I can provide you guys weekend Skull Sessions.
Today's session will focus on the NFL Combine, checking in on how Zach Boren, Reid Fragel, and Jake Stoneburner are doing. Boren made the rounds of the NFL Combine on Friday as part of the skill players (RBs). Fragel and Stoneburner went first on Thursday as part of the offensive line and tight end group.
FRAGEL: INEXPERIENCE IS MY STRENGTH. Reid Fragel and Jake Stoneburner are arguably the two most intriguing Buckeyes at the NFL Combine these next couple days. Hankins will be the first Buckeye taken in the NFL Draft, though he seems to be hovering near the cutoff between first-round and second-round pick.
Still, it's Fragel, and to a lesser extent, Stoneburner, that will garner interest from Buckeye fans and NFL draftniks alike.
Reid Fragel will get a very strong look from NFL teams, though he might have to wait a day (maybe two) before his name is ultimately called at the podium during NFL Draft festivities. His position — offensive tackle — is a premium in an NFL dominated by pass-first West Coast offenses. Even if spread/run concepts are beginning to proliferate in certain areas of the NFL, the strong emphasis on pass protection and protecting the quarterback will remain. Fragel is more a right tackle in the NFL, as he was for the Buckeyes, but the interest remains.
His career trajectory would mirror that of Nate Solder, now with the Patriots, who was a tight end for half his collegiate career at Colorado. Fragel had even less time at offensive line (just one year!), though demonstrated as much potential. The Buckeyes' offensive line was stellar. Fragel walked into an uncertain situation, with true freshman Taylor Decker pushing him from the two-deep, and helped anchor the best offensive line in the league, en route to an undefeated season.
The early projections look positive. Though Fragel is slated as a fifth-round pick in April, he argues that his best football can only be ahead of him precisely because of his inexperience.
"I think after this week's over they'll see that I possess a lot of strength and speed... I have a lot of tread left on my tires, where some of these linemen might be worn down a little bit more. I think my best football is ahead of me."
Should NFL scouts be convinced by this argument, as well has some measurables like his bench press, his draft stock could only improve. Reid Fragel had 33 reps of 225 lbs on the bench, tops among offensive tackles and second only to offensive guard, and Ohio Bobcat, Eric Herman, among all offensive linemen.
 STONEBURNER NEEDS TO SEPARATE FROM THE PACK. If offensive tackles continue to be the non-quarterback premium position in the NFL, then tight end is a position not far behind. Great tight ends are becoming rarities. Not only does every team want their own Tony Gonzalez, but the position is becoming a need in the NFL to counter some of the more exotic blitzing tendencies of defensive minds like Rex Ryan. Tight ends, with their ability to pass protect, run block, and stretch defenses on pass routes, are becoming luxuries.
They're becoming luxuries as long as they can do it all. Stoneburner may need to show a bit more as the NFL Combine continues, and at Ohio State's Pro Day in the near future. Stoneburner was a wide receiver, who became a tight end, who, under Meyer, played both positions. Stoneburner may have been our worst blocking tight end (Reid Fragel was our best), but our best blocking wide receiver. Stoneburner is aware of this, but also knows that he won't be tasked too much with run-blocking.
"They might have their hands down in a three-point (stance), but they're running routes 65 to 70 percent of the game... I think that's going to play to my strengths."
Minus that game-sealing touchdown against Penn State in 2012, he didn't demonstrate elite speed last year. Then again, he didn't need to do that in order for Ohio State to be successful.
"We knew if we wanted to win, we needed our quarterback to run and our running back to do well... I'll never complain about that for one second."
Right now, Stoneburner is scheduled as a 6th-7th round draft pick, though it seems very likely someone is going to take a flyer on him. If Stoneburner jumps up some team's board, he will have done so with his 40 time and, maybe more importantly, some of the other agility drills. Stoneburner believes he's up to the task, since he's been consistently measured near 4.6 while at Ohio State.
Our only other measure of Stoneburner at the NFL Combine is his bench press. He put up 18 reps of 225 lbs, which was 9th among tight ends.
Oh, for what it's worth, Stoneburner was measured at 6'3 at the NFL Combine. He was listed at 6'5 by Ohio State for his entire career. He done shrunk!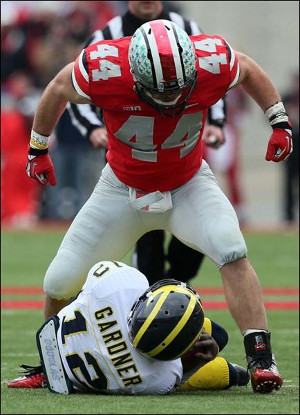 BOREN LOOKING FOR AN OPPORTUNITY. The latest Ohio State football alumnus to arrive at the NFL Combine is Zach Boren, who arrived with the other skill players on Friday.
Like Fragel and Stoneburner, Boren had his own unique career trajectory. He was predominantly a linebacker growing up, much like his dad, Mike Boren, was. He arrived at Ohio State as a linebacker, but was too good and too valuable to Jim Tressel as a fullback for him to wait for a spot at linebacker. When Meyer took over, Boren's role diversified, before becoming a full-time middle linebacker by the Indiana game. He was invited to the NFL Combine as a running back, because the NFL Combine does not distinguish between fullback or tailback.
Boren is listed by NFL Draft Scout as the 4th-best fullback in the NFL Draft. It's nice that they made the distinction. However, "4th-best fullback" is saying little because the position is becoming obsolete as I-formation sets become more infrequent. The best fullbacks are often folded into the tight end position. It's why an undersized tight end like Aaron Hernandez becomes a very good fullback on a few occasions for the Patriots.
The top fullback in this year's NFL Draft looks to be Florida State's Lonnie Pryor, who shouldn't go any earlier than the 4th round. The second-best fullback, Kyle Juszczyk of Harvard (!), is listed as a 5th-round pick.
Boren may get drafted, but near the very end of the third day. As such, he is having some opportunity to be selective in interviews. In the later rounds of the NFL Draft, teams tend to "regionalize" their picks more, selecting roster additions based more on convenience of getting them to camp. He's talked with the Browns and Bengals, even remarking that the Browns would be a nice fit because of Trent Richardson and his family's connection to Cleveland sports. His maternal great-grandfather was Lefty Weisman, the first full-time trainer in the Cleveland Indians' franchise history. Weisman worked for the Cleveland Indians from the 1920s-1940s.
He did admit having to transition back to an offensive mentality has been a little tough.
"I think the weirdest part is last night I was talking to some coaches and they were having me draw up offensive plays... I'm like man, obviously I came prepared, but I haven't seen offensive plays in three months because I've been doing defensive things. That was a little different, training my mind to get back to the offensive side."
Though, like Stoneburner and Fragel, he isn't complaining about how the last season unfolded. It's hard to argue with 12-0.
On that note, apparently Boren's roomie in Indianapolis is Denard Robinson. To be a fly on the wall, no?
 MISCELLANY. Iowa hired a new running back coach, the most thankless position coach in college football... Purdue and Nevada will play a home-and-home in 2016 and 2019... John Simon was named the #4 player of last season by ESPN's B1G TEN blog. Montee Ball got the #2 spot, and Braxton Miller hasn't been profiled yet. You do the math... Michigan State still needs to find an offensive coordinator... Thank goodness for Rich Rodriguez... Don't do it, Ohio kids. Just. Don't. I speak from experience.