Rise and shine Buckeye junkies, and welcome to your first Skull Session that comes less than a week before the football holiday known as National Signing Day. 
I was hoping there'd be some big news to wow you with but last night didn't really yield any solid nuggets that might provide any additional clarity on topics such as whether EZE will stick with the Buckeyes, if Vonn Bell can be had, and what remaining playmakers out of the James Clark, Dontre Wilson and Ryan Timmons lot might pledge allegiance to Urban Meyer, among other lingering recruiting story lines.  
It sounds like Clark had good things to say about Ohio State in a recent interview with Dave Biddle and confirmed that the verbal from Corey Smith will have zero impact on whether or not he's eventually Columbus bound, but our recruitniks still see Gainesville as his most likely destination. 
What we do know is that the Buckeyes and Wolverines are dominating conference recruiting. In the Rivals team rankings, Ohio State currently sits 4th while Michigan holds down the 6th slot. After that, Nebraska checks in at #15 but the next B1G program isn't found until Sparty in the 34th spot, behind programs like Washington, Virginia, Pitt and Utah. 
Ineligible for postseason play for another handful of years, Penn State sits 40th, five slots ahead of Wisconsin which is just two spots ahead of Houston. 
THE GREAT TRAIN ROBBERY. Going all in with the hire of Darrell Hazell and shelling out more cash for assistant coaches' salaries, Purdue is now faced with hatching a way to pay for the increased compensation packages. 
With that, Purdue has announced their plans for generating extra cheddar in the form of a ticket price increase tabbed the Legacy Fund. Facing the reality that an overnight attendance boon is unlikely, the Legacy Fund will receive coin by way of a season ticket plan affecting only 25% of Ross-Ade's capacity that requires a $250 or $100 donation, depending on seat location. 
Hazell is set to be paid $2 million in 2013 and his nine assistant coaches come with a combined cost of $2.1 million this season. 
Now, I'm as a big a Hazell fan as the next guy but I fear both he and the school are setting themselves up for an epic fail considering so many of the offensive players will be under the tutelage of Jim Bollman and John Shoop. 
REMNANTS OF A PERFECT SEASON. Brian Bennett took a stab at ranking the top individual performances in conference play from last season and two Buckeyes made the cut, with Johnny Simon's dominating four-sack performance in the overtime win in Madison holding down the 9th spot and Braxton's determined effort in a 17-16 win over the Spartans in East Lansing ranking 8th: 
9. Ohio State's John Simon vs. Wisconsin: In what would turn out to be his final college game, the Buckeyes defensive end went out with a bang against the Badgers in Madison. He had four sacks, which set a school record and were the most by a Big Ten player since Purdue's Ryan Kerrigan registered four vs. Michigan in 2010.

8. Ohio State's Braxton Miller vs. Michigan State: Miller had better statistical days than the one he turned in against the Spartans, but none were grittier. Hit over and over again, he somehow kept answering the bell and finished with 136 hard-earned rushing yards and 179 passing yards in Ohio State's 17-16 road win. Teammates said after the game that their quarterback was in a tremendous amount of pain, but he earned he even more respect from them.
Because of the fact he left the game twice due to injury is what I think of first, I initially questioned this selection but Braxton was responsible for 82% of Ohio State's total yardage in a one-point win on the road. You really can't ask for much else despite the freaked-out fumble. 
As for performances that didn't make the list, I thought Carlos Hyde's 140-yard, four-touchdown performance deserved some love even if it was against Nebraska's powder-puff defense. My sleeper pick would be Drew Basil's 4/5 field goal performance in The Game considering he'd attempted exactly six field goals in the 11 games prior and still ended up scoring the last nine points in Ohio State's come-from-behind 26-21 win.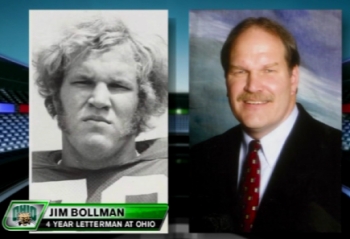 LOVE IS...ALL KINDS OF WEIRD. First, did you even know Dr. Phil was still a show? I had no idea. Bonkers. Second, I hadn't really even been paying any attention to the Manti Te'o soap opera after it was determined he wasn't involved because it was no longer a juicy story. It was just a sad tale about a linebacker ranking in the top 1% of naive people in the Northern Hemisphere. 
But things did get a little bit weirder yesterday as Doc P sat town with Ronaiah Tuiasosopo, the, uh, I guess, mastermind of the entire relationship charade. Discussing the interview scheduled to be televised today and tomorrow, Phil offered a little teaser on the interview:
"Here we have a young man that fell deeply, romantically in love. "I asked him straight up, 'Was this a romantic relationship with you?,' and he says yes. I said, 'Are you then therefore gay?' And he said, 'When you put it that way, yes.' And then he caught himself and said, 'I am confused,'" McGraw told "Today."
Look, it should go without saying that I couldn't care less about the sexual orientation of anyone connected to this story, or in the world for that matter (and nobody cares if you have opinion on it so leave it out of the comments). I just find it fascinating that this dude wasn't really trying to pull a prank on Te'o as much as he was seemingly acting out a fantasy that afforded him the ability to carry on a very real emotional relationship and Te'o had no inclination that he, an emphatically declared straight man, was falling in love with a fictitious woman created by a man. Like I said, weird.  
IF THE SHOE FITS. I've always been a fan of the Commodores. I mean, those dudes had tight afros and even tighter threads. My love for anything Commodores only deepened when Vanderbilt hired James Franklin to bring the football program back from the dead in 2011. 
From day one, Franklin approached the job with a huge chip on his shoulder and isn't afraid to be a bit controversial, realizing being a passionate, outspoken coach helps create buzz for a program that will take media attention almost any way it can get it. 
Last year, shortly after National Signing Day, he took an indirect shot at a couple kids who decommitted late in the recruiting season by saying any players who decommitted from his program were "not men of honor and not men of integrity." Later that season, he went nose to nose with a Georgia assistant coach that was reportedly the lead recruiter that caused one-time Vandy commit Josh Dawson to sign with the 'Dawgs on NSD. 
At the conclusion of the regular season, Franklin drew a bit of flak after his final coaches ballot was released showing Notre Dame ranked 4th behind the SEC trio of Alabama, Georgia and Florida. 
Earlier this week, Franklin was at it again, speaking at an appearance at a Macon, Georgia high school. This time, he talked about his program was aiming high and took a swipe at Nick Saban in the process:
There's this guy at Alabama, I think his name is 'Nicky Satan". I think you guys have probably heard of him before. I'm going to outwork him. I'm going to outwork him, and that's kind of our plan every single day."
The only knock on this statement is that he later called Saban to apologize. In all seriousness, I don't necessarily agree with everything he says or does but I don't think there's any question he's given Vanderbilt a boost in recognition. And dude does have an outstanding business card. 
BACON. How many five-star receivers panned out in the last 10 years?... Freedom of the press, worldwide, in 2013... Titus goes all Switzerland while examining Craft vs. Oladipo at the defensive end... J.T. Barrett fluff... Hang in there, Ron Jeremy... One way to handle a videobomber in New Orleans... 50 Most Popular Tourist Destinations... Passive Aggressive Roommate Notes (NSFW).