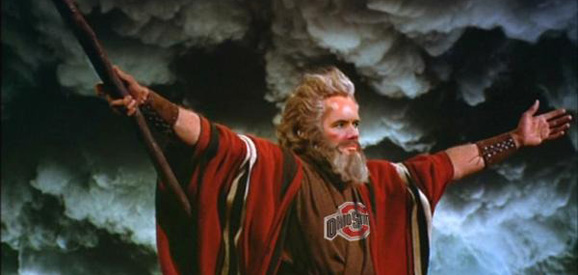 It started the day both coaches were hired. Standing at a podium in Schembechler Hall, Brady Hoke referred to Ohio State as "Ohio." The needling hasn't stopped. Urban Meyer announced how many days remained in the countdown to the Michigan game at his introductory press conference. In short, they get it. 
"You have to start off with the initial hirings," said Tom Luginbill, the national recruiting director at ESPN, in a recent interview with Eleven Warriors. "You have to ensure you have the right guy at the right place at the right time, and I think that's what happened with Brady Hoke at Michigan and Urban Meyer at Ohio State."
For more than half a century, the Ohio State-Michigan rivalry was as grand as rivalries got in all of sports. But the luster and appeal tapered off after former Michigan head coach Lloyd Carr retired. In his place came what the high-class Ann Arbor intellect perceived as a country bumpkin from West Virginia. Rich Rodriguez never stood a chance.
Wins were rare, while wins over archrival Ohio State were as rare as an uncooked steak. Losing all three games to Ohio State certainly didn't endear Rich Rod to the Maize and Blue faithful. The Buckeyes outscored the Wolverines, 100-24.
Most observers expected Rodriguez to be relieved of his coaching duties following the 2010 regular season. But no one dreamed that Tressel would follow him out the door. That's precisely what happened, though, after an NCAA scandal engulfed the football program.
The 2011 season became a year of uncertainty for Ohio State and the beginning of a revival for Michigan. Under the direction of interim coach Luke Fickell, the Buckeyes lost seven games, tied for the most in school history. Hoke, meanwhile, concocted an improbable 11-2 record and, for the first time in seven years, Michigan beat Ohio State.
The Buckeyes returned the favor in Meyer's first year at the helm. And it now appears the programs are on a collision course that harkens back to the days of Woody and Bo.
"Nothing could ever match the Ten-Year War and nothing ever will in our lifetimes," New York Times bestselling author John U. Bacon told Eleven Warriors. "Both guys were from Ohio and one of them was the mentor of the other. For Michigan fans, it was like Darth Vader and Luke Skywalker.
"What's coming up next might be as close as the rivalry can get to that amazing 10-year period."
Bacon, who authored the bestselling book Three and Out: Rich Rodriguez and the Michigan Wolverines in the Crucible of College Football, used the past season to write another book titled Fourth and Long: The Fight for the Soul of College Football, chronicling the ongoing changes at Ohio State, Michigan, Penn State and Northwestern. He got an up-close look in Columbus and Ann Arbor, and what he saw were two spacecrafts in the process of attaching the rocket boosters.
"Both of these guys are from deep in the heart of Ohio, and it's an incredibly deep football culture," Bacon said. "They both recruit Ohio and understand you have to. You aren't going to win Big Ten titles at either school unless you recruit very good players out of the state of Ohio. It's never been done. They can clearly both recruit the lights out. I can't recall any Michigan coach, even Bo, recruiting at this level. Michigan was not getting No. 1 tailbacks out of Virginia during that time."
"What's coming up next might be as close as the rivalry can get to that amazing 10-year period."
Recruiting is the lifeblood of any program. Coaches don't just luck into good years. As Woody Hayes famously said, "You win with people." That holds true today in college football, as it does in all walks of life. When Meyer and Hoke were hired by Ohio State and Michigan, their first order of business, aside from throwing barbs at their rival, was getting on the phone to high school seniors.
The situation Meyer walked into at Ohio State was much easier to fix. It was something he even referenced when he was introduced, saying Ohio State wasn't broken. One down year does not mark the end of happy times, especially when it occurred under an interim coach. Still, the Buckeyes had a recruiting class that was ranked in the 20s. When Meyer began calling kids and making visits, up went Ohio State – all the way into the top 5. 
"There was immediate credibility," Luginbill said. "Those top five or six guys were all offensive and defensive linemen. I'm sure his No. 1 sales pitch was, 'I've won national titles and I can tell how you to do it, and it has to start with you guys, so come be the nucleus.'"
It's not only offensive and defensive linemen Meyer is after. He's eyeing every spot on the field, and he wants to hit his old stops in Florida and the rest of the South. A built-in pipeline with rich talent could go a long way in Ohio State winning a national championship. Already, the Buckeyes start with an advantage that can't be overstated.
"Over the course of time, those relationships and established roots will be a pivotal positive for Ohio State," Luginbill said. "The reality is Jadeveon Clowney, Robert Nkemdiche and Carlos Dunlap aren't coming out of the Midwest. They're in the Southeast. The University of Michigan knows this too, and they know they have to go into areas that are not their traditional recruiting core pool. It does give Ohio State an advantage because they're established in that region."
Hoke's success in his first two years on and off the field has created a tidal wave of positive energy at Michigan. On National Signing Day, a second straight top 10 class will be attained. Currently, Michigan's class includes nine Ohioans.
Throughout the illustrious history of Michigan football, prominent players have often crossed the state line, including two Heisman Trophy winners: Desmond Howard and Charles Woodson. It's the past, present and future that leads Hoke to the realization that Ohio could hold the keys when it comes to Michigan's viability as a national title contender.
"It's essential," Bacon said. "If you're from Trotwood or Pickerington, you do not leave that state lightly. So the guys Michigan tends to get to leave Ohio feel strongly about Michigan and they're fierce competitors who do not need to be taught what the rivalry is all about. That, I believe, does add flavor to it."
The roundup of Ohio has put the Buckeyes and Wolverines in each other's crosshairs. During Rodriguez's time at Michigan, he rarely battled Ohio State for Ohio players. Michigan also recruited a different type of player. Now Meyer and Hoke's matchups aren't just limited to the field. Living rooms across the state have become an area for wins and losses.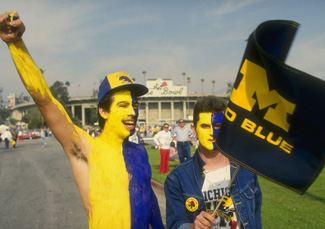 Following the Buckeyes' win in November to complete a perfect season, Meyer and his assistants beat Michigan again. This time it involved defensive back Gareon Conley, who rescinded his commitment to Michigan and chose Ohio State instead.
Luginbill described the situation as "wonderfully played" by Meyer and his staff. Long before Conley became a highly touted recruit, Michigan's coaches discovered him and started the process. They invested time and energy into Conley and secured a commitment. Not wanting him to slip away, but also not eager to take a public perception blow, Meyer went to work.
"What I believe Urban Meyer did was say, 'Listen, I'm not offering you a scholarship unless I know for a fact you're coming to Ohio State,'" Luginbill said. "If he loses Gareon Conley to Michigan and doesn't offer him, he can say he didn't offer him. But if he offers him and loses him to Michigan, it looks bad. That's the type of competitiveness there is between Meyer and Hoke."
The de-commitment did not spoil an already stellar class for the Wolverines. The reclamation project started in earnest for Hoke due to the mess he inherited. There was no Band-Aid available. Michigan needed open heart surgery. Luckily, athletic director Dave Brandon found the man to do the job.
Hoke was already a Michigan Man, helping to soften the fans. His prior success and clear distaste for anything involving Ohio State added to the intrigue. But what supporters are most interested in are results. When Michigan started getting some of the best high school talent in the country and won games, the faithful was sold. The talent gap between Ohio State and Michigan doesn't exist anymore.
"One difference, no question, is that Brady Hoke has the whole Michigan family behind him," Bacon said. "In recruiting, that helps. It's all hands on deck. You need high school coaches, you need alums, and you need current players all helping you recruit. Rodriguez never had all of any of those groups."
Even more impressive was Hoke's ability to put a foot down in the state of Ohio and pry kids out. He smartly invaded the state during trying times for the Buckeye football factory. But even if Hoke isn't able to get a kid, just being visible can be satisfying enough. 
"Anytime Brady Hoke and his staff can be a thorn in the side of Ohio State and have a presence in the state of Ohio – knowing Ohio State has to deal with it is vital," Luginbill said.
In a little more than one year, Conley, Kyle Kalis and Bri'onte Dunn have all provided Ohio State and Michigan with a spicier rivalry due to recruiting happenings. Almost every member of Meyer's staff has a connection to the state of Ohio, while the same holds true for Hoke's group of assistants. Having them invade the borders has added another layer to an already simmering feud between the Scarlet and Gray and Maize and Blue.
"What you have is a competitive balance between the two," Luginbill said. "You have two staffs that grind at it in recruiting and have an identity. They know what they want to get out of their players and what needs to happen to sustain long-term success. They're still in the process of developing that and laying down the blueprint.
"Hoke's staff has established Midwestern roots. There are a lot of guys on that staff that understand that conference and the folklore of Michigan. It's going to be extremely important (for Michigan to recruit Ohio strong) because the state of Michigan alone will not fuel enough players for them to sustain an 85-man roster. They have to have an established presence in Ohio. I think that's something Urban Meyer recognizes as well. John Cooper used to say you build a fence around Ohio and recruit nationally."
"If Michigan can't keep up with Ohio State, I don't think anyone (in the Big Ten) can."
It is a strategy Meyer is taking, as evidenced by his first two classes at Ohio State which have included kids from all over the country. The cream of the crop, so to speak, are the defensive linemen from the South. It's been a common denominator in the SEC's seven national championships and something few teams outside the SEC are able to have. But that could be changing with Meyer's ride north.
The amount of success the Buckeyes have had under Meyer leads many to believe Ohio State is on the fast track. His past lends credence to those thoughts, considering the amount of near immediate returns he's had. It took all of one year for Ohio State to have an undefeated season. The 2013 season is full of expectations and plenty of national title talk already. If the Buckeyes win a championship so soon in the Meyer era, could Ohio State leave Michigan and the Big Ten in the rearview mirror?
"That's Michigan's challenge," Bacon said. "Right now, Michigan stands as Ohio State's only clear competition in the Big Ten for the next few years. If Michigan can't keep up with Ohio State, I don't think anyone (in the Big Ten) can."
Periods of dominance in the rivalry have not been unprecedented, but it is rare for one team to have a stranglehold on the conference. That's why Hoke's hiring, which helped loosen the Buckeyes' previous grip, was so important in changing the dynamics of the Ohio State-Michigan game.
The more likely scenario is Ohio State and Michigan being a tandem in separating from the rest of the conference's lackluster play. Wisconsin, Penn State, Michigan State and Iowa, four consistently good teams in recent times, could fade from people's minds in the coming years. That leaves Nebraska as the only "name" school challenging Ohio State and Michigan.
"Both are on the right track and got off to hot starts in their first year, which has proven to be vital in recruiting," Luginbill said. "The snowball is starting to roll. The question is, which one pulls ahead? I think it's probably too early to determine that.
"With Urban Meyer, there are two national championships in the toughest conference in the country under that belt. There's proof in the pudding. When it comes to recruiting, does he have a little ace in his pocket? Absolutely. How much that resonates now, these kids were 12 years old when he won his last national championship."
In a results-based business, that's what Bacon points to in evaluating a rivalry that is poised for another great chapter.  
"For a stretch it could be a Big Two, Little 10 run," he said. "Look at the last two games. Ohio State was down in 2011 and it came down to the final play. Last year Michigan was 8-3 and comes into the Horseshoe against an undefeated team and had the lead at halftime. You can already see the stings of a truly great rivalry. Even when another team is a little down, you can play spoiler. That almost happened the last two years. It shows that it's heading in the old direction."
Another vision of the past has taken form in Columbus. It is the reason why Hoke responded, "Not good," when asked what his first thought was when Ohio State hired Meyer.
"There are some people addicted to alcohol, some people are addicted to gambling," Luginbill said. "Urban Meyer is addicted to football, and he's addicted to winning."