With nine days until National Signing Day, staffs around the country are running out of time to sell the virtues of their schools to 17 and 18-year-olds that have pretty much heard it all by this point.
Ohio State's staff concluded a big weekend of its own with two in hand and two in the bush, so to speak.
The two in hand, linebacker Trey Johnson of Lawrenceville (GA) Central Gwinnett and running back Ezekiel Elliott of St. Louis John Burroughs, took visits to schools not named "Ohio State" causing a bit of consternation among Buckeye recruitniks.
Johnson, a consensus top-five inside backer that publicly pledged for Ohio State three weeks ago at the Under Armour All-America Game, took somewhat of a stealth visit to Tennessee to visit with new coach Butch Jones. I use the term stealth because on Friday Johnson told us (he retweeted the linked tweet, FWIW) that he would not be taking an official visit to Tennessee, yet he made his way to Knoxville, anyway.
Johnson has a pretty strong relationship with Vols linebacker coach Tommy Thigpen, who had previously recruited him to Auburn, where he was committed before flipping to Ohio State after Gene Chizik was fired. Johnson's father downplayed the visit ($), telling ESPN that his son took the trip to to "hang out" and "talk football."
We're hearing the trip caught Ohio State's staff off guard, but they do have an in-home visit lined up with Johnson on Tuesday, so they'll get their chance to firm up the commitment.
Elliott, the best player in the state of Missouri, took a planned visit to Columbia to over the weekend to meet with Gary Pinkel and his staff:
Back in November, a source told USATodayHSS.com that the door may not be totally closed for Mizzou. The source said Elliott, whose parents both went to Mizzou, would probably listen but was concerned with the backlash from the Ohio State fan base, if he did indeed look around.

Elliott made his official visit to Mizzou this past weekend and according to his father, it couldn't have went better. The highlight for Elliott was the "M-I-Z, E-Z-E" chant at the basketball game.

Mizzou is trying to sell Elliott on the Jeremy Maclin story. Maclin was originally committed to Oklahoma before flipping to Missouri and we all know how that turned out.
Elliott's father, Stacy, went on to tell USATodayHSS.com that his son's "head is spinning and he slept the entire car ride home," for whatever that's worth. You'll recall that Mr. Elliott is the same guy that brought the epic Kerry Coombs recruiting pitch to the world.
It's recruiting, so anything can happen, but from everything we've heard to this point, we'd be surprised if Urban Meyer lost Johnson or Elliott. I'm just glad Ohio State's staff doesn't pout and pull offers like our frenemies from the North.
THE TWO IN THE BUSH (AND ONE FOR '14). One reason Elliott may have decided to visit Missouri was because of a late push from Ohio State to land DeSoto (TX) running back/slot receiver Dontre Wilson, Rivals' #5-rated all-purpose back in the 2014 class. Ohio State had backed off of recruiting Derrick Green, a lifelong Ohio State fan that is considered by some to be the top back in the class, with some assurances that Elliott would be the only back taken and the offer to Wilson may have rocked a boat or two.
Wilson had been an Oregon commit, but when Chip Kelly left to take the head coaching job with the Philadelphia Eagles, several schools, most prominently Ohio State, swooped in to pillage.
As Vico pointed out yesterday, fellow Texan and early enrollee J.T. Barrett showed Wilson around and things went really well. Wilson may visit Oklahoma State next weekend, but it's shaping up as a battle between Ohio State and Oregon for the burner's services.
Also visiting was wide receiver James Clark of New Smyrna Beach (FL), a four-star prospect with offers from Notre Dame, Florida, and Miami among others. Evidently, offensive coordinator Tom Herman made a solid imperssion:
S/O To Coach Urban Meyer, @coachzachsmith and The Funniest Offensive Coordinator in The Country @coachtomherman For The Great Visit

— James Clark (@GotEmCoach2) January 27, 2013
Clark will take an unofficial visit to Gainesville next weekend to see what Will Muschamp is cooking before deciding between Ohio State and Florida on National Signing Day.
Finally, Ohio State offered Kyle Trout, a 6-6/280 lbs offensive tackle from nearby Lancaster over the weekend. It's Trout's biggest offer to date.
As we inch towards National Signing Day, things will, by nature, get nuttier. Stick with us to guide you through the insanity and be sure to tune in next Wednesday for Signing Day coverage you won't find anywhere else. Seriously. We'll have a live blog, interviews, a special edition of the Eleven Dubcast. And explosions. EXPLOSIONS.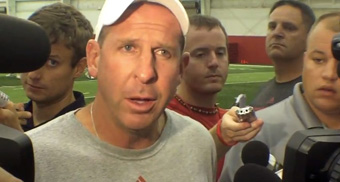 BO PELINI IS GOING TO EXPLODE. Nebraska lost not one, but two previously committed recruits over the weekend.
The first to flip was Dominic Walker, a wideout from Orlando. He spurned the Cornhuskers for Auburn, prompting Pelini to get all awkward on the phone when Walker phoned the Nebraska staff to inform them. Two days later, Marcus McWilson, a four-star safety prospect from Youngstown Cardinal Mooney, tweeted that he was back on the market with Kentucky emerging as his likely destination.
If Pelini was salty about losing Walker to Auburn, we can only imagine how purple he became when he found out McWilson had decommitted. Northeast Ohio, particularly the Youngstown area, has treated Pelini well thanks to his many connections growing up in the area and starring for Cardinal Mooney in the mid-80s. Kentucky's new coach Mark Stoops, himself a Cardinal Mooney alumnus, has set up shop in Youngstown and will battle Pelini on his turf for recruits that Urban Meyer doesn't want and possibly one or two that Meyer will want.
On a macro level, Kentucky – KENTUCKY! – is now able to sell recruits on playing in the SEC to win head-to-head battles with Nebraska. Raise your hand if you ever saw this day coming.
ETC. Live by the troll, die by the troll... Franco Harris still doing Franco Harris things... Denard Robinson Senior Bowl highlights will induce yawning... Two Three lonely states ♫♪ we were strangers on the map... Edge: Baltimore... Steve Spurrier is now paying journalists... These can't be new Wisconsin helmets, can they?