Remember the last episode of Dawson's Creek, where they all say goodbye to the town they once knew? Jenny, Parcey, Dunson, and Joey are all there at the creek, Dawson's Creek, where they first learned to fish and also where they formed a pact to be the world's best barbershop quartet.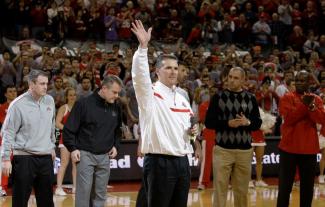 Well, those dreams were gone now. Jenni was dead or something, possibly a ghost, Pouncey was writing fraudulent memoirs about her life on the mean streets of LA under the pseudonym "Big Ma B," Joey was finally creating a Facebook account, and Downstone was a Hollywood producer or something, who cares.
As the gang looked out on the Federally Designated Region 7 Landfill that was formally their childhood playground, a sense of sadness and accomplishment filled their hearts, knowing that though their lives had been full of mirth and joy (except Jen because she was a poltergeist), all good things must come to an end. They were going to go their separate ways now, probably forever, and gradually drift apart as time marched on.
I may or may not have actually watched any episodes of Dawson's Creek, but I can tell you that this is the fate that awaits the current coaching staff of the Ohio State football team.
Urban Meyer has assembled a crackerjack coaching staff that right now looks like one of the best in the entire nation. But, much like the childhood monkeyshines of Danton and company, at some point the band is going to break up and the staff as we now know it will be disintegrated.
This will be weird; Jim Tressel was exceedingly good at slipping his assistants whatever mickey that slows one's ambition for more lucrative positions in the coaching world, but Meyer famously is not.
So today I want to take a look at some of the more prominent members of the coaching staff, and using a scale of 1 crying Urban Meyers to 5 crying Urban Meyers, discuss the likelihood of them leaving at some point within the next five years.
Because after all, many of them don't want to wait. For their lives to be over.
Tom Herman
Let's get the obvious out of the way: Tom Herman is gone. Gone gone gongitty gone gone gone. Possibly as early as next year, although I wouldn't be surprised if he decided that he wanted to see Braxton through college.
Some people were surprised that the dude didn't take a head coaching position after leaving Iowa State, and the biggest hope that Ohio State fans should reasonably have for the rest of his likely very short tenure is that it involves national championships.
Let me put it this way: he was the co-mastermind of an Urban Meyer offense that went undefeated and put up 37 points a game despite having basically only one real offensive weapon for about half the season. He's got a shockingly good resume, and I'm personally torn on whether I want him to stay in the Big Ten or not. At 37, he could easily be someone's slightly more competent Pat Fitzgerald.
Five out of five crying Urban Meyers.

Luke Fickell & Everett Withers
I'm including both of these guys because I think that one is dependent on the other. At some point, Fickell and Withers will be playing a game of head coaching chicken to see who will bolt for a MAC school first and leave the other as the sole proprietor of the title of defensive coordinator. The loss of either of these guys would hurt; Fickell is a very popular "player's coach" who suddenly looked a lot more competent once Zach Boren move to linebacker and the team settled on a scheme to use, and Withers is an excellent recruiter with strong ACC country ties.
The real question isn't "will one of them leave?", it's more "who will blink first?" For what it's worth, my money is on Fickell. I think he wants to prove himself as a head coach at a program that's slightly less in disarray than the OSU program he took over once Tressel was fired, and in truth he's not Urban's guy to begin with.
Still, I'm hedging my bets that Fickell and Everett work out some kind of Bosom Buddies deal and I'll throw up four crying Urbans out of five.

Ed Warinner
Warinner is interesting because his resume is basically a Tolstoy novel. Ohio State is his ninth coaching stop and eighth school in total, which suggests that he's a grass is always greener kind of dude. He gave up a pretty plum position at Notre Dame to coach at Ohio State, and it would seem that even though he's taken the scenic route, he's still upwardly mobile.
One thing to keep in mind, however, is that his official designation is co-offensive coordinator/offensive line coach, which presumably means that in the event Herman leaves he'll have a more prominent position. Warinner is also an Ohio guy with degrees from Mount Union and Akron, so overall there seems to be very little evidence that he'll be looking for real estate elsewhere anytime soon.
Which is good, because it's nice to have an offensive line that actually knows how to block.

Mike Vrabel
Most people would say that Vrabel staying with the team is tied into what Luke Fickell does, and to an extent this is likely true. I would also point out that another factor in him staying on board is whether or not his enthusiasm for the job remains high. Vrabel went almost directly from the NFL to coaching after he was asked by Fickell to join his staff, and at some point may want to test the myriad of other non-coaching opportunities open to a guy like him.
Vrabel may very well be a natural coach who loves teaching, but if he's not, I find it hard to believe that he's here for five full years.

Kerry Coombs
Staying. Coombs knows a good deal when he sees one, and he's vital to the southwestern Ohio pipeline that Urban is no doubt trying to develop. Six years ago Coombs was coaching high school ball in Colerain and now he's coaching cornerbacks at OSU.
He's loved by his players, but in a crazy uncle way, not an "I want to go coach at Northern Iowa in a few years" way.

---
And that about wraps it up! My guess is that within five years, Herman, Fickell, and Vrabel are gone. Warinner possibly on the outside if he gets offered an NFL gig or something of that nature, but I don't see him moving to another college. I also neglected to include guys like Hinton, Drayton, and Mariotti because, like Coombs, they're either Ohio lifers or handpicked by Urban himself.
So there will be change, and the real challenge for Urban will be just the same as it was at Florida: how will he handle severe attrition at your most important coaching positions? The answer to that may be the difference between Big Ten titles and national championships.