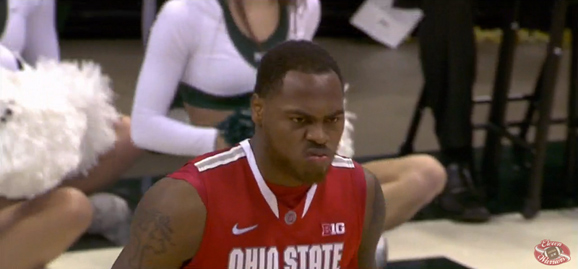 The basketball Buckeyes have completed a full third of the B1G conference schedule and we're headed into the home stretch leading up to the league tournament and the big dance in March.
I'm joined by Kyle, Chris, and fellow new guy Vico for a discussion on Ohio State hoops. Where is it headed? What kind of outlook does it have? Which players are stepping up and who should be playing more?
Consider these our HOT SPROTS TAKES.
The media refrain this season is as repetitive as George Harrison's "I've Got My Mind Set on You." (My sincere apologies if that pesky earworm gets lodged deep inside your brain.) Ohio State has to find a second scoring option behind Deshaun Thomas and blah blah blah. Oh, and did you know Aaron Craft is an outstanding on-ball defender?
All we know right now is that the haves and have-nots are separating themselves in the B1G race, and a key injury could dramatically change things. There's still a lot of basketball to be played. That won't stop us from weighing in on what we've seen so far.
As always, we welcome your thoughts in our comments section below.
Now that the Buckeyes have completed a third of the conference schedule, what have we learned about them so far?
Chris: In a nutshell, I think we've learned they are pretty good defensive team that struggles to score points as a result of so many players not yet showing an ability to take on a significantly expanded role.
Vico: At this point in the season, I think we learned that a preseason top five ranking was a bit optimistic. This is not a particularly "elite" team befitting a top five ranking, even if it's a very good team with a lot of nice qualities. Further, I think we've learned we miss Jared Sullinger more than we would like. Evan Ravenel is a nice workhorse and Amir Williams has potential, but neither have been what Sullinger was for us for the two years he was here. As such, questionable post play may be the culprit that gets us in March.
Kyle: A lot, in my opinion — that Deshaun Thomas is really good, that the team needs at least one more scorer to truly be a conference title threat, and that they're remarkably inconsistent. Guys like Sam Thompson, Shannon Scott, Amir Williams and LaQuinton Ross really haven't been in the heat of the battle during their careers. I understand that. But Thomas, Aaron Craft, Lenzelle Smith Jr. and Evan Ravenel have. Still, far too often Ohio State looks like an inexperienced team out there. That should not be the case at this point.
Michael: We've learned that Ohio State's offense is not to be trusted outside of Thomas. Scoring by committee is fine, but these guys are missing too many committee meetings. We've also learned that Amir Williams can be a frustrating player to watch at times. I still think his ceiling is high, but he must have stronger hands in traffic, contribute more offensively, and learn how to defend a simple drop step.
Which team looks like the one to beat for the regular season conference title?
Vico: Have to say it's the Wolvereenies, right? That's not to say I think Michigan is a national title team. I don't think they'd match up well with Kansas, in particular. Still, their guard play is fantastic and the team has only really improved with the addition of freshmen like Glenn Robinson III, Nik Stauskas, and Mitch McGary. They're deadly in transition.
Kyle: Indiana and Michigan are the class of the Big Ten. I really don't think there's much argument there. Both teams have phenomenal starting lineups and a good dose of bench players that can produce. That's exactly what you want in a Big Ten title team. But I'll go one step further and proclaim the Hoosiers and Wolverines as legitimate Final Four contenders.
Michigan State has a nice team, but there are still too many holes offensively and defensively for the Spartans. Ohio State, Wisconsin, Minnesota and Illinois would be the next teams in line.
Chris: I know the Michigan love-fest is in full force nationally, but I still see Indiana as the team to beat in the league. They just have so many guys that bring different specialties to the table and after trying to hate on the kid all year, I see Cody Zeller as the piece that pushes Indiana to the top of the conference.
Michael: I'm inclined to agree with Chris. I like what I've seen from Victor Oladipo in particular this season. The Hoosiers have the league's dominant big man in Zeller and plenty of help on the perimeter. That said, if Indiana slips, Michigan will pounce. In addition, I like Sparty as a dark horse because they are already grinding out close wins the way a tournament team does. Those Mitten State clashes will be key. Tom Izzo can flat out coach and if the Hoosiers and Wolverines slip up, Sparty seems capable of taking it.
Where do you realistically see this Ohio State squad finishing in the conference?
Kyle: I'm thinking 11-7, which would put them a notch below the leaders. There's definitely no shame in going 11-7 in the toughest conference in the country. The Big Ten Tournament will be loads of fun.
Chris: I think fourth is still realistic with fifth being worst case. The current reality is that Ohio State has lost to four of the five good-to-great teams they've played so far this season: losing at Duke, to Kansas, at Illinois, and at Michigan State, while beating Michigan at home.
I don't think it's plausible, unless Thomas is superhuman, to be up there with Indiana and Michigan and, head to head, I don't like the matchups with Sparty. The Bucks fall to fifth if Bo Ryan keeps it up. After Tubby's recent outburst and Minnesota's poor showing in Evanston on Wednesday night, it looks like the Gophers could be primed to fizzle and I don't see them finishing ahead of the Buckeyes.
Vico: Ohio State is playing as if it were the third, likely fourth, best team in the best conference in college basketball and I think that's ultimately how things unfold. The Buckeyes don't look the caliber team of Michigan State, Michigan (who we did beat in Value City Arena), and Indiana. Incidentally, that's how the standings look right now. We may get kicked up a spot if Indiana has a meltdown this season, which I don't put above Tom Crean.
Michael: Like my fellow 11W-ites, I see Ohio State's ceiling as third or fourth place, and the basement is probably fifth or, God forbid, sixth. The light would need to come on quickly for someone like LaQuinton Ross or Amir Williams for this year's team to challenge Indiana, Michigan and Michigan State.
"Ohio State has struggled to do anything offensively besides ride Thomas like a rented mule."
Does the lack of a secondary threat behind Deshaun Thomas mean this team can't go deep in the postseason?
Chris: To me it does. I know the mantra about defense winning championships, and the Buckeyes do have a nice team defense going on right now, but Ohio State has struggled to do anything offensively besides ride Thomas like a rented mule. In the tourney, it's all about matchups and if they run into a long and athletic squad that's committed defensively, Thomas may not have enough bullets left to overcome the lack of help.
Vico: Yeah, likely. I think we'd all like it if all our main players were viable scoring threats. I think the bigger issue might be not that there's not a second scorer, but that our best shooter is also Deshaun Thomas. Other players can score. Guys like Sam Thompson are even finding a baseline jumper from range. I find it more problematic that we don't have a guy who can reliably shoot over zones, and not necessarily that Thomas is our clear No. 1. That Craft has regressed on offense, especially shooting off pick and rolls, is a problem for me as well.
Kyle: No question. In the tournament, I just don't see how you can only have Thomas score and still win. Thirty points from Deshaun and then nine each from Craft and Lenzelle simply won't get the job done. Ohio State has struggled against ranked opponents all season, so I see no reason that will change in the tournament. But if they can identify a secondary scorer and get consistent production, this team can be a Sweet 16 threat. Once you get there, anything can happen.
Michael: I'm going to disagree here and say not necessarily. I think this team's defense alone could keep it alive in postseason play, provided someone gets hot at tourney time — and it doesn't have to be the same person every night. Think of these Buckeyes as a poor man's version of Sully's supporting cast two years ago. That team made the Sweet 16 and was one horribawful shooting night by William Buford away from the Elite Eight.
Which young player has shown the most growth since last year?
Vico: This is clearly Shannon Scott. Shannon Scott last year was the awkward, however promising, newbie that LaQuinton Ross is this year. Fortunately for us, his play this year has justified Thad Matta's decision to pursue him in lieu of Trey Burke, who, in all fairness, has done quite well for himself in Ann Arbor. That Scott looks capable and confident on offense (minus that last shot against Michigan State) is great by itself. That he's playing as committed on defense as Aaron Craft makes him an important X factor for this team if it's going to make a lengthy run in March.
Kyle: Shannon Scott. It's night and day with him. He was so timid, threw some lazy passes and really didn't create much a season ago. We're talking a McDonald's All-American here. You would've never guessed that last year. You started seeing glimpses of his college potential during Ohio State's run to the Final Four, when he backed up Craft when the starter got in foul trouble. But I don't think anyone expected the firecracker he'd be this season. Craft is good, don't get me wrong. But things are completely different when Scott is running the offense. It seems much more fluid and active. Buckeyes get down early against Kansas, Scott engineers a big run. At MSU, OSU gets in a big early hole, Scott comes off the bench — bam, 15-0 run. The guy is for real.
Chris: I think the obvious answer is Shannon Scott, and that's saying something considering he's such a poor shooter (41% FG, 33% 3FG) at this stage of his career. His clear deficiency aside, Scott has still, at times, shown the ability to make the offense go. He looks to push the ball off defensive rebounds, which is crucial considering Ohio State's problems executing in the half court. He's also been solid off the drive and finding teammates (4.5 APG in 20 MPG) and I love his on-ball defense.
Michael: OK, you guys. I get it. Obvious question is obvious. I'm going with Scott too, for all the previously mentioned reasons, particularly his soaking up of the Aaron Craft School of Defensive Wizardry. I'll give a secondary shout out to Sam Thompson for the reasons I stated in an earlier article. Although Thompson still lacks consistency, he's certainly shown much more versatility than J.D. Weatherspoon did during his time in Columbus (i.e. he can do more than dunk).
If you're Thad Matta, do you tinker with the starting lineup? If so, how do you change it up?
Kyle: I would not. Granted, there isn't exactly tons of production coming from either side, but I like having Scott, Ravenel and Ross come off the bench. They're all capable starters and can play a lot of minutes. Getting them in once the game is flowing seems to be working.
Vico: I'm not sure. I think the easiest critique to make is that Amir Williams doesn't always play like he's a credible starter. However, he does certain things that Evan Ravenel cannot do. While Williams can be jangly and a bit clumsy at times, Ravenel isn't always the sure thing either. Really, I think our starting five is fine and faithfully represents the top five we have on the squad. Ohio State's play on the pivot will just leave us wanting for this entire season.
Chris: The only thing I'd change is putting Ravenel back in there ahead of Amir. I really don't care which one plays more minutes, but I just don't think Amir did anything to earn the starting spot. It seems like it was purely an attempt to jumpstart the kid's intensity and confidence but in conference play, Ravenel has been the more effective player.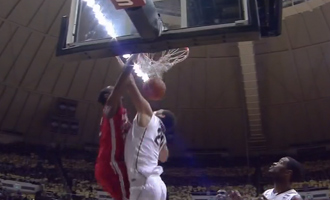 That said, I can certainly understand those who think maybe Scott should start for Lenzelle and Ross should start for Thompson. As much as I think Ross isn't playing enough for various reasons, I don't think he's earned the right to start.
With Scott, he's such a poor shooter it's hard to put him out there with Craft and Thompson at the same time since they have their own shooting issues. That lineup really enables a defense to sag or double Deshaun at will.
Michael: I would like to see what would happen if Scott started for Lenzelle Smith Jr. Until Tuesday night, Smith was really struggling against B1G teams not named Nebraska. Turnovers were way up and scoring (and shooting percentage) was way down.
If I were Thad Matta, I'd get Scott involved from the opening tip and see if Smith could provide some energy off the bench, the way Ravenel does (at times). If the experiment flopped, I'd switch back. Also, if I were Thad, there would be very few good pictures of me. Wait, maybe I am Thad Matta.
Which players do you want to see on the court more? Less?
Michael: A lot of people would suggest Ross in this spot, and yes, I'd like to see him more too, but there are nights when he doesn't even look like he belongs out there. Certainly there are far too many instances where he shows an uncanny knack for how not to dribble a basketball.
I'd like to see more of Amedeo Della Valle when teams are relying on their zone defense, as he might give Ohio State the best opportunity to shoot over it. Then again, I'm in favor of more of what Vico calls ADV's "floppy haired mayhem" whenever possible. I'd also like to see Trey McDonald more when both Williams and Ravenel are flailing, even if it's just to present a different look. McDonald is clearly not more gifted than the other two pivots, but he seems to provide energy when called upon, and energy is contagious.
I'd like to see less of Smith until he gets out of his recent funk.
Chris: I want to see more of Ross. I'm not implying he's a savior but I do know he is the only player besides Thomas that can create his own shot with any regularity, and he's also a better rebounder than he gets credit for. Of course, with that you get a questionable basketball IQ and shoddy on-ball defense but he looks to have a higher ceiling than any of the wings not named Deshaun.
Plus, this team isn't cutting down the nets. I'm not saying it doesn't matter — Thad should absolutely try to win every game — but the only way Ross gets better is with minutes. With Thomas heading to the NBA after this season, somebody will need to step up and score points next year. If it's not going to be Ross, who is it going to be?
Vico: Should Shannon Scott play more? Matta always sits him in each half until the under-12 media timeout. If I'm Matta, and I'm definitely arm-chairing this right now, I may rethink Scott's ability to contribute more to this year's team. It may be worth rethinking this, especially if Lenzelle Smith's offense continues to struggle. When his offense is missing and he struggles on defense (thinking of the Duke game), I think Smith could sit more for a given game and Scott could play more.
Kyle: That's a tough question to answer. Due to the inconsistencies across the board, you just don't know what player you're going to get on a given night. People have been clamoring for more Ross for over a year. I don't necessarily think that's the answer. Sure, he could play more minutes on most nights, but I don't think a substantial change is what OSU needs. His defense is still pretty bad and he doesn't even know where to be in the offense at times.
The one person I think everyone can agree on getting more playing time is Scott. There's no question the offense flows better when he's on the court. Just think if he'd been this good a year ago. Some people bang on Lenzelle, but his defense and rebounding seems to be huge in most games, and when he shows up on offense, he is the game changer. If Lenzelle scored 10-12 every night, this team would be scary come March.